Published September 12, 2017
For the second consecutive year, U.S. News & World Report has named the University of Louisiana Monroe a National University in its 2018 Best Colleges Rankings, which were released Tuesday, Sept. 12.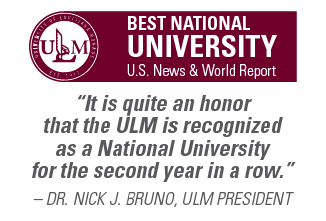 U.S. News & World Report defines a national university as an institution which offers a full range of undergraduate majors as well as master's and doctoral degrees.
ULM is among only 311 institutions of higher learning in the National Universities category. Of those, 190 are public, 114 are private and seven are for-profit.
There are some 1,800 four-year colleges and universities in the United States, according to U.S. News and World Report. Of those, the ones considered for a National University must have a Carnegie Classification of Institutions of Higher Education. 
In February 2016, the Carnegie Classification recognized ULM as an R3 ("moderate research") doctoral-granting institution of higher education, joining the state's other doctoral universities (R1: LSU-Baton Rouge and Tulane University; R2: University of Louisiana at Lafayette and University of New Orleans; and R3: ULM and Louisiana Tech University). Previously, ULM was classified with the Master's College and Universities – Larger programs (M1).
"It is quite an honor that the University of Louisiana Monroe is recognized as a National University for the second year in a row. Our Carnegie Foundation R3 ranking acknowledges the level of academic standards and research being conducted at ULM," said President Nick J. Bruno. "As we add degrees which are in high demand, especially those in the Health Sciences, I expect ULM's recognition will continue to grow. "
The U.S. News rankings methodology focuses on academic excellence, with schools evaluated on hundreds of data points and up to 15 measures of academic quality. Some of those include retention rates, graduation rates and SAT/ACT scores. 
"Having a prestigious designation such as this means we must concentrate even more on those areas where we can improve," Bruno said. "Retention and graduation can always grow. There are students who need help, and every one of us can play a role in that. Being a National University is a tremendous distinction, but it is also a tremendous responsibility. We have an obligation to the students to do everything in our power to make them a success."