By Hope Young
ULM Office of Marketing and Communications
Each fall the University of Louisiana Monroe's School of Visual and Performing Arts shows off its student and faculty talent with a musical production. This year, VAPA presents the unorthodox, the unconventional, "The Beggar's Opera."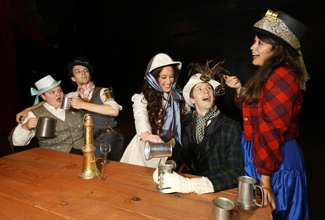 "The Beggar's Opera" 
Performances are during Homecoming Week at 7:30 p.m., Thursday and Friday, Oct. 12-13 and a 2 p.m. matinee on Sunday, Oct. 15.
"The Beggar's Opera" is performed in English — and it certainly isn't anyone's idea of a traditional opera, according to director and producer Dr. Mark Ross Clark.    
"It's a delightful show, which is a lot of fun to rehearse and see. It has everything in it — physical comedy, clever wit, beautiful songs and fun song-and-dance numbers," Clark said. "We have found that very few universities have produced it, since they are scared away from the multitude of versions that have been performed. However, we have done more with it, we believe, making it our own at ULM!"
The principal roles are sung by Rachal Bouriaque, Miranda Gonzales, and Taylor Witherspoon. These three students studied in Italy in the summer.
Also featured are Alysa Foster, Gray Hall, Dwendol Nelson, Emmanuel Capers, Matthew Stewart, Elizabeth Neuberger, and Jessica Griggs. These cast members also performed in last fall's ULM production of "Sweeney Todd."
WHAT: "The Beggar's Opera" 
WHEN: 7:30 p.m., Thursday and Friday, Oct. 12-13 and 2 p.m., Sunday, Oct. 15
WHERE: Brown Auditorium, ULM
COST: $15 general admission, free for students and $5 for faculty and staff with valid ULM ID
INFO/TICKETS: facebook.com/ulmvapa, ulm.edu/vapa or 342-3811
The production and performance of "The Beggar's Opera" includes students from all VAPA programs, and the roles are double-cast. Some students are dancers, scenery designers, musicians and some are in the crew. It takes that kind of cooperation and preparation for a production with 40 songs and 25 named characters, Clark said.
"Rehearsals began on August 14, before classes began. The major roles were cast last May, and students have been working on the script and score during the summer," he said.
"It's going to be a lot of fun. Much of it is played directly to the audience, so there is audience involvement," Clark said. He referred to the style as "breaking the fourth wall" – when there is some interaction between the actors and the audience.
With steampunk costumes and Cockney accents, "The Beggar's Opera" promises a memorable evening revolving around the womanizing highwayman "Macheath."
"The songs are brief, tuneful, and 'mixed-and-matched' so that we have been able to develop our own version of the original musical play.  This has been part of our creative process, and we have found a relevance, by the way, to our own modern times in these characters," Clark said.
Cast members: Scott Higginbotham, Emmanuel Capers , Gray Hall, Jessica Griggs, Elizabeth Neuberger, Rachal Bouriaque, Alysa Foster, Matthew Stewart, Dwendol Nelson, Miranda Gonzalez, Taylor Witherspoon, Nathanael Medlin, Irina Polunova, Peyton Churchwell, Jarius Baker, CJ Nash, Scott Higginbotham, Emmanuel Capers, Jarryd Gutierrez, Sunil Dungol, Jessica Griggs, Suzonne Shipley, Morgan Meyer, Morgan Rowland, Leah Huber, Kayla Sanders, LaFaith Williams, Naomi Naquin, Latiyara Farris, Allison Newton, Irina Polunova.
Production team: Mark Ross Clark, director and producer; Richard Seiler, piano and music preparation; Deborah Chandler, conductor; Steve Burnside, technical director and lighting-set designer; Margaret M. Hall, costumes.
Student production team: Zoe Stone, stage manager and assistant director; Kylie Daigle, choreographer; Zack Markus, sound; Leah Huber, property mistress; Skye Minor, Molly Fontenot, Marissa, tech assistants; Jessica Marvin, lighting assistant.
Oct. 6, 2017