Ensemble performs at Emy-Lou Biedenharn Recital hall
Black Bayou Brass, resident faculty brass ensemble in the School of Visual and Performing Arts, will perform a concert at ULM on Wednesday, November 29 at 7:30 p.m. in the Emy-Lou Biedenharn Recital Hall. Ensemble members are Dr. James Boldin, Associate Professor of Music, Dr. Jeremy Marks, Assistant Professor of Music, and Dr. Aaron Witek, Assistant Professor of Music.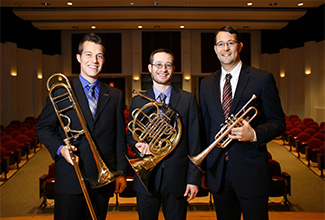 WANT TO GO?
WHAT: Black Bayou Brass concert
WHEN: 7:30 p.m., Wednesday, Nov. 29
WHERE: Emy-Lou Biedenharn Recital Hall
COST: Free
Their program features new arrangements and original works which will be recorded by the ensemble in January 2018. According to Boldin, "The repertoire for Brass Trio is rather limited, especially when compared to more popular chamber groups such as the string quartet, brass quintet, and woodwind quintet. One of the goals of Black Bayou Brass is to commission new works and create arrangements for our ensemble and for other ensembles in search of quality music to perform."

The concert is free and open to the public. For more information about Black Bayou Brass, visit https://www.ulm.edu/music/blackbayoubrass.html .
Nov. 27, 2017