Get a free tickets to the Appalachian State vs. Warhawks game 
On Saturday, Nov. 4, beginning at 7:30 a.m., the University of Louisiana Monroe will host its annual Browse on the Bayou, a specially designed campus visit day for high school juniors and seniors and transfer students.
This campus preview day is a great opportunity for potential students to meet with faculty, staff and other students as they tour campus and learn about various academic opportunities, student organizations and scholarships at ULM.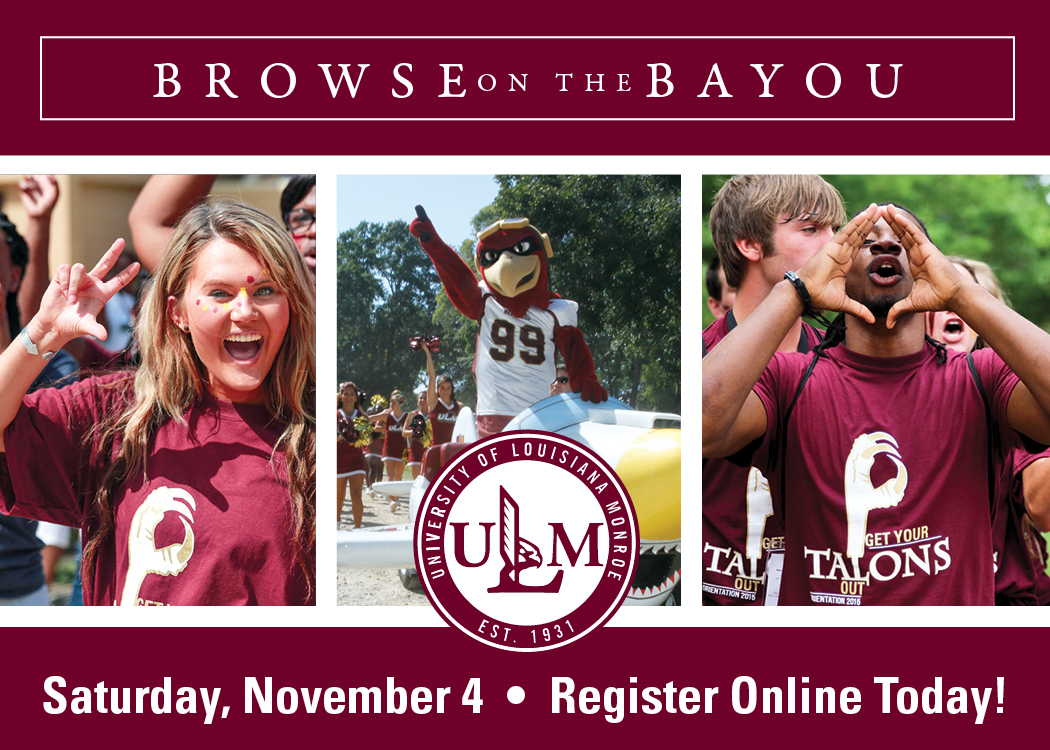 Assistant Director of Recruitment Jamie Hilburn said Browse on the Bayou gives prospective students the opportunity to explore the campus, plus offers sessions on curriculums and courses, financial aid and more.
 
"High school juniors and seniors, and transfer students, are invited to spend the morning with us and 'Browse' all ULM has to offer," Hilburn said. "You can get a feel for the campus, learn about the different colleges and there will be people to answer any questions you may have."

Check-in is at Brown Auditorium and campus tours are every 10 minutes between 7:30 a.m. and 8:20 a.m.  

President Nick J. Bruno will deliver his welcome address at 9 a.m. at the auditorium. 

Visitors will be served donuts for breakfast and Chick-Fil-A for lunch. 

Each student will also receive a free Browse on the Bayou T-shirt and a complimentary game ticket to watch Warhawks as they take on Appalachian State the same day at 2 p.m. at Malone Stadium. Guests of students will be able to purchase tickets at a discounted rate.
For more information visit ulm.edu. To register for this year's Browse on the Bayou, click here. To view the full schedule, click here.
Oct. 19, 2017