Want to go?
WHAT: Dana Louise and the Glorious Birds
WHEN: 7:30 p.m., Thursday, Oct. 5
WHERE: Emy-Lou Biedenharn Recital Hall, ULM
COST: $15 general admission; free for students with a valid ULM ID; and $5 for faculty and staff
INFO: Tickets at VAPA office and at the door, 342-1414, http://bit.ly/2hcTjNa, www.danalouisemusic.com
ULM Office of Marketing and Communications
Just as the Northeast Louisiana Celtic Festival is a fall tradition in NELA, it is a tradition for the University of Louisiana Monroe School of Visual andPerforming Arts to host an opening Celtic Festival/Guest Artist on Campus Concert in conjunction with the event.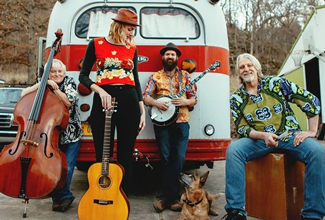 This year's guest is the band Dana Louise and the Glorious Birds, on stage at 7:30 p.m. in the Emy-Lou Biedenharn Recital Hall on Thursday, Oct. 5.
General admission is $15; free for students with a valid ULM ID; and $5 for faculty and staff. Tickets are available in advance at the VAPA box office, 105 Biedenharn Hall. Tickets will be available at the door.
Hailing from Fayetteville, Ark., Dana Louise Idlet, a visual artist, taught herself to play guitar in 2011 while on an artists' retreat in the Azores Islands.
"I just got so much joy from it," she said. "When I got home I wanted to make a career of it."
Making the transition from painting to performing was not as difficult for Idlet as it could have been, as she is the daughter of Ezra Idlet of the Grammy-nominated duo Trout Fishing in America. 
Idlet said her father helped her on the guitar and with some "technical stuff," but more than that, Ezra Idlet (guitar, percussion) is a Glorious Bird, as is his Trout Fishing in America partner Keith Grimwood (bass). The third Glorious Bird is Adams Collins (vibraphone and 5-string banjo).
Idlet grew up playing the piano, but before the guitar came into her life, she was not drawn to a career in music like her father.
"I was never sure what I wanted to do," she said. 
However, it was her father and mother's dedication to their work, that inspired her to redefine her own life.
"Just seeing my parents carving out a life for themselves, they started an independent record label," Idlet said, referring to Trout Records.
With Trout Records, Trout Fishing in America was in the first wave of artist-owned labels to successfully record and market their own music.
From her parents, Idlet learned it is possible, "Just to be able to do what you love for a living."
On Oct. 5, Dana Louise and the Glorious Birds bring what they love to do for a living to the stage at ULM.
The evening will feature vibrant, melodic vocals and finger picking to a body of complex songs. Drawing from jazz and bluegrass, carrying a contemporary beat, the sound is roots-rooted flung-into-the-future folk. 
To hear the fresh and stirring sounds of Dana Louise and the Glorious Birds, visit YouTube, https://youtu.be/JEYFQgIhcVw .
Sept. 27, 2017