Families invited to bring children to Wednesday activities
Office of Marketing and Communications
MONROE — The University of Louisiana Monroe welcomes the holiday season with several days of events for the community and the campus. This year's Holidays at ULM is Tuesday, Nov. 28-Thursday, Nov. 30.
Presented by the university, the School of Visual and Performing Arts and Student Life, families are invited to especially bring children to the special events on Wednesday.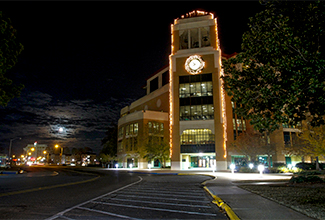 To commemorate the event, special T-shirts will be available.
All events are free. 
The schedule includes:
Tuesday, Nov. 28: Christmas Concert by the School of Visual and Performing Arts. This performance will feature the ULM Wind Ensemble and ULM Concert Choir presenting holiday favorites. The show is in Brown Auditorium.
Wednesday, Nov. 29: Snowzilla Jr. inflatable slide and a giant inflatable snow globe (artificial ice events), 5-7 p.m.; Holidays and ULM reception, 5-5:30 p.m.; performances from Miss Louisiana, Miss ULM and the Hawkline; and the tree lighting, 5:30 p.m. Refreshments will be available from the Caster and Chickory Beignet and Hot Chocolate Food Truck. Of course, Santa will be on hand to meet the boys and girls. These events will take place in the quad area in front of the library.
UPDATED:  For the students, on Wednesday will be activities outside the SUB ballrooms from 5:30-7 p.m., including Gingerbread Warhawk cookie decorating. The Polar Express, A movie starts at 7 p.m.
On Thursday, Nov. 30:  The students will have a silent disco pajama party in the SUB ballrooms from 9 a.m.-midnight.
UPDATED: The original version of the holiday schedule referenced Christmas Caroloke.  This has been canceled and the Warhawk Gingerbread cookie will outside of the SUB instead of inside the SUB ballrooms.
Published Nov. 27, 2017