Published April 13, 2017
Students from the University of Louisiana at Monroe recently presented their research at the annual Louisiana Political Science Association conference in Natchitoches. The conference was hosted at Northwestern State University on April 8.   
Ashley Lawrence (Warren, Ark.) discussed the importance of developing environmental policy regionally.  This marked the third time Lawrence has presented her research at the LPSA. She will receive her master's degree in Public Administration this May.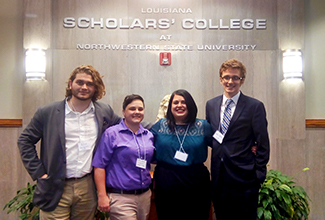 Lawrence noted, "LPSA is a great opportunity for students to network and learn from one another. It has sparked many ideas for me on future possible research." 
Olivia Sage (Alexandria), graduated in December 2016 with a degree in Political Science, covered environmental issues and climate change in India. 
Sage said, "The conference was a great way to receive important feedback on our papers as well as a great learning experience in the field of public speaking and performance."
Adam Nettles (Pineville) presented a paper on climate change from the perspective of Russia. Nettles will graduate in political science this May and begin graduate school in Milan, Italy this fall.  
"LPSA offered a great way to jump right into the real field of research in professional political science, before even finishing with graduation." 
Elliot Gonzalez (Boca Raton, Fla.), a junior in Political Science, discussed geoengineering and mitigation policies from Brazil. 
On his experience, Gonzalez stated, "I found the conference to be a great way for political scientists and researchers to share and develop their works with incredible minds from all walks of Louisiana." 
John W. Sutherlin, Ph.D., associate professor of Political Science and Executive Director of the Research Corporation of Louisiana, served as president of the LPSA this past year. 
Sutherlin added, "All of these students demonstrated the excellence of their education from ULM.  It was clear that their efforts were the highlight of the conference."
Sutherlin thanks to ULM Student Government Association for financial support and well as Northwestern State University for their outstanding hospitality.