One student, two alumnae, and two faculty members from the University of Louisiana Monroe's Creative Systemic Studies (CSS) online doctoral program presented research topics at the 2017 Human Sciences Institute Conference in Salt Lake City, Utah, last month.
The conference theme was "A Difference that Makes a Difference: Systemic Change for Social and Environmental Justice Presentations." 
CSS doctoral candidate, Joan Collins Harwood, delivered a presentation on her dissertation topic, "Spiritual Fire: Infusing Love into the Discourse of Family Therapy."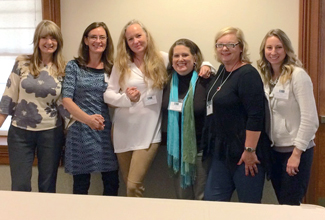 Likewise, CSS graduate, Roxanne Bourque, Ph.D., shared research from her dissertation, "Young Minds on Fire: Systemic Change Makes a Difference in Early Teaching." CSS graduate, Karen McClendon, Ph.D., contributed a political presentation, "Two Sides, One Country: How Systemic Thinking Creates a Context for Societal Change."

ULM Instructors Jocelyn Chapman, Ph.D., and Bethany Simmons, Ph.D, co-presented "Feeding the Ouroboros: Gregory Bateson's Food for Thought and Thoughtfulness."
Chapman discussed what Gregory Bateson had to say about "thought" and "thinking" and how this relates to "thoughtfulness" and Simmons shared how these ideas are at the heart of the origin of family systems therapy and how they are applicable not only in therapeutic practice, but also thinking about larger social systems and our participation in them.
Keynote speaker at the conference was author and filmmaker, Nora Bateson, daughter of world-renowned anthropologist and cybernetician, Gregory Bateson She gave two presentations on Next Level Thinking and Symmathesy and Transcontextual Description in Identity: "How do we perceive ourselves? Who are we becoming?"

The Human Science Institute is a transdisciplinary learning community of scholars and practitioners dedicated to creating a humane and ecologically sustainable global future through education and research. HSI supports the work of those responding to the challenges of our times by promoting a transdisciplinary framework that respects the multiplicity of views and ways of knowing in our diverse global community. Chapman and McClendon serve on the board of directors.
Pictured above: Representing the University of Louisiana Monroe at the Human Sciences Institute Conference in Salt Lake City were, from left, Karen McClendon, Jocelyn Chapman, Nora Bateson, Joan Harwood, Roxanne Bourque, and Bethany Simmons.