Three senior undergraduate Health Studies students, Mia Piazza,Lynh Ho and Savannah Pendergrass, attended the LeadingAge Annual conference in New Orleans, Oct. 29–31 with more than 5,000 attending.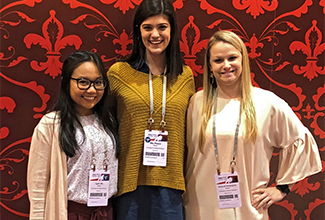 These three students attended the conference by applying for and receiving full scholarships through the LeadingAge organization.
The students not only learned about innovative solutions used with today's aging population, but also participated in the Student Leadership Program where they were able to network with many other students and experts in this field while participating in leadership meetings.
 
Some sessions that the students attended included "Evidence-Based Approached to Improve the Quality of Life for Persons with Dementia," "Memory Wellness Training" and "The Psychology of Language."

Piazza noted that this experience has "created a significant interest in the geriatric population. I am applying to Occupational Therapy school and always wanted to work in pediatrics. However, after attending this conference, I have now become very interested in working with the aging population. It has been an eye-opener for me!"  

Ho noted her enthusiasm for this conference saying, "I am definitely going again next year! This was a very rewarding experience for me, and I am eager to learn more about current practices for today's aging population."

Pendergrass explained that "having the opportunity to attend the 2017 LeadingAge conference was a great opportunity. The ability to be around so many different healthcare professionals and be able to network with them and learn from them was extremely rewarding."

All three students expressed significant enthusiasm about this experience and have already indicated that they want to attend next year's conference. Furthermore, the students explained that this experience has promoted a more in-depth understanding of the aging population. They all indicated that this was an eye-opening, one-of-a kind experience that helped them understand more about the mission of helping older adults thrive.

The Health Studies department hopes to collaborate with other departments so that a variety of student majors can attend next year's conference as a larger group.
Nov. 21, 2017