Published March 1, 2018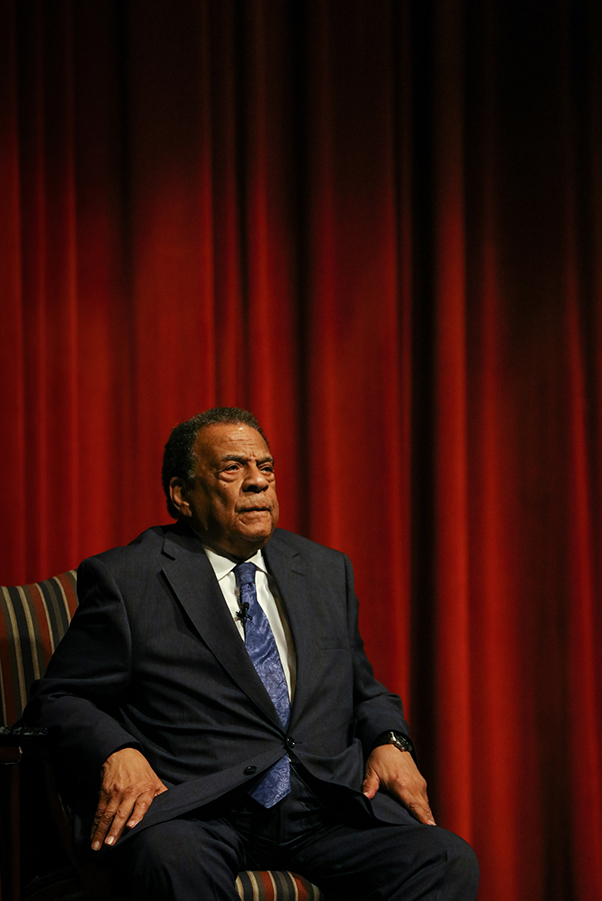 Former U.N. Ambassador, two-term mayor of Atlanta, author, pastor and Civil Rights icon Andrew Young, Jr. spent Tuesday, February 27 on the University of Louisiana Monroe campus. The day began with a special guest lecture and a session with Student Government and Campus Activity Board Members.
Later that evening, Ambassador Young spoke to a crowd in Brown Auditorium. The presentation opened with Young drawing comparisons between young people getting politically involved in the wake of the Parkland High School shooting and the Civil Rights movement.  Regardless of the subject discussed, Young remained optimistic for the future.

Young, a pivotal member of the the Southern Christian Leadership Conference (SLCC), gave a first-hand account of the Birmingham Boycotts of 1963 and the Selma to Montgomery marches. He provided insight into how the SLCC organized peaceful protests and how they harnessed the new technology of television news.

Young's ideology and actions were always derived from his faith in God. It is what drove him to join the SLCC. Through his speech, he also painted a more human side of Dr. Martin Luther King, Jr. than one traditionally sees. Young recalled moments of humor between himself and Dr. King, and that he loved to tell jokes about pastors.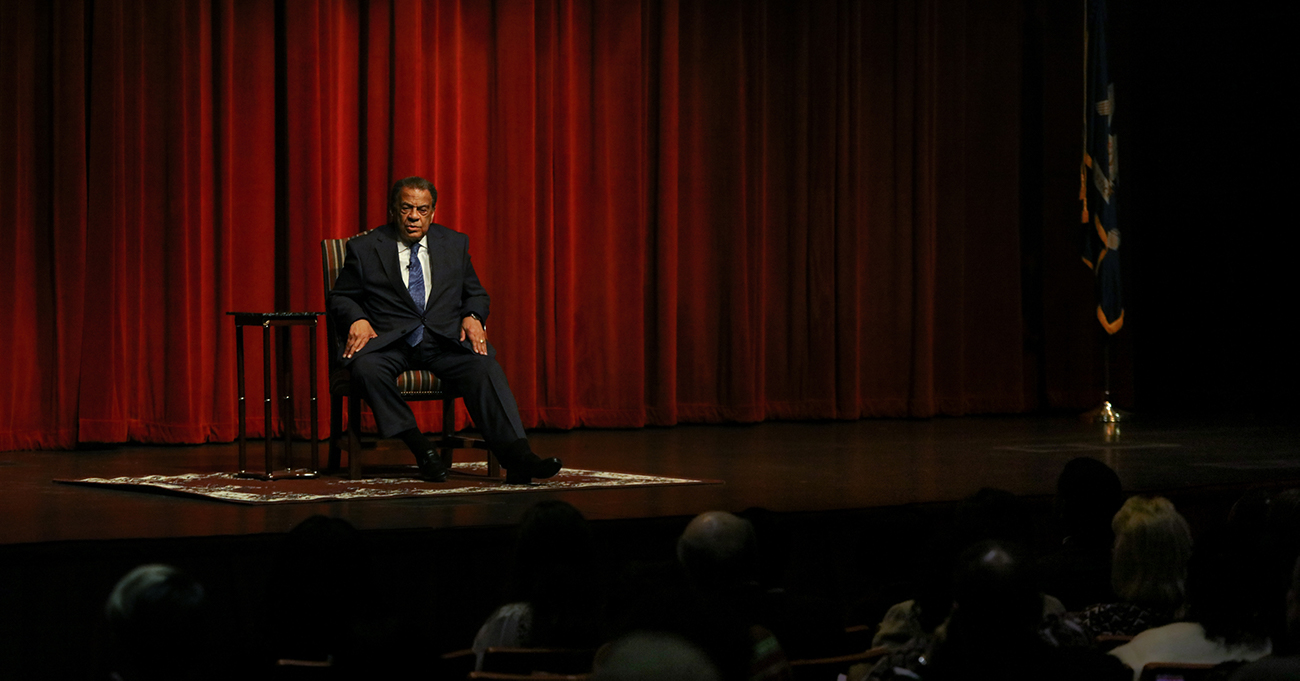 The narrative weaved in and out of many sections and timefames of his life, but the one common thread throughout his story was one of hope and peace. He also described his involvement with the global Civil Rights movement as the first African-American Ambassador to the United Nations.

After a question and answer session lead by SGA President Bryce Bordelon, the evening concluded full-circle with Ambassador Young leading the crowd in a cappella rendition of the gospel song "Its gonna be all right" and a standing ovation from the crowd. 

About Andrew Young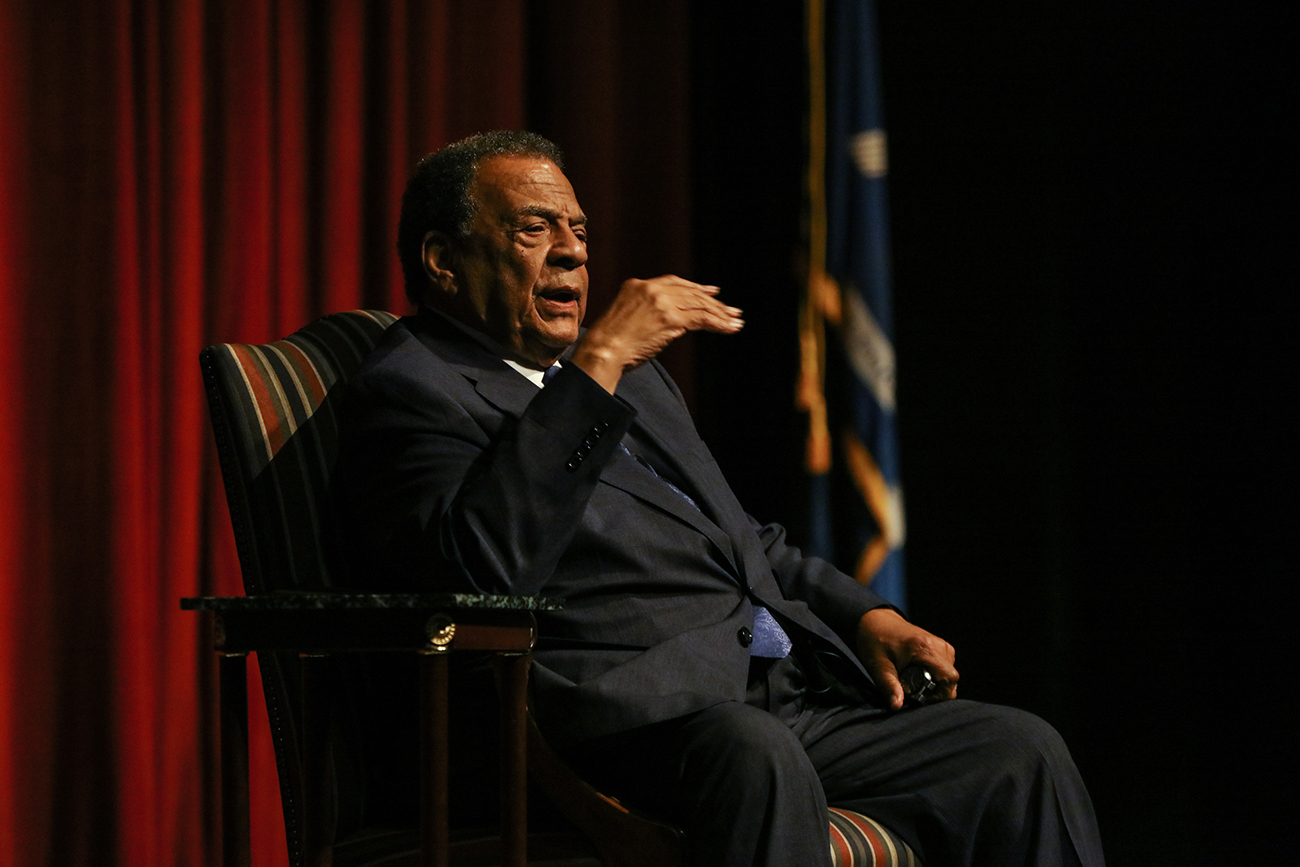 Born in New Orleans in 1932, Ambassador Young, attended Howard University and earned his divinity degree from Hartford Seminary. After graduation, he served as pastor in Beachton, Ga. before joining the Southern Christian Leadership Conference which coordinated non-violent protests, boycotts, and civil disobedience during the Civil Rights era.

During the 1960s, Young was a key strategist and negotiator during Civil Rights campaigns that led to the passage of the Civil Rights Act of 1964 and the Voting Rights Act of 1965. He was elected to Congress in 1972 until he was appointed as President Jimmy Carter's Ambassador to the United Nations in 1977, the first African-American to hold the post.

Young negotiated an end to white-minority rule in Namibia and Zimbabwe, both in Africa. He brought Carter's emphasis on human rights to international diplomacy efforts. Young was the recipient 1979 recipient of the NAACP Spingarn Medal, and he received the Presidential Medal of Freedom in 1981.

As two-term mayor of Atlanta, Young brought in over 1,100 businesses, over $70 billion in foreign direct investments and generated over a million jobs. He was also instrumental in the city's bid for the 1996 Summer Olympic games.