Published March 08, 2018
Say hello to 'Bye Bye Birdie' at ULM
VAPA presents Broadway rock 'n'roll classic March 22-25

WANT TO GO?
What: "Bye Bye Birdie"
When: 7:30 p.m. Thursday, March 22, Friday, March 23, Saturday 24 and 2 p.m. Sunday, March 25
Where: Brown Auditorium, ULM campus
Tickets: $15, call VAPA, 342-1414 or ulm.edu/vapa/tickets.html
KEDM Gala: 5 to 7 p.m. Saturday, March 24 in the Sculpture Garden behind Brown Hall; cost is $45 and includes food, a silent auction and VIP seating. Tickets: 342-5557

Article by Mark Henderson
Special to the University of Louisiana Monroe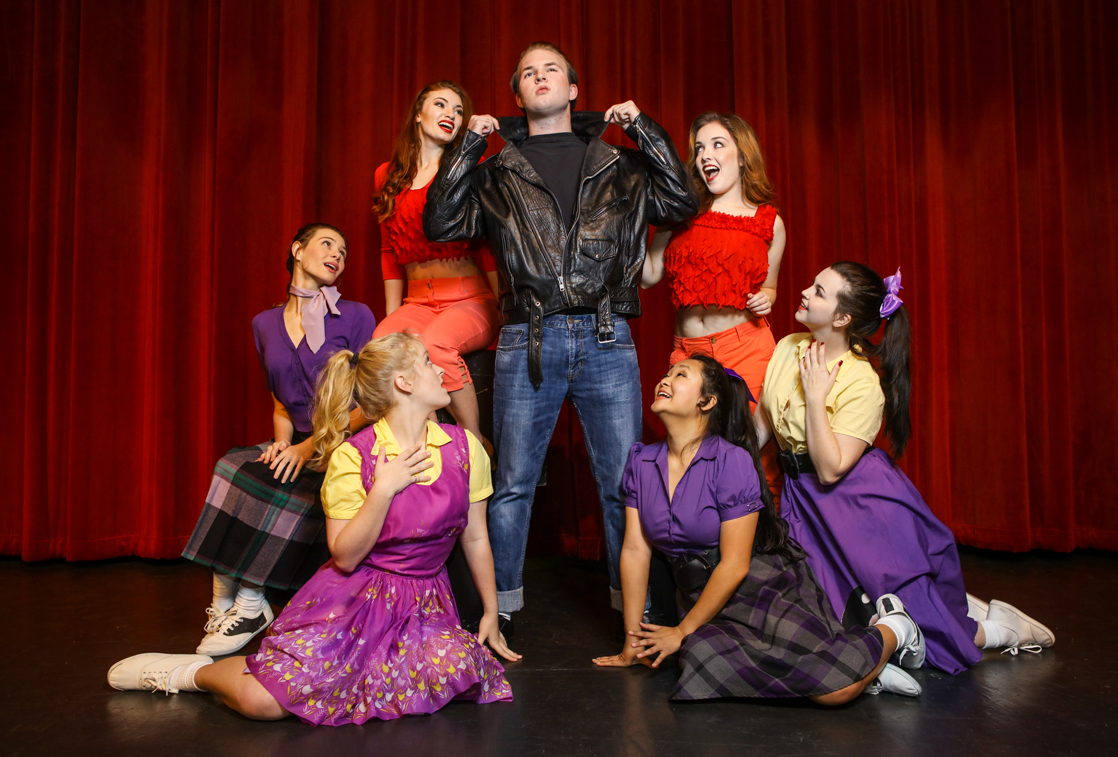 Photos by Emerald McIntyre/ULM Photo Services

An age-old story of teens moving awkwardly toward independence as parents struggle to maintain control of the family unit will play out on the stage of Brown Auditorium to the soundtrack of early rock 'n'roll.
The School of Visual and Performing Arts at the University of Louisiana Monroe will present "Bye Bye Birdie" March 22-25.
The musical captures the electricity that swept the country when Elvis Presley burst onto the scene, and the angst his fans felt when Elvis had to put his career, then red hot, on ice to serve in the Army.
That's the premise of "Bye Bye Birdie," except the singer who has teenage girls agog across the country is now Conrad Birdie.
In the musical, Birdie is riding high in 1958 when the Army comes knocking with his draft notice. Albert Peterson, who both writes music for Birdie and doubles as his manager, has not yet been able turn Birdie's success into a profit-making business. Peterson's secretary, Rosie Alvarez, is in love with Peterson, but wants him to give up the whim of showbiz for the respectability of being an English teacher before she'll marry him.
Peterson agrees, if he can ever dig out of debt. Rosie has a brainstorm. Peterson will write a song for Birdie, "One Last Kiss." Birdie will record it before going into the Army, and will perform it live on the "Ed Sullivan Show," after which he will kiss a member of the Conrad Birdie fan club. Rosie believes the publicity will make the record a sure-fire hit, enough to get Peterson in the black, and the two of them will be able to live in quiet suburban bliss.
Peterson's mother, however, is opposed to the marriage and schemes to keep them apart. The teen picked to kiss Birdie, Kim MacAfee, has recently agreed to go steady with a jealous boyfriend. It's a recipe for trouble and a romp to the final curtain.
"This little piece has stood the test of time," says Robin Stephens, associate professor of dance at ULM who is directing the production, her sixth for VAPA.
"It's funny, and the kids think it's funny. Adults and adolescents have butted heads forever. In the play, the adults complain about how much time kids spend on the phone; today it's how much time is spent on the Internet. Parents today have adverse feelings of hip hop," Stephens says.
So even though the cast of 26 students may not quite understand all of the historical references – Ed Sullivan was dead before the cast members were born – the themes still speak to them.
Stephens said casting the show is always her most important job when staging a musical at ULM.
"We always wish we had more to audition, but we've always been able to cast a show. In fact, for this show we have double-cast our leads. The biggest challenge is to put the right people in the right places. I will never make a student look foolish," Stephens says.
Because Stephens is a dancer with Broadway credentials, she is able to guide cast members, many of them who have never taken dance lessons, through the steps. "Bye Bye Birdie" offers many dance opportunities, but the early rock dances are not difficult to pick up. 
"The show lends to easy dancing, but it's the exact right steps for it," she says.
The original production opened on Broadway in 1960 and won the Tony for best musical of the year. The original cast included Dick Van Dyke, Chita Rivera, Dick Gautier, Paul Lyne and Susan Watson.
The music sung by the adult characters has an early 1960s pop style, and the best known song from the score is "Put On a Happy Face." The teens' music is pure early rock'n'roll, especially those sung by Birdie, such as "Honestly Sincere" and "One Last Kiss."
David Merrick originally produced the show on Broadway. The production was directed by Gower Champion and has a book written by Michael Stewart, who later turned Thornton Wilder's "Matchmaker" into "Hello, Dolly!" The music is by Charles Strouse, who would later write the music to "Annie," with lyrics by Lee Adams.
The production, which will feature a live pit orchestra, has performances at 7:30 p.m. March 22-24 with a 2 p.m. matinee March 25. Tickets are $15. They are available at the VAPA office, Room 105 in Biedenharn Hall at ULM, by calling 342-1414 or online at http://ulm.edu/vapa/tickets.html.

KEDM gala Saturday, March 24 in Sculpture Garden
Northeast Louisiana's public radio station, 90.3 KEDM-FM, once again will host a gala party in connection with the University of Louisiana Monroe's production of "Bye Bye Birdie."
Lila Strode, KEDM's development director, said the gala will be 5 to 7 p.m. March 24, before the Saturday performance of the musical.
"We will have music. Mason Howard's Trio will perform," Strode said. "And there will be a guest appearance by Conrad Birdie and other members of the cast."
This annual gala is a major fundraiser for KEDM, which relies heavily on public support for its operating budget. The event will be in ULM's Sculpture Garden behind Brown Hall. "We will have food from area restaurants and caterers, and there will be a silent auction," Strode said.
Tickets are $45 and include VIP tickets to the Saturday night performance of "Bye Bye Birdie." A section of preferred seating will be set aside for those attending the gala.
"It will be family-friendly, fun time," Strode said. Tickets to the gala will soon be available at kedm.org or by calling Strode at 342-5557.