Published May 07, 2018
By Dr. Jessica Dolecheck

The Health Studies and Occupational Therapy Assistant faculty collaborated to provide a professional business luncheon on April 17, 2018 at ULM where community healthcare leaders attended for meaningful social interactions with student groups from Health Studies and Occupational Therapy Assistant programs.
The faculty team received a grant through the Academic Innovation Center to fund this event, which promotes innovation and collaboration in the areas of teaching, learning and research.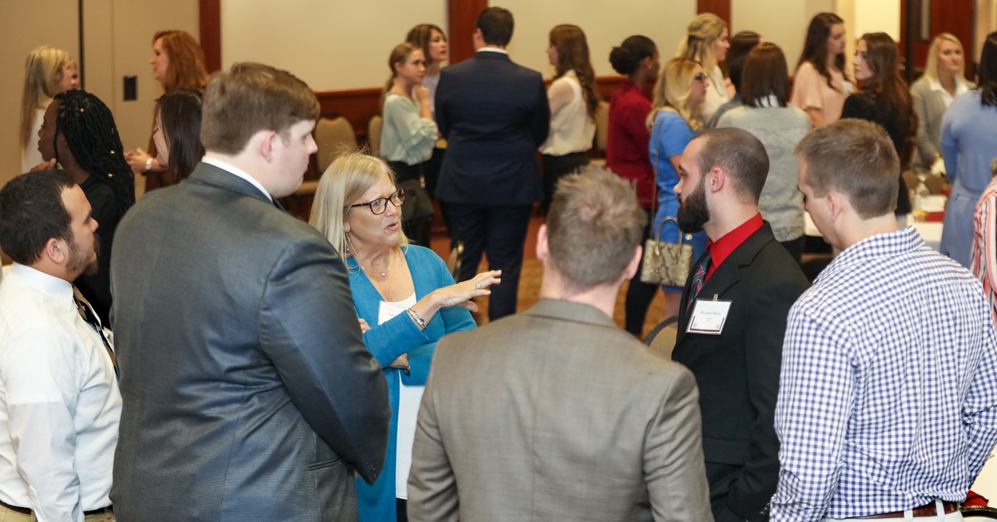 A total of 60 students and 10 healthcare leaders participated in the professional business luncheon event. Some of the leaders present were CEOs, CFOs, Marketing Directors, Compliance Officers, and Physical/Occupational therapists. 
The business luncheon was arranged so that students were able to practice social networking prior to the lunch; they then were divided into small groups per table with one healthcare leader for sociable conversation.
Kim Theodos, Jennifer Perodeau and Dr. Stacy Starks worked together to implement business etiquette and soft skills activities into their spring 2018 courses to help students to prepare for the event. Students had to develop meaningful questions related to their careers, professionalism, work ethics and healthcare workforce to ask leaders.
Dr. Jessica Dolecheck, Program Director for Health Studies, directed and coordinated the entire event.
Health Studies faculty Theodos stated, "The professional luncheon was a success! It was refreshing to see the students interact with the healthcare leaders, learn from their professional experience and practice soft skill development. This was a fantastic opportunity to connect students with our industry partners to foster strong partnerships and establish new mentorship relationships."
OTA faculty member Perodeau said, "This was remarkable! Such a worthy event for everyone involved."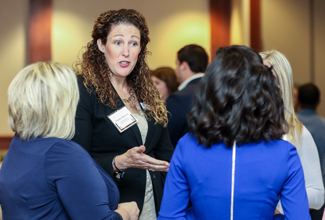 Starks, health studies faculty, commented, "It was so great to see both our students and community leaders so engaged and excited about this event."
Dolecheck noted, "To see our students successfully apply their newly learned skills in real time was educationally inspiring – what an impactful experience for all involved!"
Through this dyadic interaction, students learned important communication skills such as active listening, socializing, professionalism and business luncheon etiquette.
This student-centered approach focused on professional student development, which is critical in producing competitive and qualified graduates for the healthcare workforce. The Health Studies program plans to continue partnering with other health science programs in the future for a larger professional business luncheon with a variety of other disciplines involved.