Published October 30, 2018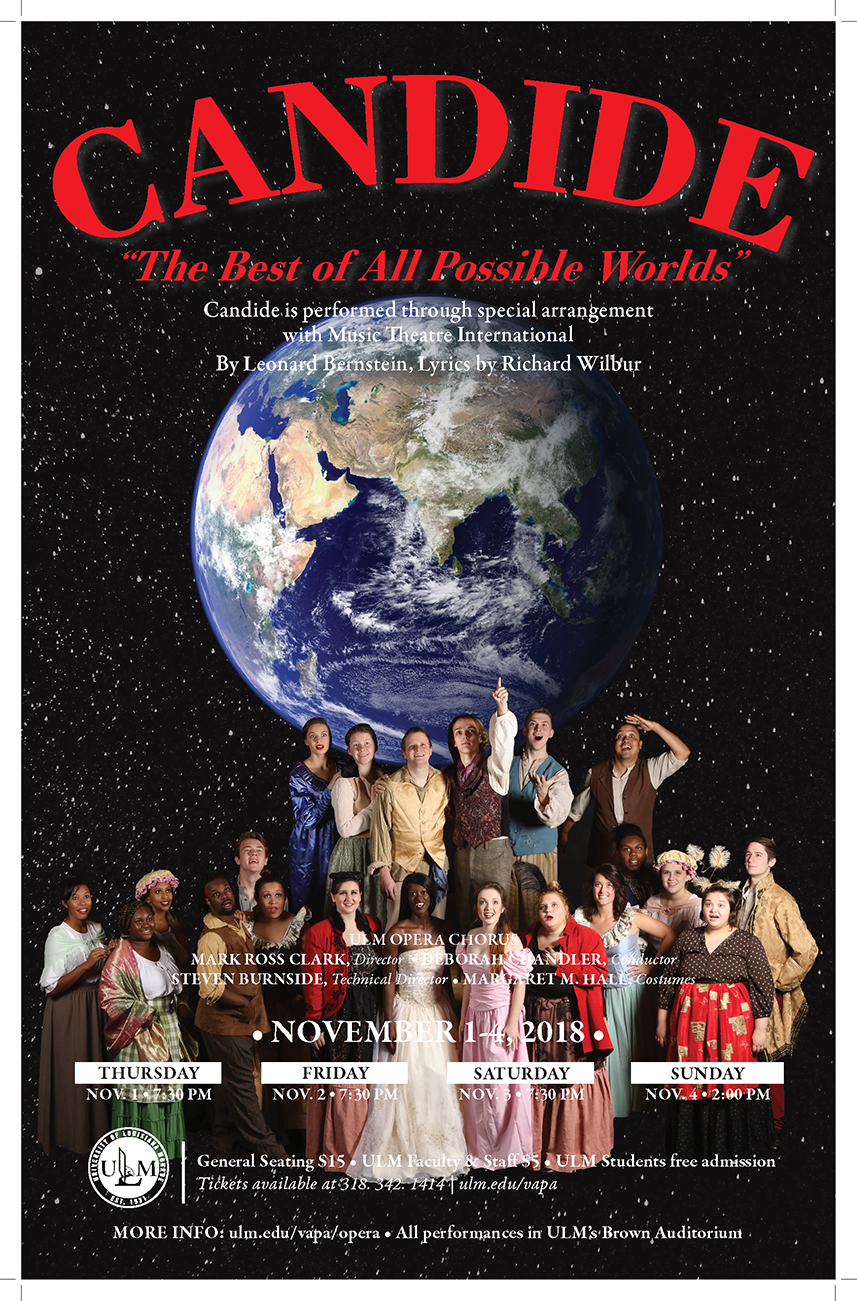 The University of Louisiana Monroe School of Visual and Performing Arts (VAPA) will present four performances of Leonard Bernstein's "Candide" on November 1, 2, 3 and 4 in Brown Auditorium. The first three performances are evening shows at 7:30 p.m., while the final show is a 2 p.m. Sunday matinee.
"Candide" is performed to commemorate this year's world-wide centenary celebration of composer Leonard Bernstein's birthday.  The great maestro, born in 1918, passed away in 1990.  
CANDIDE is based on Voltaire's "Candide," a French satire first published in 1759, during the Enlightenment. However, the ideas in the book and the operetta still resonate today and are definitely relevant in the present time.  
Recognizing these possibilities, more than 30 of ULM's music, drama, and dance students will put their own mark on the production, which underlines the satirical off-beat comedy as well as a powerful script and music.   
Gray Hall, Matthew Stewart, Alysa Foster, Leah Huber, Rachal Bouriaque, Taylor Witherspoon, Morgan Meyer, Morgan Rowland, Peyton Churchwell, Isaac Lofton, Gavin Huval, and Emmanuel Capers are principal actors of the ensemble, while Ryan Kersh, Irina Polunova, Gabe Wright, Kevin Alvarado-Suarez, Suzonne Shipley, Latiyara Farris, Naomi Naquin, Hope Wells, Hannah Parker, Hanna Atsedewoin, and Gary Olvera-Salazar complete the cast.  
The production will be directed by Mark Ross Clark, and the orchestra is conducted by Deborah Chandler.  The music coach and pianist is Richard Seiler, assisted by Justin Havard. The costumer is Margaret Hall and Steven Burnside is the technical director.  
Admission is free to ULM students with ID, while tickets for ULM staff and faculty are $5. General admission tickets are $15, and can be purchased in the VAPA office, Biedenharn 105, and online.
WHAT: "Candide"
WHEN: 7:30 p.m. Nov. 1, 2, 3 and 2 p.m. Nov. 4
WHERE: Brown Auditorium, ULM
COST: Free for ULM students with ID, $5 for faculty and staff, $15 general admission
CONTACT: VAPA Box Office, 342-1414