Published Dec. 4, 2018
The University of Louisiana Monroe presents the Summer-Fall Commencement Exercises 2018 at 10 a.m., Saturday, Dec. 8. The ceremony begins at 10 a.m. in Fant-Ewing Coliseum. For information on commencement, please see 
ulm.edu/commencement-info
 .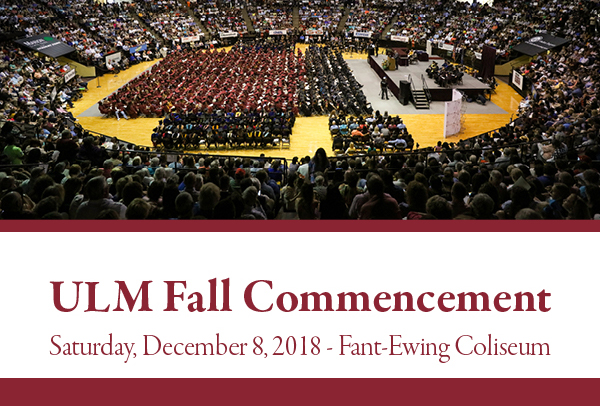 President Nick J. Bruno will confer 783 degrees upon 780 graduates. There are 41 associate's degrees; 576 bachelor's degrees; 1 Doctor of Pharmacy degree; 154 master's degrees; three Doctor of Education degrees and eight Doctor of Philosophy degrees.

The Processional "Pomp and Circumstance No. 1" will be performed by the ULM Commencement Brass Ensemble, conducted by Dr. Derle Long, Director of the School of Visual and Performing Arts. The Brass Ensemble will also perform "The Star-Spangled Banner." A moment of silence will be led by Dr. Chris Michaelides, Professor and Associate Dean of the College of Art, Education, and Sciences.

Dr. Eric Pani, Vice President for Academic Affairs, will recognize distinguished graduates, faculty and guests. He will also deliver the commencement address.

ULM President Dr. Nick J. Bruno will recognize President Emeritus Dr. Dwight D. Vines. Vines was president from 1976 to 1991.

Guest speaker
In addition to serving as Vice President for Academic Affairs, Pani is also Professor of Atmospheric Sciences. He earned his B.S. from Pennsylvania State in 1979, M.S. in Atmospheric Sciences in 1982 from Texas Tech and Ph.D in Geosciences in 1987 from Texas Tech.

In 1987, Pani and his wife Denise came to Monroe where he joined the university. As a faculty member he was honored as Outstanding Teacher of the Year in 1993 and College of Pure and Applied Sciences Outstanding Professor in 1997. His work to improve science education in the state led to the William Craig Outstanding Educator Award from the Louisiana Science Teachers Association in 2002.

Pani's administrative concentration has been strengthening and promoting ULM Online and creating the support structure for sponsored research. Pani has also coordinated executing the plans as set forth in the university's comprehensive plan.

Pani has announced he will retire Feb. 27.


Parking
Parking will be available in the green lot, Brown stadium lot, Malone stadium lot, and the grove. Lots will also be available on the west side of campus (ULM Library side) closest to DeSiard Street and on Mitchell Street.

Northeast Drive will remain closed throughout the ceremony for disabled guest loading and unloading and VIP parking. These individuals are allowed to drop off anyone who is handicap; then park their vehicles in the designated parking lot in the triangle lot.

No parking on the grass except for parking in the Green lot and the Grove area. Also there will be no parking on the sidewalks.

Violators will be subject to vehicle tow if they are parked in these areas.

There will be a handicap loading and unloading area on the east side of the coliseum.

Guest reminders
Guest seating is on a first-come, first-served basis. Reserving seats is not allowed. All markers placed in seats in an effort save them will be removed.
Please find a seat upon entering the coliseum. Standing in walkways or entryways, on stairs, or along the handrails of the upper concourse during the ceremony is not permitted.
Use of air horns and other noisemakers is not allowed during the commencement ceremony.
To ensure that every graduate's name can be heard when announced, guests are asked not to make any noise other than that of normal applause as degrees are awarded.
Guests are not allowed on the floor of the arena to take photographs.
For disabled or mobility-impaired guests
Disabled/infirm seating is provided on the arena floor of Fant-Ewing Coliseum. All seating is provided on a first come, first served basis (i.e., no saving of seats or spaces).
Access to the arena floor is through the ramp on the east side of Fant-Ewing Coliseum. Seating passes are not provided.
Drivers may drop off disabled/infirm guests on the east ramp of the Coliseum (ULM Recreational Services/Activity Center side) prior to the ceremony before parking in one of
the nearby parking lots. Parking passes are not provided.
One adult is allowed to sit with each disabled/infirm guest on the arena floor.
Unless disabled, children must be seated in the upper level of the Coliseum.
Any service animal must be identified as such by its harness/vest, card, or other appropriate form of identification. Upon entering the Coliseum floor, the disabled guest must notify Commencement personnel of the animal's presence.
At the conclusion of the ceremony, all guests in the floor-level seating area are asked to allow graduates to exit the floor before moving toward the ramp exit.