Published April 19, 2018
ULM alumni, Charles and Kay McDonald, gifted a $250,000 life insurance policy to the ULM Foundation designated to benefit several programs in perpetuity. Longtime University of Louisiana Monroe supporters Charles and Kay McDonald were recognized Thursday, April 19, for an estate gift they have designated for the ULM Foundation.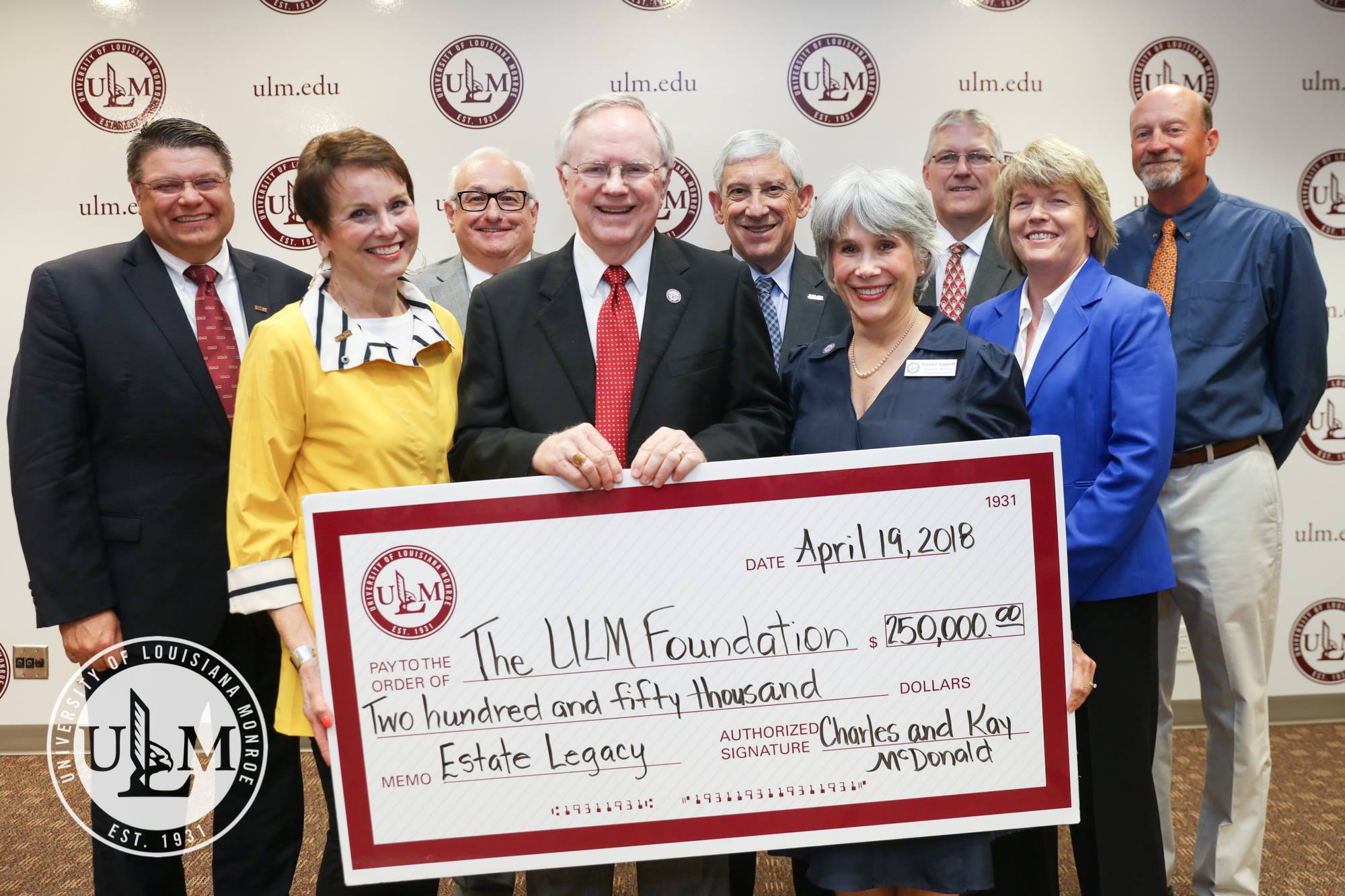 The McDonald's made a donation of $250,000 in the form of a paid-up life insurance policy, with the ULM Foundation as owner and beneficiary designated to benefit the following:
Establish the "Charles H. and Kay King

 

McDonald

 

Superior Graduate Student Endowment" in support of the Interprofessional Education Center fellowship with a

 

gift

 

of $120,000.  Upon receipt of the

 

gift

 

proceeds, the ULM Foundation will apply (during the open application period) to the Louisiana Board of Regents Support fund for their $80,000 match (contingent upon the existence of the LA Board of Regents matching

 

gift

 

programs at the time the life insurance proceeds become available).
In recognition of the positive impact Don Weems and Billy Laird made on ULM Students and Alumni, name the Laird Weems Center Lobby as "Charles H. and Kay King

 

McDonald

" with a

 

gift

 

of $95,000 and a match of $5,000 from the ULM Foundation.
Name the Head Track Coach Office in Brown Stadium as "Charles H. (Charlie Mc)

 

McDonald

" with a

 

gift

 

of $35,000.

 
Charlie Mc arrived on the NLSC campus as a student in 1960. From 1960–1965 he was a member of the NLSC Track Team along with 3 world record holders (Dave and Don Styrom and John Pernell).  He was also a member of the Student Government Association and the Health and Physical Education Association.  
Charles and Kay McDonald met on the ULM campus in 1968.  Between 1968 and his retirement in 2002, he served ULM as the Coordinator of Student Activities, the Director of Student Development, Dean for Student Affairs, Advisor for the Union Board and Advisor for the SGA. 
 
He and Kay have supported the university with monetary gifts as well as "sweat equity." Neither hesitate to help in any way possible when it comes to promoting the university.
Charles and Kay hope that this estate gift will inspire others to donate to the University through similar vehicles.
 
Contact a ULM Foundation Development Officer today for more information on Planned Giving at 318-342-3636. More information can be found at https://ulm.giftlegacy.com/.