Published Nov. 29, 2018
Trio releases album "Scenes from the Bayou"
Black Bayou Brass, resident faculty brass ensemble in the School of Visual and Performing Arts, will perform a free holiday concert on Thursday, December 6 at 7:30 p.m. at Grace Episcopal Church in Monroe.  Ensemble members are Dr. James Boldin, Associate Professor of Music, Dr. Adam Johnson, Assistant Professor of Music, and Dr. Eric Siereveld, Assistant Professor of Music. The group will be joined on the piano and organ by ULM Professor of Music Dr. Richard Seiler.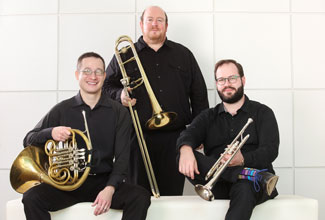 Their program will feature a variety of classical and popular holiday works, including "Christmas Time is Here," by Vince Guaraldi, "Deck the Halls," and a Christmas Carol Medley. "This concert is one of the highlights of our fall semester," says Dr. James Boldin, "and we always strive to perform several fun and unique works to ring in the holiday season."
The concert is free and open to the public. Grace Episcopal Church is located at 405 Glenmar Avenue in Monroe. For more information about Black Bayou Brass, visit https://www.ulm.edu/music/blackbayoubrass.html .
Album features world premiere recordings
Black Bayou Brass has released "Scenes from the Bayou," a new album of music for brass trio. Since its inception, the ensemble has sought to promote brass trio music through performances, commissions, arrangements, and recordings. "Scenes from the Bayou" showcases several world premiere recordings, including transcriptions and arrangements of works by 18th and 19th century masters Arcangelo Corelli, Wolfgang Amadeus Mozart, and Modest Mussorgsky, as well as significant new compositions by contemporary American composers Sy Brandon and Gina Gillie.
The cover photograph was taken at Black Bayou Lake National Wildlife Refuge by Monroe resident and prize-winning photographer Burg Ransom.  

"There are lots of brass ensemble recordings out there," says Boldin, "but we feel that this album is special because it consists almost entirely of music commissioned or created by members of the ensemble. For university music faculty, a CD recording represents months and sometimes years of preparation and creative activity, and we are extremely grateful to the ULM Foundation and the L.M. McKneely Endowed Professorship in Humanities, which provided funding for this project."

The album was recorded and released by Mark Custom Recordings, an internationally recognized and Grammy nominated classical recording label. For more information, contact Boldin.