There is more to flying a drone than maneuvering it through backyard trees, especially when it is being used for commercially.
They are known as drones and also referred to as Unmanned Aerial System (UAS). A UAS has commercial and practical applications which are growing in demand. To meet that demand, the Delta Regional Authority created the program, Workforce Development: Training the Trainer Using Unmanned Aerial Systems.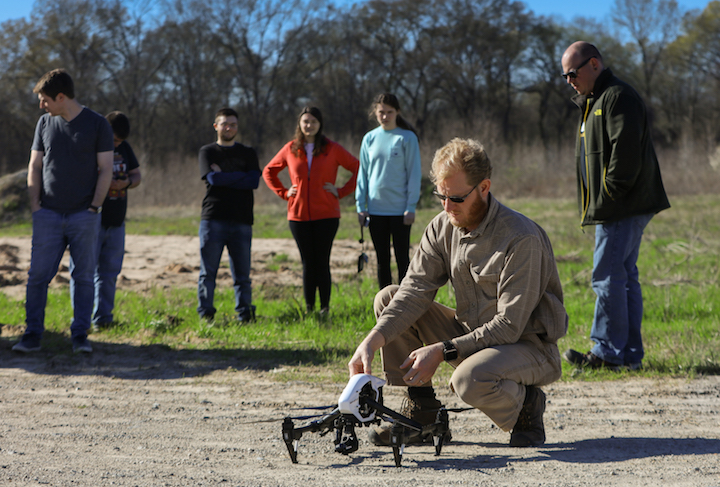 The University of Louisiana Monroe's Dr. Sean Chenoweth, Associate Professor of Geosciences, was just awarded a $90,000 grant from the DRA for "Training the Trainer" to teach people in northeast Louisiana how to operate a UAS. Once they are trained UAS operators, they can go out and train others.
Chenoweth states in the grant application, "UAS operations have a broad range of applications, such as precision agriculture, infrastructure inspection, conservation, search and rescue missions. There is a need to train groups of UAS users across several industries with a limited amount of resources."
Dr. John Sutherlin, Director of the Office of Sponsored Programs and Research said, "Drone technology is increasingly becoming a tool for emergency responders, law enforcement agencies and environmental companies. This grant demonstrates the importance the federal government places on the research and development of ULM."
ULM will be the center of operations, with 10 parishes in the project — Union, Morehouse, West Carroll, East Carroll, Richland, Madison, Caldwell, Franklin, Tensas and Ouachita.
"One of the main things we want to do is get in touch with ag groups in high schools, such as 4-H and FFA," said Chenoweth. "We want to get young people interested in agriculture."
Chenoweth said the money will be used for equipment, which can be quite pricey.
"One UAS can be $2,000 or higher. The camera can be $9,000," he said.
The project will identify people and groups in northeast Louisiana which would benefit from UAS in their operations. A technical person within that group would be chosen for the initial training. Then, he or she would be able to train their groups. A goal is to identify people in NELA who would benefit from UAS in their work, such as farmers, fire fighters, law enforcement, search and rescue, public utilities, telecommunications and insurance.
"It's important to reach as many people as possible in northeast Louisiana," Chenoweth said. "There is incredible potential in this technology and applications for use in many businesses and industries. By moving forward with this project, we are keeping up with the technology, instead of chasing it."