Published Sept. 19, 2018
Two representatives from the University of Louisiana Monroe are participating in the University of Louisiana System Management and Leadership Institute. The Institute is designed to maximize the participants' effectiveness in management roles and gain a deeper understanding of management roles in higher education.
 
Dr. Julia Letlow, Executive Director of External Affairs and Strategic Communications, and Dr. Christopher Gissendanner, Associate Director of the School of Sciences and Graduate Coordinator for the College of Arts, Education and Sciences and the Biology M.S. program, are ULM's representatives.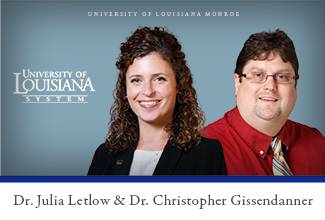 Letlow's experience in higher education began at ULM in 2003 as a teaching associate in the Communication Department. She continued her graduate studies at the University of South Florida and completed her Ph.D. in Communication.
 
Letlow began her professional career at ULM in 2007 working on special projects for the Provost and Vice President of Academic Affairs. She was then offered a position at Tulane University School of Medicine as the Director of Education and Patient Safety. During her tenure there she created a curriculum for physicians to strengthen their communication skills.
 
In 2014, she moved back to north Louisiana and accepted the position of Director of Marketing and Communications at her alma mater. She recently accepted more responsibility as the Executive Director where she serves as the governmental liaison on behalf of the university and provides oversight of strategic communications and initiatives to enhance a favorable public image of ULM.
 
Gissendanner was a member of the College of Pharmacy faculty for more than five years before returning to the School of Sciences in 2017.
 
He has a B.S. in Biological Sciences from Florida State University and an M.S. and Ph.D. in Cellular Biology from the University of Georgia.
 
Gissendanner completed his  post-doctoral training at New England Biolabs in Ipswich, Mass., and has pursued an externally funded research program in developmental genetics as both a biology and pharmacy faculty member. Gissendanner has been involved in several undergraduate science education initiatives, including the Howard Hughes Medical Institute SEA-PHAGES program at ULM.
 
He serves on the External Advisory Committee for the Arkansas IDeA Networks for Biomedical Research Excellence and is the Associate Treasurer and At-large Executive Committee member for the Association of Southeastern Biologists.
 
Letlow and Gissendanner, along with colleagues selected from other ULS schools, will attend nine two-day sessions over two semesters at each of the ULS universities.