Published Nov. 7, 2018
The University of Louisiana Monroe School of Visual and Performing Arts announces auditions for their Spring 2019 musical production "The Phantom of the Opera." 
Auditions will be held on Sunday, Nov. 18 in Brown Auditorium on the ULM campus.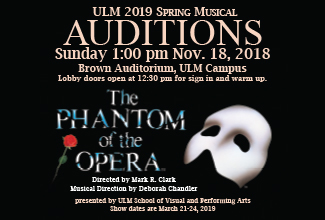 Doors will open at 12:30 p.m. for sign-in and warm-up with the auditions beginning at 1 p.m. Auditionees are asked to prepare 16 to 32 bars from a musical theater selection in the style of the show and to bring sheet music for that selection with them to the audition.  
Also, be prepared to remain after the audition to read from the story script if needed. An accompanist will be provided, so recorded accompaniments or a cappella auditions will not be allowed. There is no required audition dress.

This audition is also for persons who wish to serve as technical staff for the production helping with costumes, lighting, set construction, sound, and all of the other technical aspects of music production. You do not need to sing, act, or dance to be part of "The Phantom of the Opera."

For more information on these auditions, contact the VAPA office at 318-342-3811.