Published October 16, 2018
Retired faculty, administrators and staff from the University of Louisiana Monroe were honored at the 2018 ULM Retirees' Luncheon, sponsored by the ULM Foundation, on October 16 during Homecoming Week.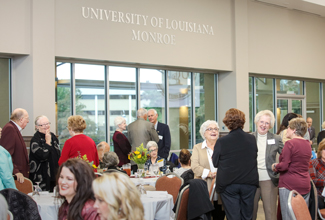 The Retirees' Luncheon is an opportunity to recognize the retirees' years of service to ULM and to promote the Charles McDonald ULM Retirees Scholarship, which is awarded to students who are direct descendants of ULM Retirees.
ULM Foundation and Alumni Relations Executive Director Susan Chappell was the emcee. President Nick J. Bruno gave a University Update, followed by Charles "Charlie Mc" McDonald, who gave an update on the endowed scholarships and read a list of retirees who passed away during the year.