Published September 11, 2018
The University of Louisiana Monroe Office of Admissions and Scholarships will host an ice cream social for select freshmen students at 4 p.m. on Thursday, September 13 in honor of their outstanding academic achievements. These scholars are known as "Top Hawks." The event will be in the ULM Conference Center on the seventh floor of the library.
Incoming freshman — with an American College Testing (ACT) score of 32 or higher and a high school grade point average (GPA) of 3.5 or higher — will be honored with a special ceremony which will include ice cream and ULM-themed gift packages, each containing a special gift —an Apple iPad and ULM iPad case.
Students who had a high school grade point average (GPA) of 3.75 or higher with an ACT score of 32 or higher will be awarded a $4,500 stipend for a study abroad experience.
 The iPads were purchased by the ULM Foundation through private donations and awarded to 26 students.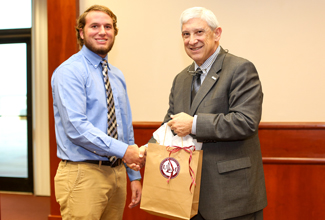 The 2018 Top Hawks
Peyton Aulds of Sterlington; Caitlyn Barker of Jena; Anna Bennett of Pineville; Angelle Boudreaux of Slidell; Julie Butler of Woodworth; Nicholas Canales of Downsville; Mallory Collins of Rayville; Jacob Corrent of West Monroe; Sydney David of Grosse Tete; Austin Dunaway of Denham Springs; Mallory Grayson of Bastrop; Lauren Gremillion of Pineville; Blake Heck of Amite; Michael Hollman of Monroe; Caleb Holloway of Winnsboro; William Jones of Monroe; Lauren Lacoste of Gray; Hal Mayfield of Calhoun; Sarah Owens of West Monroe; Jonah Pevehouse of Monroe; Cameron Rugg of Rayville; Ethan Saucier of Alexandria; Emilyann St. Blanc of Franklin; Kassidy Stanford of Opelousas; Kathryn Wilson of Jena; Suprabha Pudasainy of Gorkha, Nepal.
 About the ULM Foundation
Established in 1961, the ULM Foundation is a private non-profit organization dedicated to the growth, development, and enhancement of ULM.
The Foundation manages various programs, including: scholarships, professorship and chair funds, alumni, fundraising and development operations, college and body departmental support, and other university-related programs.