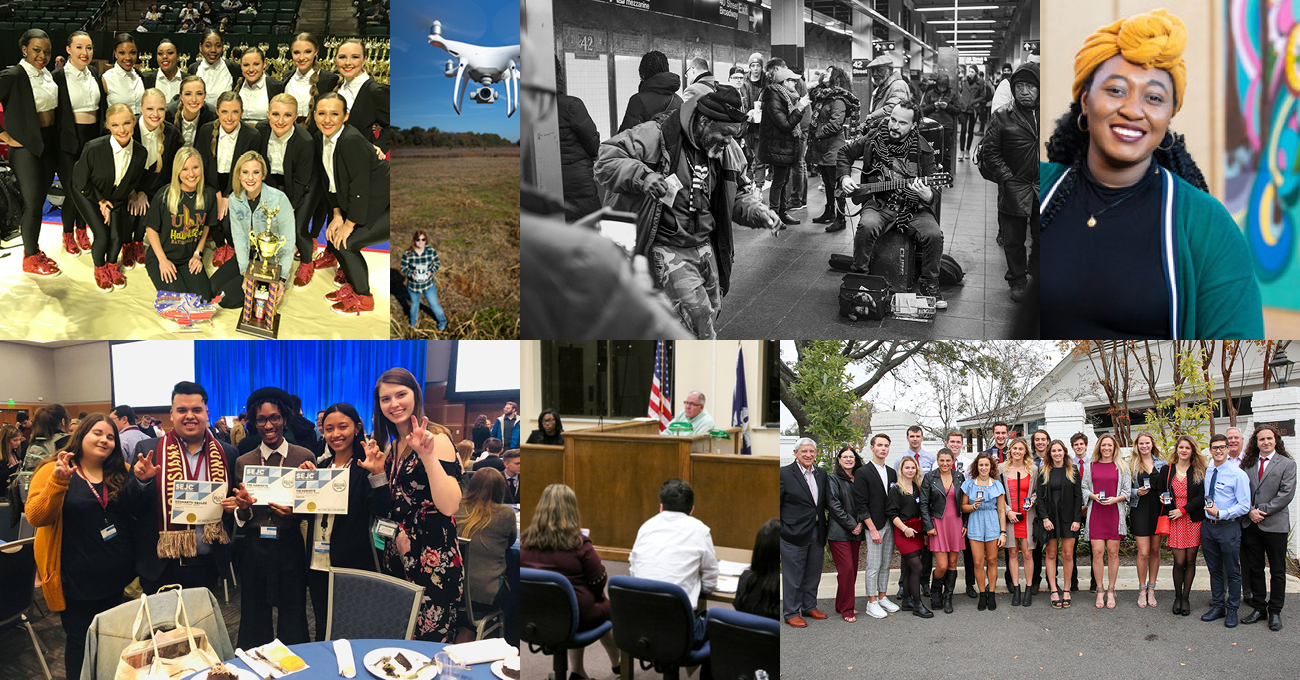 University of Louisiana Monroe students made some impressive accomplishments during the 2018-19 year. Individuals and teams demonstrated their distinctive skills and talents in activities from mock trials to fishing tournaments. Warhawk students have the will to win and the discipline to do the work necessary to reach their goals.
Here are 10 of the Top Student Accomplishments:
---
Talons for Taps
The ULM Trumpet Studio is a dedicated group of student musicians who donate their time and talents to perform "Taps" at funerals and memorial services for U.S. veterans. "Taps" is the time-honored tune performed on the trumpet or bugle at military funerals.
Talons for Taps members attend local services by request and at no charge. Accommodations can be made to travel out of the region. 
Members of the ULM Trumpet Studio who provide this service are, Kody Jernigan of Longview, Texas, William Joiner of West Monroe, Kris Balint of Longview, Sabrina Mata of Jena, Ian Lee of Columbia, Hawk Walker of Monroe, Solomon Abang of Lagos, Nigeria, Austin Pasche of Pollock, Vincent Capuano of Bossier City, and Ryan Blomquist of Pineville. 
Talons for Taps was developed and is led by Dr. Eric Siereveld, Assistant Professor of Trumpet in the ULM School of Visual and Performing Arts.
---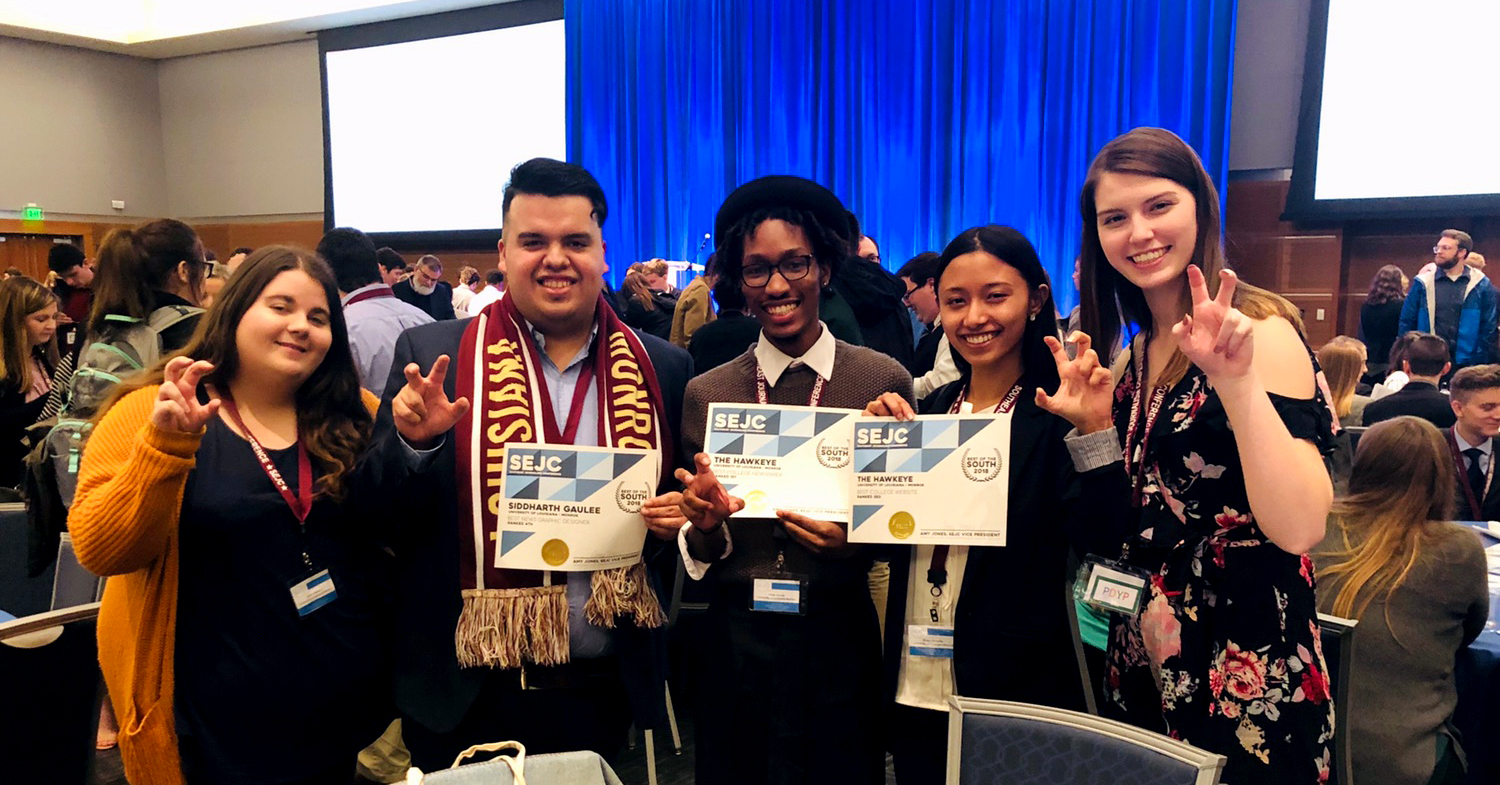 Hawkeye named best student-run newspaper
The University of Louisiana Monroe's student-run newspaper, the Hawkeye, was awarded first place in Best College Newspaper and third place for the Best College Website at the Southeast Journalism Conference, Best of the South 2018.
The conference featured more than 400 entries from more than 30 institutions, including 10 in Louisiana.
"We were able to place first among more than 30 other institutions in the southeast," said Sisam Shrestha, Hawkeye editor-in-chief. "This win wouldn't have been possible without the dedication and support from each off one of our staff, student writers and readers."
The Hawkeye faculty adviser is Dr. Christopher Mapp.
---
Mock Trial Team keeps order in the court
For the fifth straight year, the ULM Mock Trial Team finished as one of the top teams at the American Mock Trial Association's Regional Tournament in February 2019. 
As a result, the team's two squads, Gold and Maroon, qualified for the Opening Round Championship Series in March. This was the first time two squads from ULM simultaneously qualified for ORCS. The ULM team is the only one in the state to qualify for the opening round of the national championship the last five years.
The team won first place in both the Kangaroo Brawl at Austin College in Sherman, Texas, in January 2019, and the Nordic Battle in Minneapolis, Minn., in October 2018.
Louisiana Gov. John Bel Edwards personally recognized the team for their accomplishments. 
The Gold Squad attorneys were, Jorden Johnson, a senior from Monroe; Isiah Chavis, a junior from Lafayette; Cameron Ott, a junior from West Monroe; Uchechi Owunna, a freshman from Nigeria; Antonia Harris, a senior from Alexandria; Nautica Jones, a freshman from St. Martinville; and Aakriti Pant, a freshman from Nepal.
The Maroon Squad attorneys were, Eli Bell, a senior from Rayville; Olivia Myers, a junior from West Monroe; Shelby Joyner, a senior from West Monroe; Lydia Mills, a junior from Greenwood; Evan Hebert, a junior from Monroe; Rebecca Pittman, a sophomore from Vivian; and Emma Brunel, a junior from France. 
Attorneys Bob Noel and Kyle Moore coach the ULM Mock Trial Team, which is sponsored by Dr. Joshua Stockley, Associate Professor and Program Coordinator of Political Science and Director of the ULM Honors Program.
---
Art student's ULM scene a national winner
Jazzmine Williams, a senior in art in the School of Visual and Performing Arts, placed second in the national 2018 Annual Art Competition by Artist Magazine for the category "Interior Still Life." 
Williams' 11-by 14-inch oil on canvas is entitled "12:45 PM." Her artist's statement published with the painting in Artist Magazine states, "My subject for this painting was an interior study at my college. This point of view is from inside my college's computer lab — I stay close to the door. It's memorable to me because I always stay in that room throughout the day to study for other classes."
With a concentration in ceramics, Williams says her work is about visual creativity.
"My personal work is colorful and dynamic. What I like most about my art is creating a mood with action and/or color. Whether it is from my ceramic work, my drawings, or my paintings. It doesn't matter what medium I use; I like to create things that are fun to look at," she said.
---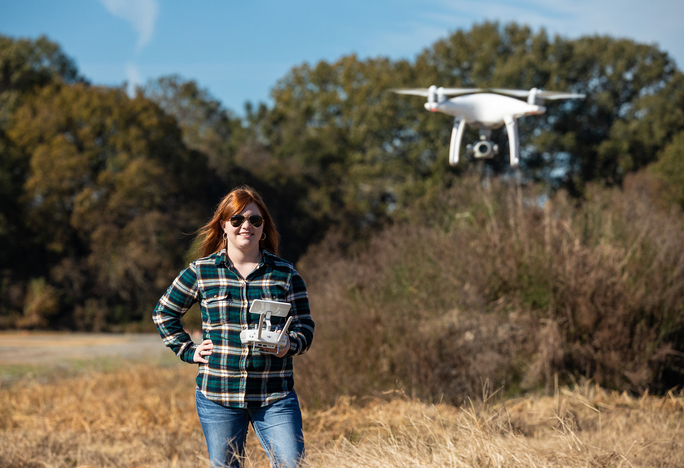 Stephanie Robinson licensed to fly drones
In November 2018, Stephanie Robinson, a 21-year-old junior from Start, became the ULM Unmanned Aerial Systems Management Program's first female student to become a licensed drone pilot. Robinson mastered the demands of this innovative and unique program and passed the Federal Aviation Administration small UAS pilot knowledge exam with flying colors.
The FAA requires this license for people to commercially utilize drones.
Robinson has been actively engaged in the Department of Aviation's UAS Management Program while pursuing her goal of becoming a manned aircraft pilot.  
"I hope to get a job working with drones whenever I graduate," Robinson said. "Possibly working with agriculture or environmental assessments."
Robinson is perfecting her drone-flying skills while standing on the ground, however she plans to ultimately be in the sky with bigger wings to fly. 
"My goal in life is to become a pilot for UPS," she said.
The UAS Management Program Director is Dr. Michael Chenoweth.
---
ULM Fishing team keeps reeling in wins
The ULM Fishing Team duo of Morgan Jaladin and Connor Nimrod racked up another win on April 5, 2019, taking the YETI FLW College Fishing Event presented by Bass Pro Shops on Lake Texoma in Texas. The anglers had a five-bass limit weighing 18 pounds, 15 ounces. The victory earned the Warhawk's fishing team $2,000 and a slot in the 2020 FLW College Fishing National Championship.
Tyler Craig and Spencer Lambert were named the 2018 Carhartt BassmasterCollege Series Team of the Year. They accomplished this by collecting the most points over four Bassmaster events.
In 2018, Hunter Freeman and Thomas Soileau brought home one for the team when they won the 2018 YETI FLW College Fishing National Championship on the Red River in June. 
The team adviser is Dr. Matthew Overturff.
---
ULM Water Ski Team
The ULM Ski Team had another fantastic season in 2018-19. The high point was winning the college nationals for the 29th time. 
For the first time, the All-Stars competition was hosted by the ULM team. The event brought 120 skiers to campus. This was the first national tournament at ULM since 1999.
ULM's Siani Oliver tied the women's collegiate slalom record of three buoys at 39.5 feet off. She holds the record with two other skiers, including former ULM skier Manon Costard who set the record in 2014.
Oliver was named 2018 National College Water Ski Association Female Athlete of the Year.
The ULM Water Ski coach is Joey McNamara. 
---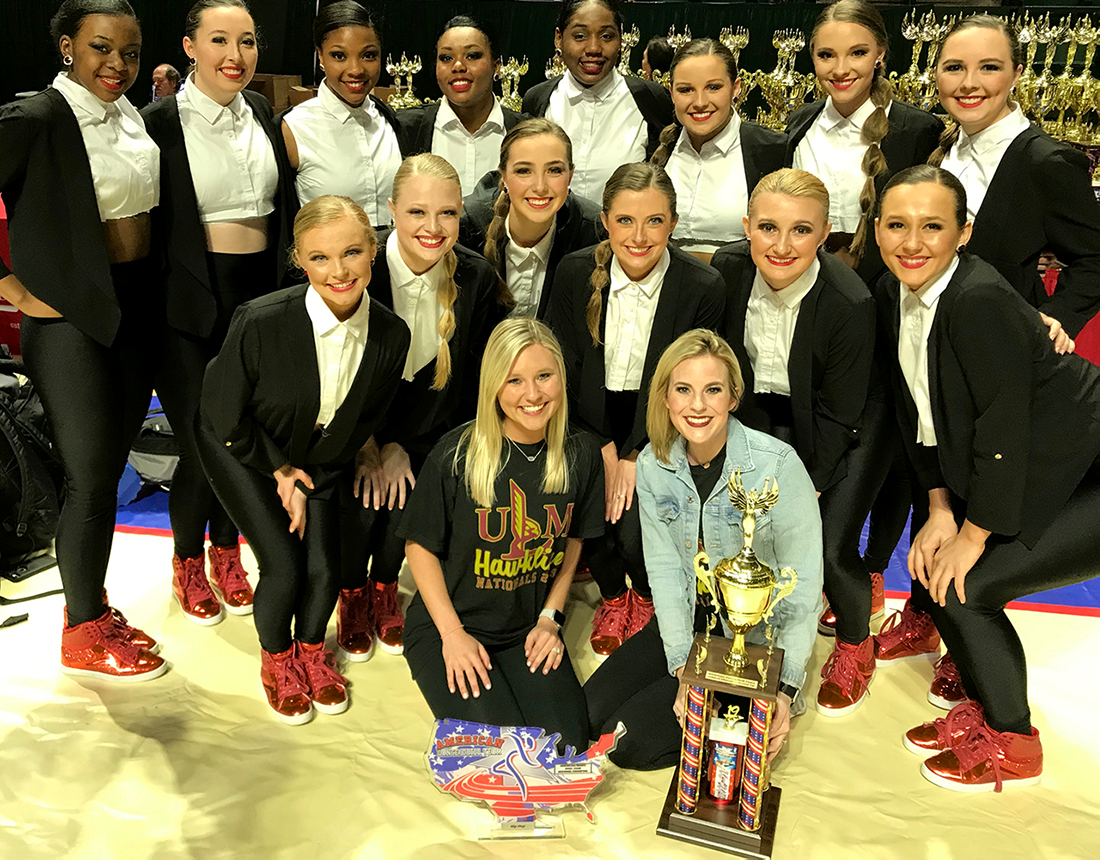 ULM Hawkline dances to National Championship
ULM Hawkline was named the 2019 American Dance/Drill Team National Champions in D1A Hip Hop, as well as the D1A Second Runner-up in the Over-All Division. The competition was held on March 23, 2019, in Denton, Texas. The ULM dance team beat out the University of Texas and Baylor University to win its first title since 2016. 
Says senior, co-captain Emily Healy, "Our team has worked together well since day one, but as the year has progressed, we've grown even closer. That bond really presented itself during our performance- we danced as one! I've never seen our level of energy as high as it was during our competition."
Hawkline performs a variety of jazz, hip-hop, pom, and other styles of dance throughout the year for different functions. Football games, basketball games, Miss ULM Pageant, Holidays at ULM, and pep-rallies are some of the events the team performs at along with special community appearances. 
Dancers in the 2019 competition include Allie Netherland, Avery Hanna, Daija Essien, Emily Healy, Hagen Campbell, Hanna Byrd, Katie Taylor, Kennedy Boston-Woods, Laura Willis, Lauren Fuller, McKenna Kicey, Regan Howerd, Sarah Ford, and Shatorey Coleman. 
Hawkline is now preparing for upcoming tryouts for the next team on May 3-5. 
The Hawkline coordinator is Sonni Bennett.
---
Student photographer captures award-winning subway scene
A photo by Prajal Prasai, a 21-year-old junior in Communication, earned a first-place award at the Spring National College Media Association Convention in New York City.
Prasai, from Lalitpur, Nepal, and fellow student photojournalists from universities across the country roamed the streets of NYC in an on-site photography competition held during the convention.
 
 Prasai's photograph "Free the Spirit" is a black and white scene in a crowded NYC subway. He photographed a moment of mood and movement of the main people in the photo, and the action surrounding them.
  
 "I wanted to capture something that reflects the life of people in a big city. For me, knowing and learning about people and their lifestyles is very critical in understanding this world we live in. Knowing other people's lives and struggles (will) make you compassionate, caring, kind and tolerant. So, I was looking for stories that moved my heart. The guy, Eddie, gave his last remaining $3 to the guitarist, and I was just very surprised and moved. I had to tell his story," said Prasai. 
ULM Intramural teams score state championships
The ULM intramural teams were fearless competitors in the Louisiana Collegiate Intramural Recreational Sports Association tournaments.
In Fall 2018, ULM hosted the LCIRSA State Tournament and the results were two undefeated champions and two second-place winners. 
In flag football the women's Beauty and the Blitz took first place and were undefeated champions. The CoRec team took first place and another undefeated title.
In volleyball, the ULM women took second place as did the men's Phi Delta Chi team.
During the Spring 2019 games, three ULM teams came in first and two came in second. CoRec soccer came off the field in first place. In softball, the men's Hooligans/Gillette Bats were first-place undefeated champions. The women's Pitch Please team also brought home the first-place undefeated champion title. Due to the severe weather on April 13, the softball teams played a double elimination tournament beginning at 7 a.m.
In basketball, Kappa Delta came in second for the women and Splash Mafia came in second in the men's 6 feet and under games.
ULM Intramurals is under the direction of Brandon Bruscato, Director of Recreational Services.