Published May 9, 2019
The University of Louisiana Monroe presents Spring Commencement 2019 at 10 a.m. Saturday, May 11 in Fant-Ewing Coliseum. Special guest speaker Gov. John Bel Edwards will deliver the commencement address. 
A large crowd is expected; therefore, Bayou Pointe will be open for those who would like to watch commencement exercises on a large screen.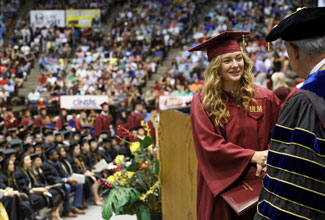 President Dr. Nick J. Bruno will confer 910 degrees upon 900 graduates. There are 10 associate's degrees; 671 bachelor's degrees; 92 Doctor of Pharmacy degrees; 118 master's degrees; four Doctor of Education degrees and five Doctor of Philosophy degrees. 
The processional "Pomp and Circumstance No. 1" will be performed by the ULM Commencement Brass Ensemble, conducted by Steven Pederson. The Brass Ensemble will also perform "The Star-Spangled Banner." Following the conferring of degrees, The Brass Ensemble will perform the recessional: The "March" from "Aida." An invocation will be led by the Rev. Dr. Bette J. Kauffman, Professor Emerita of Communications.  
Interim Vice President for Academic Affairs Dr. Steven Siconolfi will recognize distinguished graduates, faculty, and guests. 
For information on commencement, please visit www.ulm.edu/commencement-info .
Gov. John Bel Edwards
Prior to being elected Governor of Louisiana, John Bel Edwards served eight years in the House of Representatives for District 72. 
Edwards attended the United States Military Academy at West Point and graduated in 1988. He joined the U.S. Army as a second lieutenant. He subsequently completed Ranger School and served as an active duty Airborne Ranger for eight years. 
Edwards retired as captain of the 82nd Airborne Parachute Infantry. He received a law degree from Louisiana State University after returning home.  
He married First Lady Donna Edwards in 1989, and they have three children, Samantha Bel, Sarah Ellen, and John Miller. 


Visitor information
Guest seating is on a first-come, first-served basis. Reserving seats is not allowed. All markers placed in seats in an effort save them will be removed.
Please find a seat upon entering the coliseum. Standing in walkways or entryways, on stairs, or along the handrails of the upper concourse during the ceremony is not permitted.
Use of air horns and other noisemakers is not allowed during the commencement ceremony.
To ensure that every graduate's name can be heard when announced, guests are asked not to make any noise other than that of normal applause as degrees are awarded. Guests are not allowed on the floor of the arena to take photographs.
For disabled or mobility-impaired guests
Disabled or mobility-impaired seating is provided on the arena floor of Fant-Ewing Coliseum. All seating is provided on a first come, first served basis (i.e., no saving of seats or spaces).
Access to the arena floor is through the ramp on the east side of Fant-Ewing Coliseum. Seating passes are not provided.
Drivers may drop off disabled/infirm guests on the east ramp of the Coliseum (ULM Recreational Services/Activity Center side) prior to the ceremony before parking in one of the nearby parking lots. Parking passes are not provided. One adult is allowed to sit with each disabled/infirm guest on the arena floor. 
Unless disabled, children must be seated in the upper level of the Coliseum.
Any service animal must be identified as such by its harness/vest, card, or other appropriate form of identification. Upon entering the Coliseum floor, the disabled guest must notify commencement personnel of the animal's presence.
At the conclusion of the ceremony, all guests in the floor-level seating area are asked to allow graduates to exit the floor before moving toward the ramp exit.
Parking
Handicap Parking (must have handicap place card)
-       Lot 13 (also known as the Triangle Lot) across Northeast Drive from Fant-Ewing Coliseum
-       Lot 18E and 18W, behind Fant-Ewing Coliseum 
-       Lot 19 (handicap drop-off) on the northeast corner of Fant-Ewing Coliseum 
Faculty/Staff:
-       Lot 12m south (also known as the Activity Center parking lot)
Open parking East of Bayou DeSiard
-       Lot 12m north
-       Lot 12 (Brown Stadium parking lot)
-       Band Lot, located on the corner of Bon Aire and Peyton drives (weather permitting)
-       Green Lot, located behind Malone Stadium (weather permitting)
Open parking for east entrances will be from Bon Aire Drive and University Park. 
Shuttle bus locations east of Bayou DeSiard
-       Field House Road
-       Warhawk Way and Peyton Drive
-       University and Northeast drives
-       University Drive and Claiborne Street
-       Bayou Drive
Shuttles and golf carts will run continuously for pick-up. 
Open parking west of Bayou DeSiard
-       All parking lots located on Northeast Drive west of the bayou
-       All parking lots located on and west of University Avenue 
-       Parking lots located at Brown Gym, Annex, Bry Hall, and Stubbs Hall
-       Bayou Drive parking
-       Strauss Hall parking lot, located next to the library
-       Mitchell Lane parking
NO PARKING (vehicle will be towed)
-       Grass area next to beach volleyball courts, located behind Heard Stadium
-       Any sidewalks or grass areas