Published Oct. 16, 2019
Black Bayou Brass, a resident faculty ensemble in the University of Louisiana Monroe School of Visual and Performing Arts, performed "Black Bayou Vignettes" for the first time on Oct. 12, 2019.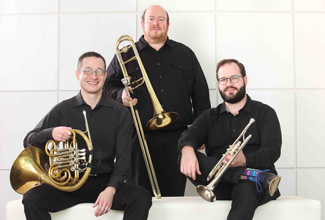 PHOTO: James Boldin, Adam Johnson and Eric Siereveld are the ULM School of Visual and Performing Arts faculty ensemble Black Bayou Brass. 
Emerald McIntyre/ULM Photo Services
Ensemble members James Boldin, D.M.A., Associate Professor of Music, Adam Johnson, D.A, Assistant Professor of Music, and Eric Siereveld, D.M.A., Assistant Professor of Music, debuted the piece at the National Association of College Wind and Percussion Instructors Conference in Cedar Falls, Iowa. 
Their conference program, "Newly Commissioned Works for Brass Trio," included the world premiere of "Black Bayou Vignettes" by Erik Morales, an internationally recognized composer.
Siereveld organized the commissioning consortium, which included faculty from ULM, the University of North Texas, Grambling State University, the University of Arkansas-Monticello, and the Ark-La-Miss Chapter of the International Trumpet Guild. 
Black Bayou Brass will record the new composition for Siereveld's forthcoming album.
For more information, visit https://www.ulm.edu/music/blackbayoubrass.html.