Published October 2, 2019
Jessica Dolecheck and Paula Griswold, both of College of Health Sciences at the University of Louisiana Monroe, collaborated on the article "Realize the Value of Soft Skills in Healthcare," which was the cover story for the September 2019 issue of Healthcare Business Monthly by AAPC – Advancing the Business of Healthcare.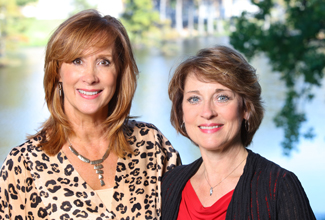 PHOTO:
 Jessica Dolecheck, Ph.D., and Paula Griswold, Ph.D., of the University of Louisiana Monroe College of Health Sciences wrote an article on the "Value of Soft Skills in Healthcare" published as the cover story for the September issue of Healthcare Business Monthly.
Emerald McIntyre/ULM Photo Services
Dolecheck, Ph.D., OTR, is associate professor and program director of Health Studies. Her areas of expertise are program directing, doctoral education, evidence-based practice for health professions, soft skills development, and health science education. Dolecheck is a retired occupational therapist who earned her Master of Arts in Occupational Therapy at Texas Woman's University and her Ph.D. in Occupational Therapy from Nova Southeastern University in Fort Lauderdale. She has extensive experience in higher education including program administration, curriculum design, conference presentations on soft skill topics, and teaching/designing undergraduate/graduate courses at ULM.
Griswold, Ph.D., CPC, is interim associate dean of Health Sciences. Her areas of expertise are undergraduate practicum/internship development, healthcare regulatory compliance, online course design and teaching, community partnership initiatives, and soft skill development. She received both her B.S. in Medical Technology and her Master of Science in Life Sciences from Louisiana Tech University. Griswold obtained her Ph.D. in Toxicology from ULM and she is a registered medical technologist through the American Society of Clinical Pathologists. She is a member of the Shreveport/Bossier City local chapter.
The Dolecheck/Griswold article can be found at https://www.aapc.com/blog/48405-realize-the-value-of-soft-skills-in-healthcare/. An excerpt from the article is republished below, with permission.
Do your healthcare workers have what it takes to excel in a consumer-driven marketplace?
The landscape of healthcare organizations is changing dramatically. In recent years, the concept of healthcare consumerism has gained significant traction with health systems, hospitals, and medical practices. Healthcare consumerism is a "movement that advocates patients' involvement in their own healthcare decisions. It is a movement from the doctor says/patient does model to a working partnership model" (Darlow et al. 2015; Gandolf, 2019; Internet Collaborative Information Management Systems (ICIMS), 2017).
Previously passive patients have become empowered consumers due to the extreme financial burden placed on their personal pocketbooks. With rising costs in medical care, consumers search for and expect greater value and quality of service and a positive patient experience. Healthcare is moving toward patient value, not volume, as a central organizing principle. This shift towards value-based care impacts how patients are cared for and how physicians and hospitals are paid.
The rise in consumerism in healthcare is pervasive and has created a workplace that is more demanding, more complex, and more collaborative than ever before (Gandolf, 2019; Healthcare Management Degree Guide, 2019; ICIMS, 2017). Healthcare leaders will need to hire and train healthcare employees with the right professional skill sets to provide well-coordinated, high-quality, patient-centered care.