Published Nov. 19, 2019
The University of Louisiana Monroe announces Louisiana Commissioner of Higher Education Kim Hunter Reed, Ph.D., will give the keynote address at Summer-Fall 2019 Commencement at 10 a.m., Saturday, Dec. 14, 2019, in Fant-Ewing Coliseum.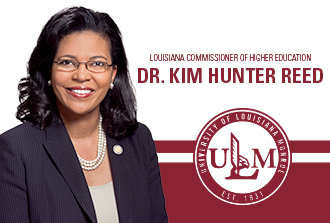 "Dr. Kim Hunter Reed is a national leader in higher education and we are privileged to have her speak at ULM's Commencement ceremony," said President Nick J. Bruno, Jr., Ph.D. "I believe the commissioner's insight and experience will leave a lasting impression on our new graduates and their friends and family on this special occasion."
Reed became commissioner in 2018 and is the only female in the country currently serving as a state higher education leader who has led higher education in more than one state.
Working with the Louisiana Board of Regents and the state's public and private institutions, Reed leads the state's talent development efforts through a focus on education, innovation and collaboration, designed to double the number of residents with a postsecondary credential of value by 2030.
Prior to being named commissioner, Reed served as executive director of the Colorado Department of Higher Education. Working with the Colorado Commission on Higher Education, Dr. Reed led efforts to drive increased educational attainment and erase equity gaps as identified in the statewide strategic plan for higher education, Colorado Rises.
Reed has extensive higher education and government experience. She served in President Barack Obama's administration as deputy undersecretary at the U.S. Department of Education, leading postsecondary diversity and inclusion work, supporting strong student and outcomes-focused policies and aggressive national outreach efforts.
She also led the White House Initiative on Historically Black Colleges and Universities. Before serving in the administration, Reed was a principal at HCM Strategists LLC, a public policy and advocacy consulting firm in Washington, D.C.
A Lake Charles native, Reed chaired Louisiana's higher education transition team in 2015 and served as the state's policy director. Reed also served as chief of staff and deputy commissioner for public affairs for the Louisiana Board of Regents and executive vice president of the University of Louisiana System.
She has received numerous honors, including LSU Alumna of the Year, Public Administration Institute; Hall of Fame Inductee, LSU Manship School of Mass Communication; and Mom of the Year, Jack and Jill of America, Baton Rouge Chapter. She has been featured in Daughters of Men, a national publication highlighting outstanding African American women and their fathers.
Reed received a doctorate in public policy from Southern University, a master's degree in public administration and a bachelor's degree in broadcast journalism from Louisiana State University. Reed is a wife, proud volleyball mom and relentless student advocate.
For information on commencement, please see ulm.edu/commencement-info.