Published April 11, 2019
DENISON, Texas– The University of Louisiana-Monroe duo of Connor Nimrod of Monroe and Morgan Jalaldin of West Monroe won the YETI FLW College Fishing event on Lake Texoma presented by Bass Pro Shops April 5 with a five-bass limit weighing 18 pounds, 15 ounces. The victory earned the Warhawk's fishing team $2,000 and a slot in the 2020 FLW College Fishing National Championship.
"Winning was definitely unexpected after the start that we had," said Nimrod, a freshman majoring in business marketing. "It was very foggy, and takeoff was delayed until around 10:30 a.m. We were boat No. 92, and when we got to the arm of the lake that we wanted to fish there was already 30 to 40 boats fishing there."
"We watched guy catch a 5-pounder from a dock that we knew was there and we had to move," said Jalaldin, a freshman majoring in nursing. "We abandoned our pattern completely and decided to make a move to a new area."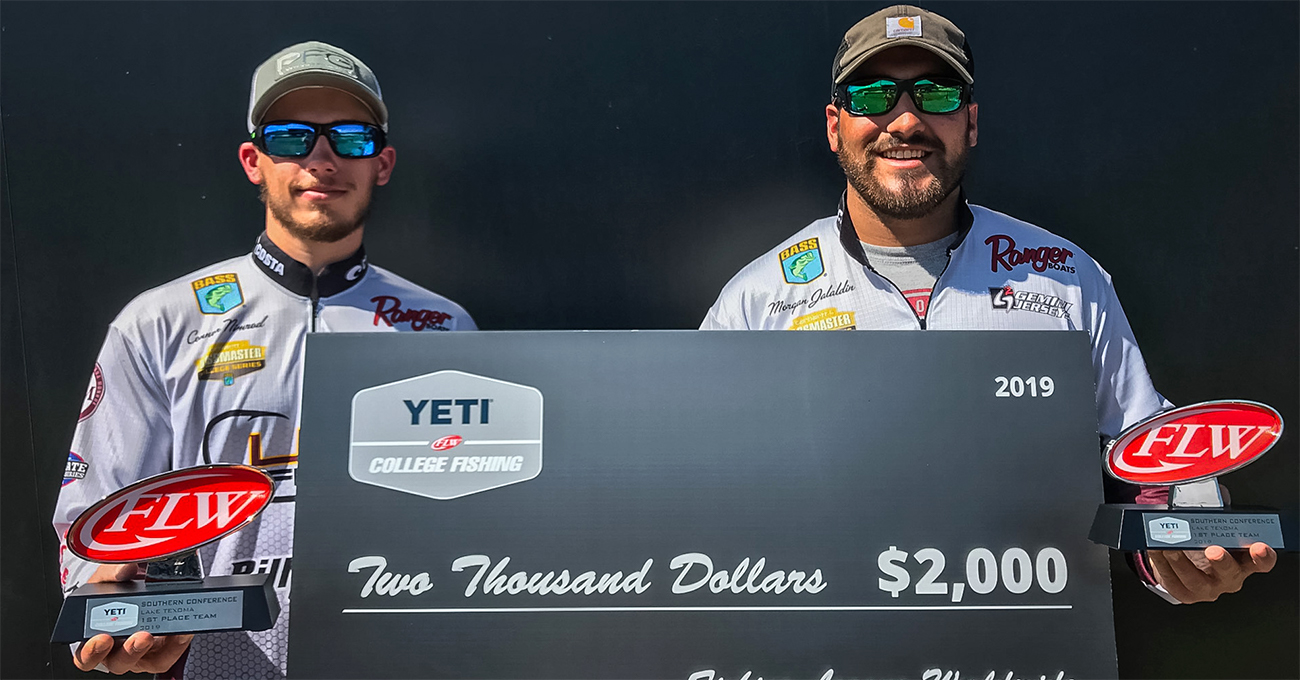 "We decided to change up altogether and ran 25 minutes to a completely different spot mid-lake that we had found in practice," Nimrod said. "We weren't really planning to go there during the tournament, but I'm glad that we did."
The duo described their winning area as a pea gravel bank that had isolated, broken-off bushes in 2- to 4-feet of water. They managed to catch seven or eight keepers in their fog-shortened day, all coming on Ned rigs. They fished Z-Man TRD Crawz and BioSpawn ExoSticks that they cut in half on their Ned Rig setups, and credited their long practices and patience as the key to their victory.
"I think the key was really buckling down in practice," Jalaldin said. "We had never fished here before, but we were out there for three full days, sunrise to sunset, to practice and learn the lake."
The fishing 
"We were able to catch every fish in that area by really slowing down and fishing very thoroughly," Nimrod went on to say.
The top 10 teams that advanced to the 2020 College Fishing National Championship are:
1st:  University of Louisiana-Monroe – Connor Nimrod, Monroe, and Morgan Jalaldin, West Monroe, five bass, 18-15, $2,000
2nd: Tarleton State University – Reagan Nelson and Cody Rayburn, both of Athens, Texas, five bass, 18-9, $1,400
3rd Texas A&M University – Garrison Thomas, Keller, Texas, and Tyler Anderson, Austin, Texas, five bass, 18-4, $500
4th: Oklahoma State University – Dexter Flick, Stillwater, Okla., and Cameron Simmons, Owasso, Okla., five bass, 18-1, $900
5th: Tulsa Community College – Garrett James, Sand Springs, Okla., and Garrett McCrackin, Jennings, Okla., five bass, 17-4, $500
6th: Angelo State University – Lance Culak, San Angelo, Texas, and Steven Armstrong, Brownwood, Texas, five bass, 17-3
7th: East Texas Baptist University – Brett Clark, Center, Texas, and Cody Ross, Livingston, Texas, five bass, 16-13
8th: Texas State University – Conner Iselt, Georgetown, Texas, and Josh Soroka, Arlington, Texas, five bass, 15-5
9th: University of Oklahoma – Drew Fazzino, The Woodlands, Texas, and Charles Vang, Norman, Okla., five bass, 14-10
10th: Louisiana Tech University – Andrew Harp, Linden, Texas, and Christopher Gaudin, Tickfaw, La., five bass, 14-9
Complete results for the entire field can be found at FLWFishing.com.
The YETI FLW College Fishing event on Lake Texoma presented by Bass Pro Shops was hosted by the Denison Area Chamber of Commerce. It was the second of three regular-season qualifying tournament for Southern Conference anglers. The next event for FLW College Fishing anglers will be the Central Conference opener, April 12 at Lake Cumberland in Burnside, Kentucky.
YETI FLW College Fishing teams compete in three regular-season qualifying tournaments in one of five conferences – Central, Northern, Southern, Southeastern and Western. All participants must be registered, full-time students at a college, university or community college and members of a college fishing club that is recognized by their school. The top 10 teams from each division's three regular-season tournaments and the top 20 teams from the annual FLW College Fishing Open will advance to the 2020 FLW College Fishing National Championship. Additional teams will qualify for the National Championship if the field size in regular-season events exceeds 100 boats. The Potomac River and Marbury, Maryland, will play host to the 2019 FLW College Fishing National Championship, June 4-6, 2019.
For complete details and updated information visit FLWFishing.com. For regular updates, photos, tournament news and more, follow YETI FLW College Fishing on FLW's social media outlets at Facebook, Twitter, Instagram and YouTube.
About FLW
FLW is the world's largest tournament-fishing organization, providing anglers of all skill levels the opportunity to compete for millions in prize money in 2019 across five tournament circuits. Headquartered in Benton, Kentucky, with offices in Minneapolis, FLW and their partners conduct more than 290 bass-fishing tournaments annually around the world, including the United States, Canada, China, Italy, South Korea, Mexico, Portugal, South Africa and Spain. FLW tournament fishing can be seen on the Emmy-nominated "FLW" television show while FLW Bass Fishing magazine delivers cutting-edge tips from top pros. For more information visit FLWFishing.com and follow FLW at Facebook, Twitter, Instagram and YouTube.