Published Oct. 31, 2019
Compete LA is an innovative initiative by the University of Louisiana System to assist adults ready to complete their college degrees. The University of Louisiana Monroe is featuring 12 programs through ULM Online as part of Compete LA. Degrees include those that prepare students to meet career goals  in business, education, healthcare and the public sector. The nine universities in the UL System are participating in Compete LA.
Wednesday, Oct. 30, several events were held introducing the initiative to Northeastern Louisiana.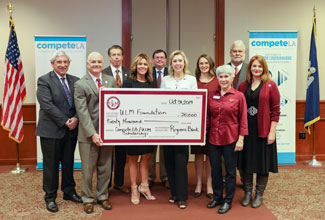 PHOTO: Compete LA, the University of Louisiana System's new initiative to encourage people to complete their college degrees, was introduced in Northeastern Louisiana by the University of Louisiana Monroe. Regions Bank is providing $20,000 in scholarships to those pursuing business degrees through ULM Online and Compete LA. Pictured at the check presentation are, from left, front, ULM President Nick J. Bruno, Jr.; Kevin Smith, Senior V.P., Commercial Banking, Regions Bank; Jeanine Kahn, Provost, V.P. for Academic Affairs, UL System; Katie Barras, Asst. V.P. of Academic Innovations, UL System; Cami Geisman, V.P. for Marketing and Communications, UL System; Susan Chappell, Executive Director ULM Advancement, Foundation and Alumni; Roxanne Smith, Director of Grants and Scholarships, ULM Foundation; and in back, Roger Johnston, Senior V.P., Commercial Banking, Regions Bank; Ron Berry, Dean of the College of Business and Social Sciences; and Leo Nelson, Senior V.P., City President, Regions Bank.
Emerald McIntyre/ULM Photo Services
UL System President and CEO Jim Henderson, D.M., was the guest speaker at a joint meeting of the Monroe and West Monroe West Ouachita chambers of Commerce.

"For Louisiana to be competitive in the economy of the future, we have to develop a more educated workforce," Henderson said. "Compete LA is designed to cut through the red tape of returning to school and provide supports at every step of the student's educational journey."
Joining Henderson from the UL System were Jeannine Kahn, Ph.D., provost and vice president for Academic Affairs, Katie Barras, assistant vice president of Academic Innovations and Cami Geisman, vice president of Marketing and Communications.
Following the meeting, ULM sponsored a Compete LA and ULM Information Fair at the Monroe Civic Center.
Wednesday afternoon, ULM President Nick J. Bruno, Ph.D., and Henderson hosted a reception for Compete LA and to announce $20,000 in scholarship funding by Regions Bank.
Bruno addressed the gathering, noting that life events can have a significant impact on education. Family issues, jobs and illness can disrupt the course of completing a college degree.
"Compete LA allows the opportunity for a 'stop-out' to come back and pursue their degree. We have a large number of undergraduate and graduate programs through ULM Online and on campus that fit the needs of our local workforce. Guidance and assistance now available through Compete LA and ULM Online can help people reach their academic goals," Bruno said.
For some former students, financial concerns led to the detour to a college degree. To help fund participation in Compete LA at ULM, Regions Bank created a scholarship specifically for those students.
"We are joined today by our longtime partner, Regions Bank. They recognize that adults returning to higher education may struggle financially," said Bruno. "Regions Bank is generously providing $1,000 scholarships to 20 students participating in Compete LA at ULM in one of our ULM Online business programs."
Representing Regions Bank were Kevin Smith, senior vice president of Commercial Banking, Roger Johnston, senior vice president of Commercial Banking and Leo Nelson, senior vice president and City President.
"Regions is committed to making a strategic and positive difference in the community we serve," Smith said. "Supporting Compete LA offers a direct and meaningful way to do just that. We have a proud history of partnership with ULM. As we invest $20,000 in scholarship funding this year, our hope is to connect more students and adult learners with opportunities to succeed."
Katie Dawson, director of ULM Online, said 12 degree programs are part of Compete LA, bachelor's degrees ingeneral studies, health studies, elementary education, psychology, criminal justice, history, business administration, risk management and insurance management, marketing and political science and an Associate of General Studies.
Students interested in finishing their degree can apply at CompeteLA.org or through the program's mobile app found in the App Store and on Google Play. For more information, visit ULM Online, https://www.ulm.edu/onlinedegrees/.
#CompeteLA  #TheBestisontheBayou  #TakeFlight  @RegionsNews