Published June 17, 2019
Seven University of Louisiana Monroe students are among the 29 women vying for the 2019 Miss Louisiana crown.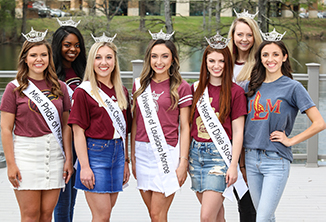 The contestants, pictured here, are, from left, Katelyn Yopp, Ambria Terrell, Alexa Madron, Monica Whitman, Allison Newton, Alyssa Marie Garner and Carmin Velasquez.
The preliminary competitions start at 7:30 p.m. Thursday, June 20 and Friday, June 21, and the finals at 8 p.m. Saturday, June 22, all at the Jack Howard Theatre at the Monroe Civic Center. 
The Saturday finals will be broadcast on KNOE-TV 8 from 8-10 p.m.
The University of Louisiana Monroe is hosting all of the contestants at Bayou Suites during Pageant Week. The contestants and pageant officials were guests of honor at a luncheon at ULM on Monday. 
More about the ULM students:
•Miss ULM Monica Whitman – Whitman is a P1 pharmacy student. The Tioga native's talent will be a lyrical dance. Her social impact is Making Healthy a Habit. 
•Miss Heart of Dixie Allison Newton – Newton is originally from Monroe. The vocal performance major's talent is musical theatre vocals. Her platform is The Best Test: Early Mammograms. 
•Miss Lagniappe Carmin Velasquez – Velasquez is a political science major from Sterlington. Her talent is jazz dance with her social impact being Sgt. David Elahi Memorial Foundation. 
•Miss Heart of Trenton Alyssa Marie Garner – A Frierson native, Garner is a health studies pre-professional major with a talent of lyrical dance. Her social impact is Growth Through Lifetime Learning. 
•Miss Louisiana Stockshow Ambria Terrell – Terrell is a pre-nursing major from Shreveport. Her social impact is L. E. A. R. N. (Let's End Assault and Rape Now), and her talent is a lyrical dance. 
•Miss Crescent City New Orleans Alexa Madron – Madron, from Ponchatoula, is a pre-pharmacy major. Her talent is jazz dance, and her social impact is Arthritis Research and Foundation.
•Miss Pride of Monroe Katelyn Yopp – From Natchitoches, Yopp is a psychology major. Her social impact is "I've Got Your Back"-  Scoliosis Awareness. Yopp's talent is tap dance. 
For more information on the contestants and the 55th Miss Louisiana Pageant, visit www.misslouisiana.com.