Published April 30, 2019
The University of Louisiana Monroe Medical Laboratory Science program was recently honored with several awards presented to MLS faculty, students and alumni at a professional meeting. The awards were timely as April 21-27 was Medical Laboratory Professionals Week.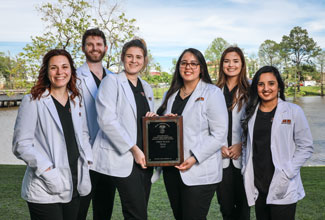 Faculty members Melanie Chapman, Jessica Lasiter and Debbie Wisenor, 37 MLS students, several clinical and part-time MLS instructors, and ULM MLS alumni attended the American Society for Clinical Laboratory Science of Louisiana and Mississippi 2019 Bi-State Annual Meeting in Monroe April 8-11. ULM faculty, instructors and alumni planned the very successful meeting under the leadership of program chair Jessica Lasiter.

One of ULM's five MLS teams won first place in the student bowl competition, competing among 17 teams from Louisiana and Mississippi. ULM's winning team included, in photo, from left, Kristine Clement, Joshua Brennan Thompson, Brittany Clampit, Cheyenne Reyes, and Harmisha Gandhi. ULM students served as timekeepers, scorekeepers and sergeant-at-arms for the games. 

"All of our students were winners. Each ULM team won at least one game. ULM's winning team faced an undefeated team from LSU Health Sciences – New Orleans after losing a game and moving to the losers' bracket in the double elimination tournament. ULM defended their title as 2018 first place winners after defeating LSU two games back-to-back," said Chapman.

ULM MLS students received additional honors and awards. Wasana (Robin) Keohavong received a scholarship award from the Louisiana State Society for Clinical Laboratory Science. Jeffrey Hursey received an award for a paper he wrote, "Established and New Hematology Findings in Malaria." Cheyenne Reyes received the LSCLS Student of the Year Award.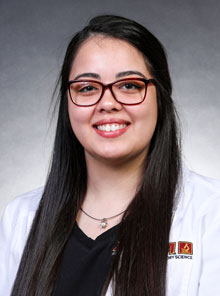 Three ULM MLS students were elected to serve the LSCLS Student Forum: Mikayla Thompson, chair; Monika Paneru, vice-chair; JD Hollowell, secretary. Cheyenne Reyes was elected as LSCLS New Professional Chair.
 
The ULM Medical Laboratory Science Society obtained funding for the MS-ASCLS/LSCLS Joint Annual Meeting for $1,500 through the ULM Student Enhancement Activity Fee Committee. The ULM MLS Society raised funds to cover additional costs for students to attend the meeting.
 
ULM instructor Karen Williams completed her service as LSCLS president and was succeeded by 2015 alumnus James Gardner. Jessica Lasiter, James Gardner and 2015 alumnus Vinh Nguyen received LSCLS Presidential Service awards and Omicron Sigma awards for their service to the organization. Faculty members Melanie Chapman and Debbie Wisenor and instructors Katie Patrick and Rosalie Hendrix also received Omicron Sigma awards.

Rosalie Baylock Hendrix, ULM MLS alumna (2013), clinical instructor, and medical laboratory scientist at St. Francis Medical Center received the LSCLS Member of the Year award.