Published April 15, 2019
A photo by Prajal Prasai, a 21-year-old junior in Communication at the University of Louisiana Monroe, earned a first place award at the Spring National College Media Association Convention in New York City.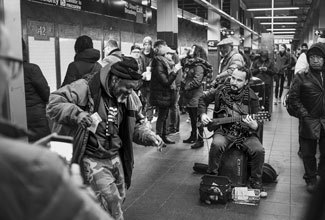 The annual conference is primarily for journalism students. Staff from ULM's student newspaper The Hawkeye, where Prasai is the co-managing editor for art, attended to learn techniques, share knowledge and connect with professionals and peers. Prasai said he is fascinated by NYC and thanked The Hawkeye for the opportunity to attend the convention in March, 2019.
Prasai, from Lalitpur, Nepal, and fellow student photojournalists from universities across the country were challenged to roam the streets of NYC in an on-site photography competition held during the convention.

Prasai's photograph "Free the Spirit" is a black and white scene in a crowded NYC subway. Prasai photographed a moment of mood and movement of the main people in the photo, and the action surrounding them.
 
"I wanted to capture something that reflects the life of people in a big city. For me, knowing and learning about people and their lifestyles is very critical in understanding this world we live in. Knowing other people's lives and struggles (will) make you compassionate, caring, kind and tolerant. So, I was looking for stories that moved my heart. The guy, Eddie, gave his last remaining $3 to the guitarist, and I was just very surprised and moved. I had to tell his story," said Prasai. 
 
The ULM junior credits Srdjan Marjanovic, Creative Director, and Emerald McIntyre, Digital Media Editor, both with the Office of Marketing and Communications; Siddharth Gaulee, former Hawkeye Art Director and photographer; and Dr. Christopher Mapp, Director of Student Publications, for providing him with critiques, motivation and vast opportunities which he said have made him the photographer he is today. Prasai is also a student photographer with the Office of Marketing and Communications.
 
"They have always motivated me to push my limits, have constantly critiqued my work, and have imparted their priceless wisdom whenever I needed," Prasai said.
 
Prasai started his photography journey in January 2017. He plans to attend graduate school in pursuit of a Master of Fine Arts in Photography. 
 
"Hopefully, I will get to attend some good art schools. After that, it's another adventure to the unknown" he said.