Published Nov. 30, 2020
The University of Louisiana Monroe is mobilizing in unity with the theme "Together We Give" for GivingTuesday on Tuesday, Dec. 1.
A new website (http://bit.ly/ULMGiving) created exclusively for GivingTuesday, allows ULM supporters to give any amount and designate the department, program, scholarship, etc., their generosity will benefit. The website is active and donations can be made at any time.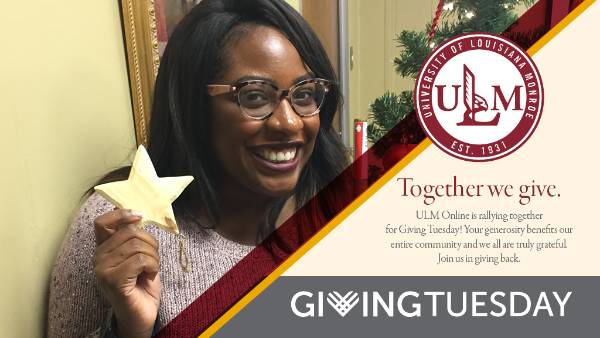 An innovative social media campaign for Together We Give features videos from faculty and staff promoting GivingTuesday. The videos are on the University of Louisiana Monroe YouTube channel. 
"ULM's GivingTuesday theme, Together We Give, empowers people to drive progress at ULM in the programs they are passionate about," said Kelsey Bohl, Ed.D., executive director of Marketing and University Communications.
"All gifts, in any amount, are welcome," said Bohl. "That's the empowerment. Your donation will make a difference, and you choose where that difference will be made."
Through the secure site, people can enter their contribution and use the menu to choose their gift dedication.
"ULM's gracious friends and alumni want to direct their charitable gifts to programs they want to positively impact. Our GivingTuesday webpage is designed so the community can choose from a priority list of current university needs," said Susan Chappell, executive director of ULM Advancement, Foundation and Alumni Relations.
"If you are an alumnus of the College of Arts, Education and Sciences and want to support future educators, your gift can go there. If you love sports and want to help Warhawk student-athletes, that's where your contribution will go. The donor is in control," Chappell said.
"The ULM Foundation administers all donations to the university, which is why Together We Give," Chappell said.
Visit the ULM Together We Give website here or https://alumni.ulm.edu/g/ulm-giving-tuesday-2020.