Published May 18, 2022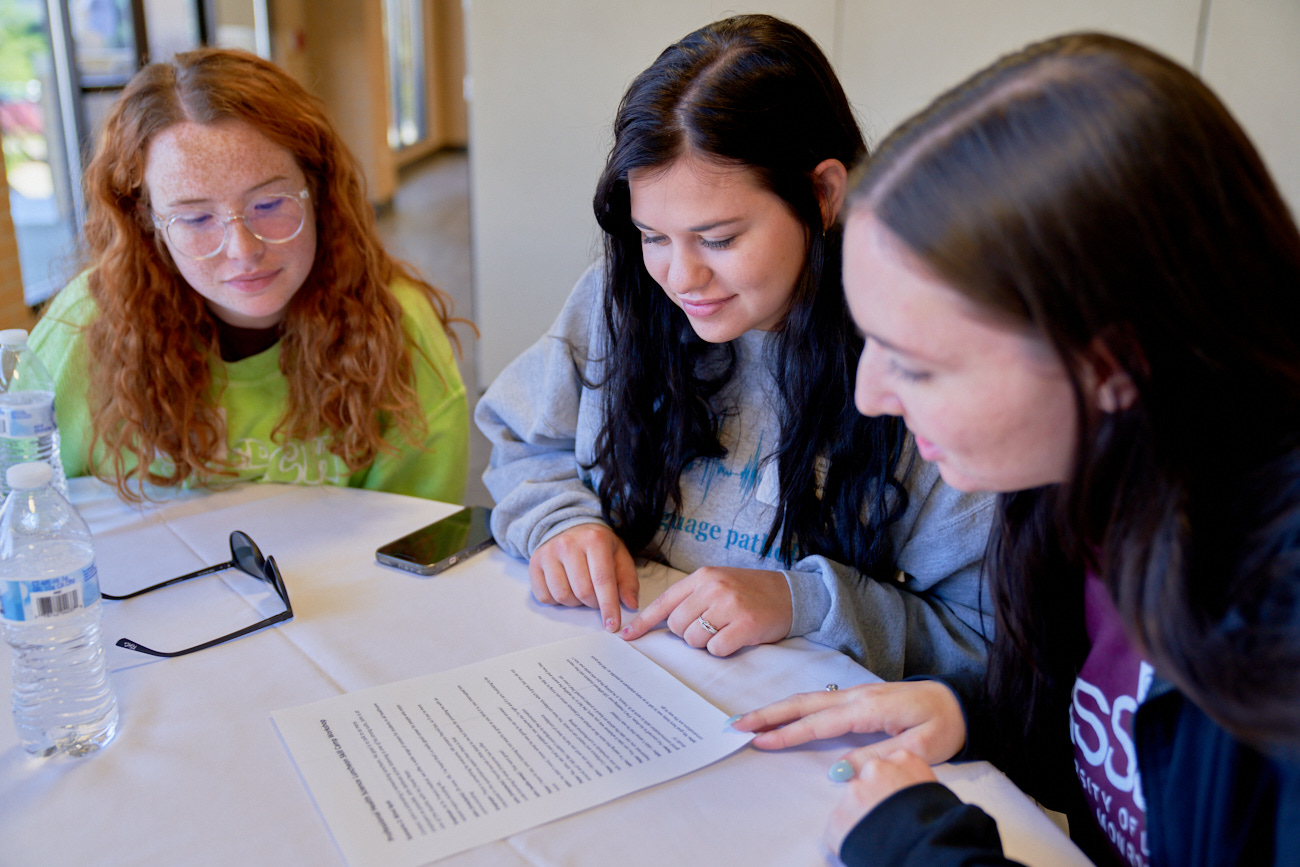 The ULM Career Center and ULM School of Allied Health have collaborated to design and implement an innovative, multi-day program to train students in soft skills like professionalism, networking and communication.
The program kicked off with a 3-hour interactive Skills Camp Workshop held on April 8 and culminated with a Professional Business Luncheon on April 12.
"The faculty and staff within the School of Allied Health are dedicated to not only train their students to do well technically in their field, but to do well holistically in their field. We want our students to be skilled in their profession and to be professionally prepared to navigate the office," said Dr. Donald Simpson, dean of the College of Health Sciences.
The purpose of the workshop was to create a meaningful, hands-on student experience that would enhance soft skills for confident interactions with healthcare community leaders at the networking event. One hundred fifty-three health sciences students – including representatives from the dental hygiene, health studies, kinesiology, medical laboratory science, occupational therapy assistant, radiologic technology and speech-language pathology programs – learned about dining etiquette, professional dress and career readiness.
"I enjoyed collaborating with the ULM Career Center staff in designing this workshop — our collaborative efforts brought together different skills, expertise and talents that resulted in a very successful session for our students," said Dr. Jessica Dolecheck, program director of health studies.
The workshop was based on the National Association of Colleges and Employers competencies that employees value the most: collaboration, professionalism, communication and problem-solving.
"This interactive workshop provided students with experiences in improving and practicing non-technical skills needed for life and career success. Improving and mastering these skills will have a positive impact on entry into their careers and overall future," said Dr. Paula Griswold, associate dean of the College of Health Sciences.
Students rotated through three different sessions with topics including developing and practicing an elevator pitch, dining etiquette and place settings and role-playing various work-place scenarios.
"The unique angle of this particular workshop was that each session included a lecture, videos to show the content being taught, followed by hands-on, interactive activities," said Kristen Chandler, director of the ULM Career Center. "We know that students learn in different ways, so we wanted to offer several ways to deliver this very important information."
The following week 250 students, faculty, alumni and professionals networked at a Bayou Pointe luncheon, where students exercised their newfound skills. Armed with questions and discussion points, students sat with leaders from their disciplines, which allowed for meaningful dialogue about careers in their field. The purpose of this business luncheon was for students to gain knowledge and application of appropriate business etiquette, interpersonal communications and networking with healthcare professionals in their discipline.
"The event allows the student to experience a professional gathering which is great because most programs don't prepare students for networking type gathering. The students were so engaging with their questions which ranged from the proper attire for professional meetings to where I see the future of Laboratory Medicine," said Brice Bruno, Wellstar ancillary and support services vice president. "Exposing the students to this type of professional development will expose them to new ideas and perspectives they may not have thought of with just traditional classroom work. Professional development will give them the necessary resources needed for them to achieve their goals in an efficient manner."
The Professional Business Luncheon struck a chord with students, community leaders and faculty.
"Our Professional Luncheon provided a meaningful way for our students to learn what employees are seeking in their workforce, the types of careers in their field and overall, valuable life skills needed for a successful career," Dolecheck said.
"This event significantly increased the student's readiness to shake the hand and speak confidently with employers in a networking and interview setting. Mastering the skills needed for a business luncheon will pay off for our students in a big way," Griswold said.
The luncheon was sponsored by Blue Cross Blue Shield Louisiana, Vantage Health Plan, GO CARE Community Health Center, St. Francis Medical Center, Omega Diagnostics, CHRISTUS St. Frances Cabrini Hospital, Dr. Susan Lacey, Dr. Terry Thomas, LabCorp, Wellstar and ULM Radiologic Technology.