Published October 11, 2022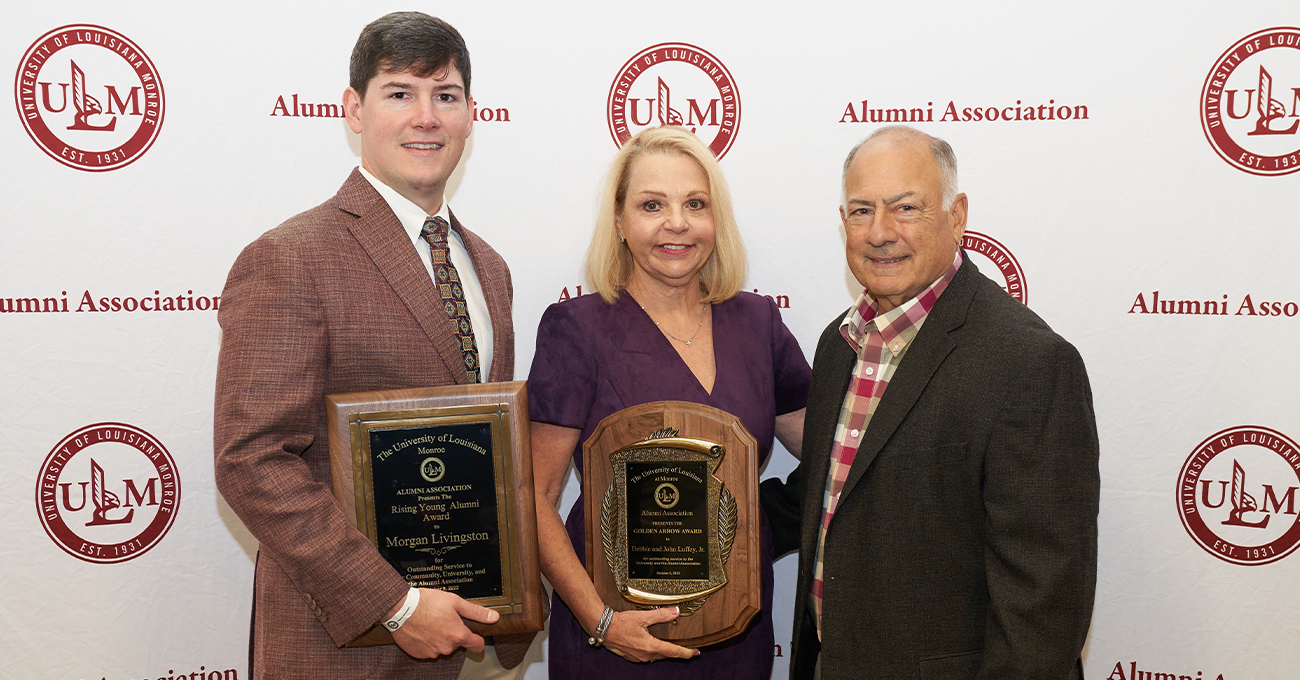 Pictured from left to right: Rising Young Alumni recipient, Morgan Livingston; Golden Arrow Award recipients, Debbie and John Luffey.
---
MONROE, LA— The University of Louisiana Monroe Alumni Association honored John and Debbie Luffey and Morgan Livingston at its annual Good Morning Gala on Saturday, October 8 at Bayou Pointe Event Center during Homecoming festivities.
The annual brunch honors recipients of the prestigious Golden Arrow and Rising Young Alumni awards. They are recognized for their commitment, advocacy and dedication to the Alumni Association and to ULM. Alumni and community members nominate the recipients and a committee reviews submissions and announces award winners.
Since 1981, the Golden Arrow Award is the highest honor given from the ULM Alumni Association. This award goes to a graduate who has distinguished themselves through personal and professional achievement while serving the Alumni Association above and beyond the call of duty over a period of years. This year the committee was pleased to honor not one, but two alumni – John and Debbie Luffey.

John Luffey first became acquainted with the university – then named Northeast Louisiana State College – when his mother took him to class as a baby. He later graduated from Northeast Louisiana University with a degree in Accounting. John has practiced law in Monroe for 46 years and currently serves the ULM Foundation as a board member. Debbie Luffey graduated from the University in Speech and Hearing Therapy and Speech Education. A former president of the Junior League of Monroe, Debbie has served the community in various nonprofits and current serves on the St. Francis Medical Center Foundation Board of Directors.
"During the nomination process, it was a unanimous decision to award the Golden Arrow to both Debbie and John for their unique contributions to ULM," said Sarah Siereveld, ULM Director of Alumni Affairs. 
This year's Golden Arrow Award was presented by 2021 winner Tag Rome. 
The Rising Young Alumni Award was established in 2013 and is given to an alumnus who is involved in community organizations and philanthropy, a general supporter of his or her community and actively seeks ways to positively impact ULM programs and influence others on behalf of ULM. This year, the Alumni Association recognized Morgan Livingston.
Morgan Livingston graduated from ULM in 2013 with a Bachelor of Science in Kinesiology. He is an attorney at Hudson, Potts & Bernstein and is the representative of the firm's title company, Hudson Lane Title Company, LLC. Livingston is an active member of the ULM Alumni Association and says his favorite memories from college are tailgating in the Grove. Livingston was recently appointed to represent the 4th Judicial District in the Louisiana Bar Association House of Delegates. Livingston has also been named one of Northeast Louisiana's "Top 20 Under 40 Young Professionals" and is a graduate of Leadership Ouachita.
"Morgan is a strong advocate for this community and our university," said Chris Williams, ULM Director of Student Development. 
This year's Rising Young Alumni Award was presented by 2021 winner DeAndre Alexander.
More than 64,000 ULM alumni work, serve and change lives across the world. To join the ULM Alumni Association, visit alumni.ulm.edu to sign up. Membership starts at just $35 and gives graduates access to the worldwide alumni network database, informational newsletters to stay connected to ULM and discounts to local, regional and national businesses.