Published September 27, 2022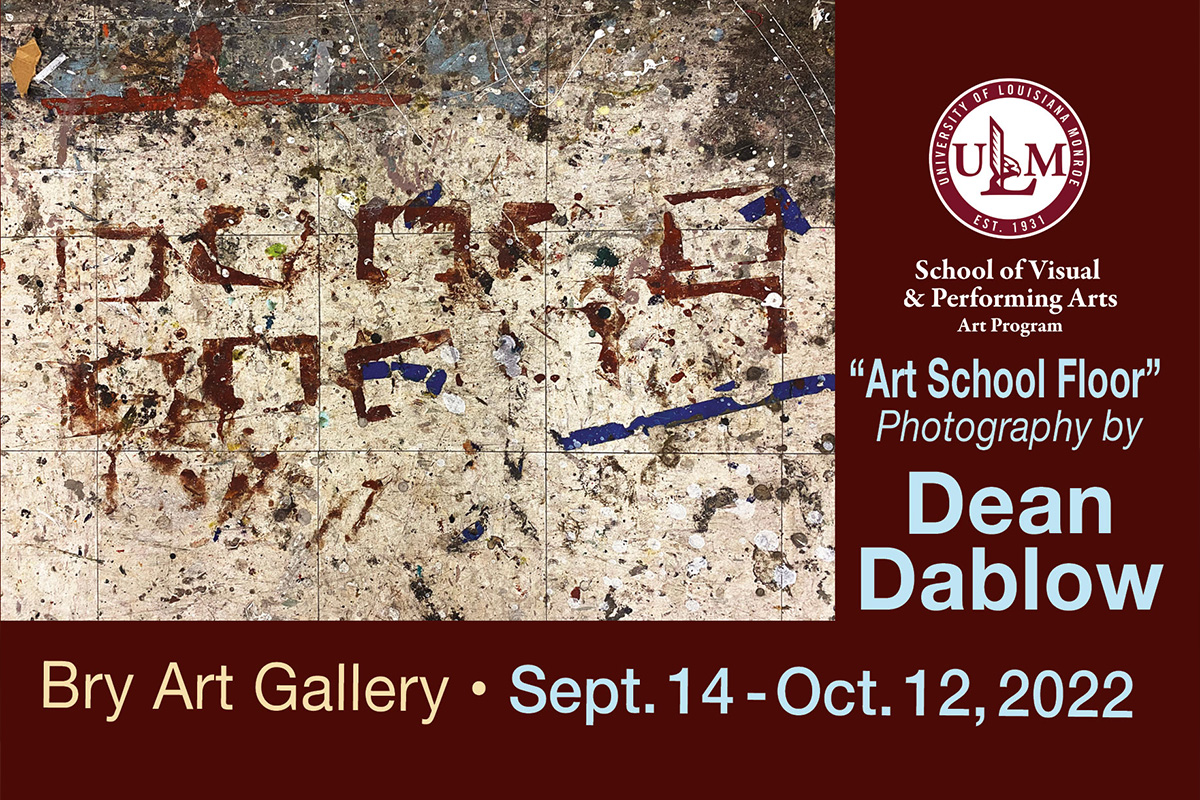 MONROE, LA – The ULM Art Program and Bry Gallery are currently hosting an exhibition of works by Ruston artist, Dean Dablow. Dablow is Professor Emeritus of Art from Louisiana Tech University, where he has taught photography for many years. The show is titled, "Art School Floor" and consists of a series of photographs taken over time of the studio art floor at Louisiana Tech University.  
The show will be up from September 14 - October 12. There will be an artist's talk on Wednesday, September 28 in Sandel 236 at 2:00 p.m. with a reception following in Bry Gallery. 
Bry Gallery is open from 8 a.m. - 4:30 p.m. Monday through Thursday, and 8:00 a.m. -11:30 p.m. on Fridays. The public is invited and admission is free. 
Dablow describes the inspiration for the collection in his artist statement: "While working in my summer studio, located in an art school painting room, I noticed the markings on the floor filled with random scuffs, paint spots and charcoal, ground into the tiles by a myriad of students' shoes and moved tables. I began photographing these marks, arranging the more interesting in my viewfinder. They have the appearance of etchings made by a printmaker working in abstraction. Organization of these random markings is paramount in these photographs. Photographers do this instinctively when lifting their camera to the eye, cropping out that which is not of interest. The world becomes isolated in the rectangle or square of the viewfinder. The floor was rich fodder for image-making." 
He continued, "In a sense, they are the result of countless art students making decisions in their classroom, and in the remains of their work I have recorded the extraneous debris left behind. Careless spills of paint smeared on the floor, random though they may be, become something new, albeit a remnant of each student's working process. Although I was not the instructor for these classes, I felt a kinship with them seeing the remains of their personal discoveries. I wondered if what they had discovered was a success or a failure. I know they were all learning experiences." 
For more information about this exhibition, please contact Joni Noble, Art Program Coordinator at 342-1376.