Published Feb. 8, 2022
Program will highlight talents of ULM students and community youth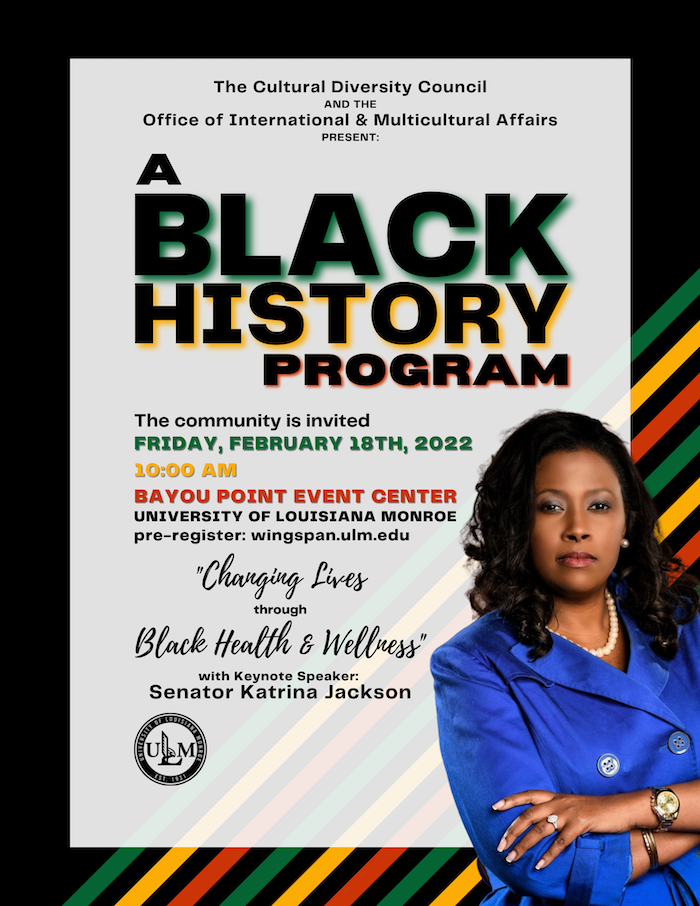 Want to go?
WHAT: A Black History Program
WHEN: 10 a.m., Friday, Feb. 18
WHERE: Bayou Pointe Event Center
COST: Free and open to the community
RSVP:Wingspan (https://wingspan.ulm.edu/event/7874876)
The University of Louisiana Monroe Cultural Diversity Counsel and the Office of International and Multicultural Affairs presents A Black History Program at 10 a.m. on Friday, Feb. 18, at Bayou Pointe Event Center.
The program is free and open to the public. Those planning to attend may RSVP on Wingspan (https://wingspan.ulm.edu/event/7874876).
This year's program will highlight the talent of ULM students and youth within the community.
The keynote speaker is Sen. Katrina Jackson. Jackson serves District 34 in the Louisiana State Senate. She is a practicing attorney in Monroe who graduated from ULM and Southern University Law Center.
"We are excited to continue to explore and acknowledge the diverse cultures on the bayou. The exhibition of cultural diversity is always a mutual benefit for not only our entire student body but the university and community as well," said Gina White, Director of the Office of International and Multicultural Affairs.
February is designated as Black History Month to celebrate the achievements and contributions of African Americans. Carter G. Woodson, an American scholar, is known as the "Father of Black History" because of his dedication to establishing Black History Month. Since 1976, an executive order has designated February as Black History Month.
The Black History Month 2022 theme is "Black Health and Wellness." This year, people worldwide will recognize the contributions of African American medical research scholars and practitioners. The theme embraces all Black communities' initiatives to maintain physical and mental health.
"This program and other initiatives such as this will raise awareness of unsung heroes that have contributed to the building of this country," said Diamond Green, the president of the Cultural Diversity Counsel, a recognized student organization at ULM.