Published May 16, 2022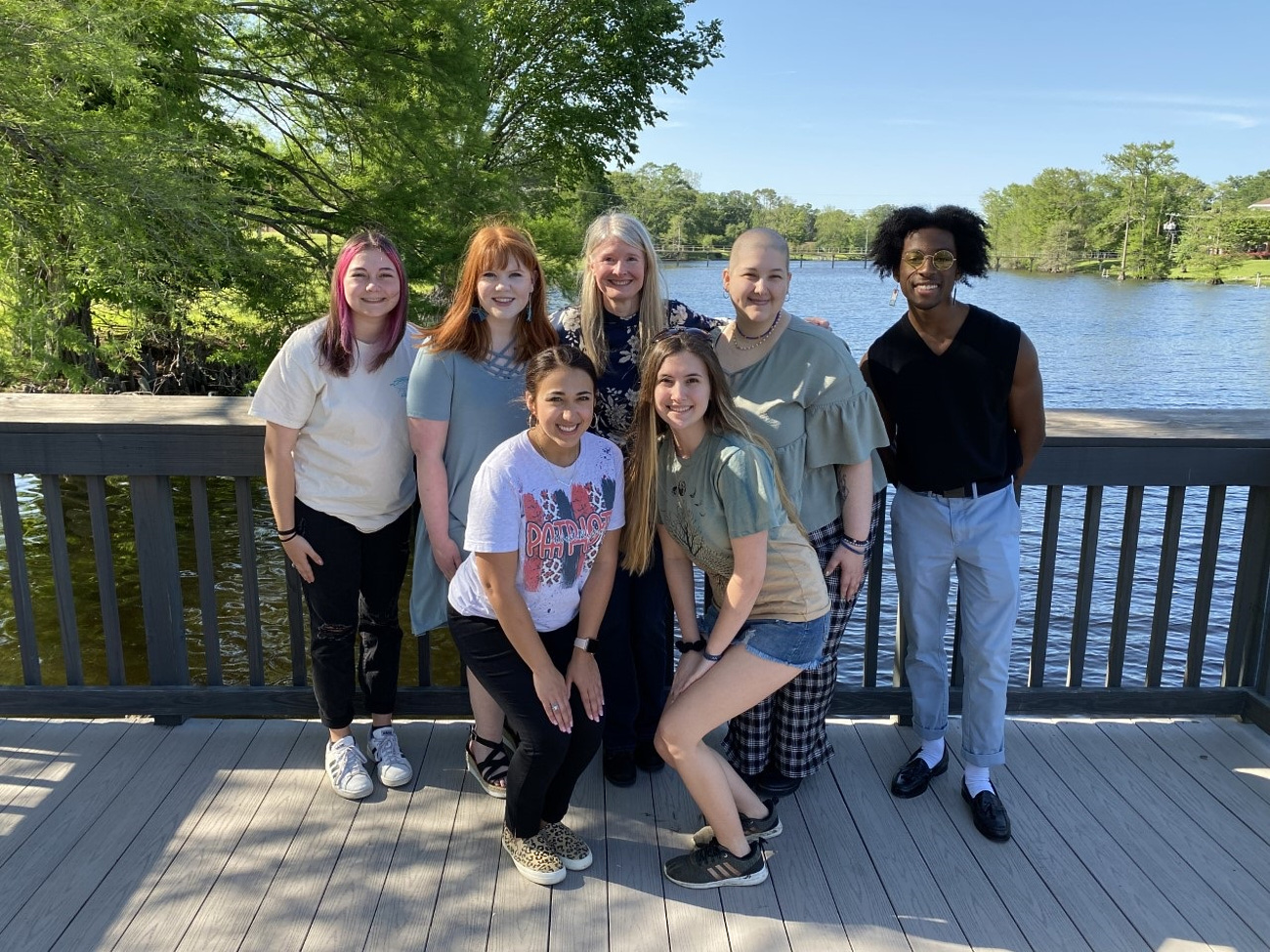 A group of ULM students published work from a major class project in World Literature Today Weekly, an award-winning magazine of international literature and culture. Students from English 4000, a special topics course on Native women writers, interviewed acclaimed novelist, poet and essayist Diane Glancy, whom they had studied in the course.
Dr. Mary Adams, professor of English and coordinator of the English program, taught the class. Participating students included English senior Kaylee Sadler, English education seniors Lauren Fee, Grace Lewis, Katelynn Nelson, psychology junior Caleb Fisher and communication junior Carley Nail. Fee, Lewis and Sadler graduated Saturday.
The class focused on works by Louise Erdrich, Joy Harjo and Glancy. Perhaps most impactful was Glancy's novel Pushing the Bear, a historically accurate account of the Trail of Tears that focuses on a fictional family as they make the arduous journey. Glancy is of Cherokee and German-English descent, and her works often retell historical events from the Native perspective. The students said they were drawn to this novel's weaving of historical fact, fictional narrative and cultural and linguistic details. 
"Diane Glancy allows us to gain a unique perspective on the reality of Native American history. She offers us insight on the struggles, successes and traditions of American tribes, and such contributions are essential to the betterment of our next generation," Fee said.
The students' appreciation of Glancy as a writer, researcher and educator inspired numerous conversations on the increasing role such fiction can play in public education.
"The students' in-depth discussions deserved a broader audience," Adams said. "It occurred to me that Ms. Glancy might be interested in these discussions, as well."
Adams pitched the idea for the interview to World Literature Today. When the editorial team accepted the proposal in early spring, Adams contacted Glancy to request the interview. Glancy agreed, and the students were still eager to participate, even though the course had ended two months earlier.
"These students are the definition of engagement," Adams said. "They represent a generation that seeks more active learning inside and outside the classroom." 
In March, the class reunited to write questions, practice interviewing skills and organize their ideas. Later, the group interviewed Glancy through Zoom. The students were nervous and excited, but exceedingly professional. Their questions to and follow-up interactions with the author demonstrated a high level of preparation, something Glancy herself commented on several times.
This process provided the students with experience in interviewing and editing, as well as a heightened understanding of key issues in Native American studies. The students learned a great deal from Glancy, who spoke on her writing process and on the motivation behind her most pivotal works. Glancy ended the interview by offering valuable advice to the young scholars. Nelson said she found both the conversation and its final print version very moving.
"Reading Ms. Glancy's responses, especially the ending note that she left us with, gave me chills all over again. I hope that our readers will have that same experience," Nelson said.
To read the entire interview between the students and Glancy, click here: https://www.worldliteraturetoday.org/blog/interviews/multiplicity-voices-diane-glancy-meets-english-4000-mary-e-adams-lauren-fee-caleb.