Published April 12, 2022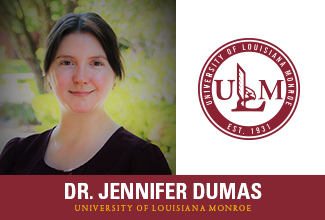 Jennifer Dumas, Ph.D., University of Louisiana Monroe Visiting Assistant Professor of Political Science, has been accepted to attend the prestigious annual 2022 Academic Council on the United Nations System Workshop.
Dumas is one of only 20 participants selected for the highly competitive workshop.
The ACUNS Workshop, held in conjunction with the United Nations, will be at University College London in early June.
ACUNS is a professional organization committed to bringing together scholars, practitioners, and stakeholders worldwide to share knowledge and research on the United Nations system. Workshop participants include early-career scholars, practitioners, and United Nations staffers, with travel and accommodations funded by ACUNS-UN.
"I am tremendously honored and excited for this opportunity to present my research and network with other scholars, practitioners, and UN staff members working in the fields of international cooperation and inequality," Dumas said.
This year's workshop theme is "The Role of International Cooperation in Tackling Inequalities." Participants will present papers in their areas of expertise, provide and receive feedback on research, and engage in networking and mentoring activities.
Dumas will present the disconnect between states' commitments to global agreements on gender parity and domestic implementation of those agreements to highlight the potential conflict in such disparities.
Specifically, Dumas will examine the case of Nigeria and link its conflict to the role of social distrust of international institutions and the extent to which the domestic landscape of Nigerian laws and traditions impinges on the domestication of international conventions designed to mitigate inequality.
"I believe that participation in the ACUNS-UN workshop will further hone this research and create space for new ideas of substantive importance to the global community through the collaboration of the participants, whose diverse roles in scholarship and practice in intentional cooperation will be invaluable to my research as well as others in this field," Dumas said.
For more information on the ACUNS-UN Workshop 2022, check out their website.