Published December 9, 2022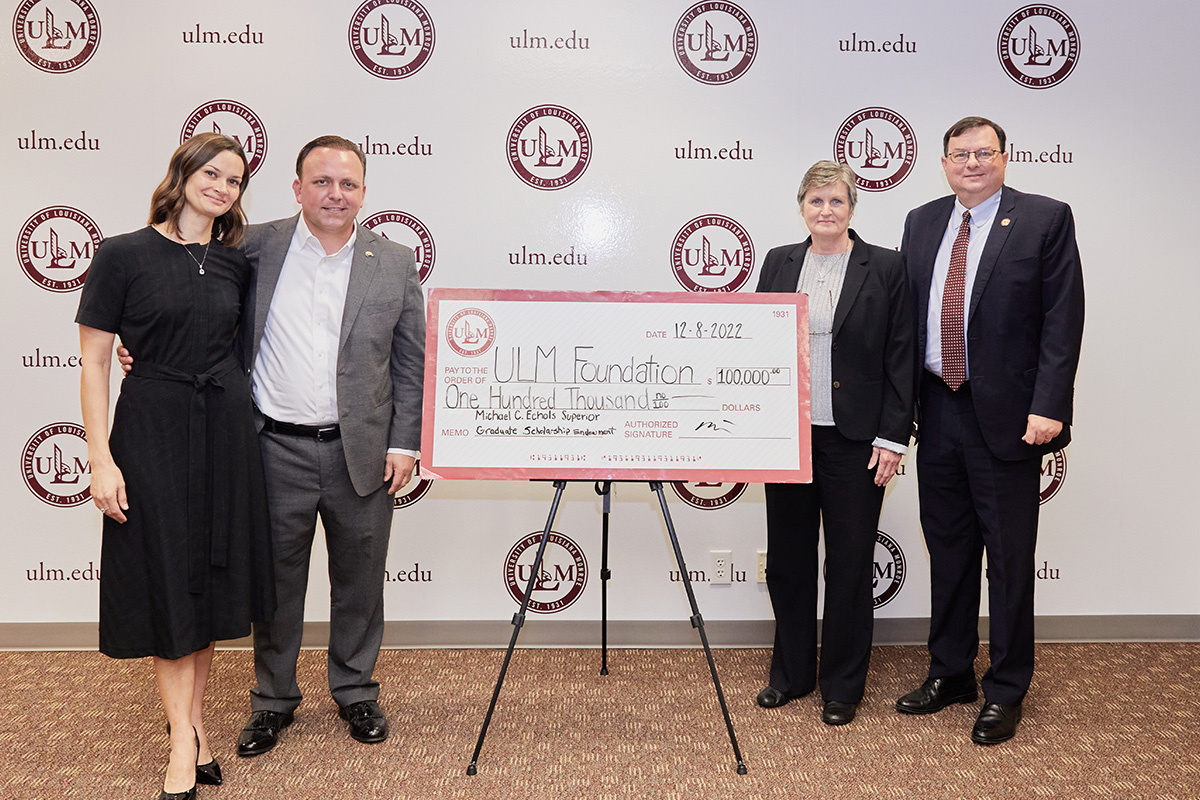 CAPTION: Pictured L-R: Christie Echols, Michael Echols, Dr. Michelle McEacharn, Dr. Ronald Berry
---
MONROE, LA – The University of Louisiana Monroe Foundation recently celebrated a donation from Louisiana State Representative Michael Echols to create The Michael C. Echols Superior Graduate Scholarship Endowment. The $100,000 endowment will provide financial support to a ULM student pursuing their Master's in Business Administration (MBA.)  
Echols, a two-time alumnus of ULM including an MBA, said it has always been a goal of his to give back to the university that gave him so much.  "I'm hopeful this gift will provide opportunity for those working towards a professional degree to make getting the degree more affordable, to retain and attract more highly trained individuals in our region, and to support students in need," he said.  
ULM President Dr. Ronald Berry thanked Echols for the gift. "It's an honor to receive a gift from someone who already gives so much of themselves personally and in their professional life and is committed to changing not only our local community, but the state. We appreciate you not only helping us live our mission of changing students' lives, but what you do for our state is tremendous," said Berry.   
Dr. Michelle McEacharn, Dean of the College of Business and Social Sciences also thanked Echols, saying, "I don't think a lot of people understand that when we have donors make these kinds of contributions to us, that these are in perpetuity. This gift will impact lives forever."  
To meet the requirements to receive the new scholarship, students must be pursuing an MBA at ULM and must also have obtained a bachelor's degree from ULM in accounting, finance, management, business administration, or marketing, while maintaining a 3.0-3.75 undergraduate GPA. The recipients of the scholarship must also be involved on campus and in the community.  
The first recipient of the Michael C. Echols Superior Scholarship Endowment is Samrat Dhakal, an MBA graduate student from Nepal. Dhakal said he couldn't believe the news when he was awarded the scholarship. In a thank you note to Echols, Dhakal said "This means a great deal to me and my future. Receiving financial assistance for graduate school is like getting a fresh lease on life. My ambition is to start my own company in the near future. Your generosity and goodwill to students like us inspires us to work harder to achieve our goals. This means a lot to me and my family."  
Echols added, "It's an honor to see such bright individuals benefiting our area in business from this annual scholarship. I plan to continue to support ULM through various giving programs as ULM is an important part of the success of the future of Northeast Louisiana."  
The Michael C. Echols Superior Graduate Scholarship Endowment is funded by a $60,000 gift from Echols and a potential $40,000 match from the Louisiana Board of Regents.