Published March 11, 2022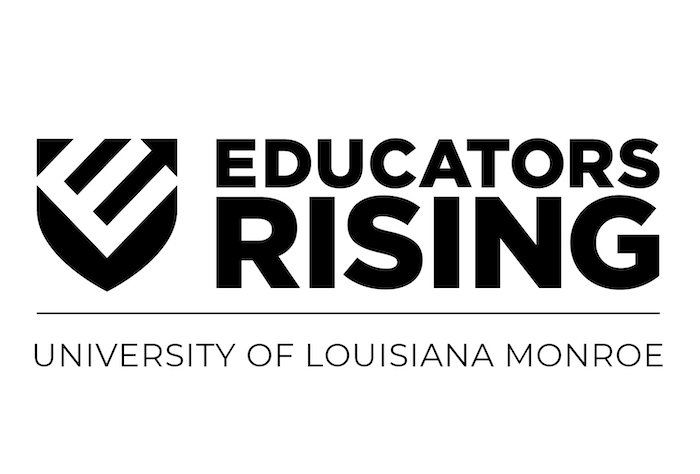 ---
Just over three years since the University of Louisiana Monroe launched the Educators Rising pilot program in two local high schools, more than 75 future educators and guests are expected on Thursday, March 17, for the first ULM Educators Rising Campus Day – and a new scholarship opportunity supported by Regions Bank is enabling more future educators to launch successful careers.
Students, administrators, and personnel from three partner school districts will learn more about becoming professional educators during the March 17 event. Participating high schools are Monroe City Schools – Neville, Wossman and Carroll, Caldwell Parish, and Richland Parish.
"In Louisiana, there is a critical shortage of qualified and committed teachers. From the success of Educators Rising, we developed the first Pre-Educator Pathway program in the state for high school students."   Dr. Amy Weems Assistant Professor School of Education  
"It's a day where attendees can attend education classes with our currently enrolled students, participate in panel discussions, learn about careers in education, and showcase their own presentations related to current topics in education," said organizer Amy Weems, Ed.D., Associate Professor of Education.
"In Louisiana, there is a critical shortage of qualified and committed teachers. From the success of Educators Rising, we developed the first Pre-Educator Pathway program in the state for high school students. The goal was to create a comprehensive education pathway that includes key content and development of skills to prepare high school students for their transition in a teacher preparation program such as the ULM School of Education," Weems said.
The event will be based in The Hangar on the second floor of the Student Union Building. President Ron Berry will open the day by welcoming the Educators Rising guests. The closing keynote speaker will be Louisiana Principal of the Year 2019 Eric Davis, Ed.D., principal of Carroll High School at 1:15 p.m.
Following the closing speaker, a press conference to announce a $100,000 grant from Regions Bank will conclude the campus visit day. The five-year grant will provide two Regions Bank ULM Educators Rising Program Scholarships per year and assist in retaining students in the School of Education. Special guest will be Kevin Smith of Regions Bank, who will encourage students in their choice to pursue education as a lifework and offer insight into Regions' commitment to invest in Educators Rising.
"Education and workforce readiness are two of Regions Bank's top priorities for uplifting and supporting our communities. They are key to building inclusive prosperity and ensuring more people have more opportunities to succeed," said Smith, Monroe market executive for Regions. "Often the difference between those who succeed, and those who do not, is whether they can access the training they need to launch a career. We know these scholarships will help empower ULM students with the tools they need to become excellent educators of tomorrow." 
Regions Bank Scholarship recipients must be in good standing with the university and have a 2.5 GPA. Recipients must have completed a Regions Bank ULM Educators Rising partner program. The scholarships are renewable if a 2.5 GPA is maintained up to a maximum of eight total semesters for incoming freshmen only. All other recipients may receive the scholarship for the remaining semesters needed to complete a four-year degree.
For more information about the ULM Pre-Educator Pathway or Educators Rising, contact Weems at weems@ulm.edu or 318-342-1280.
About ULM Pre-Educator Pathway
The ULM Pre-Educator Pathway was recognized by the Louisiana Department of Education, Board of Elementary and Secondary Education. In 2020, the program was adopted statewide by the Louisiana State Workforce Commission Workforce Investment Council.
About Regions Financial Corporation
Regions Financial Corporation (NYSE:RF), with $163 billion in assets, is a member of the S&P 500 Index and is one of the nation's largest full-service providers of consumer and commercial banking, wealth management, and mortgage products and services. Regions serves customers across the South, Midwest and Texas, and through its subsidiary, Regions Bank, operates approximately 1,300 banking offices and more than 2,000 ATMs. Regions Bank is an Equal Housing Lender and Member FDIC. Additional information about Regions and its full line of products and services can be found at www.regions.com.
About Educators Rising
Educators Rising is a nonprofit organization designed to cultivate future educators by providing college-credit classes, support, and guidance while still in high school and through university graduation. The National Education Association, National Board for Professional Teaching Standards, and the Walton Family Foundation are among its partners.