Published April 26, 2022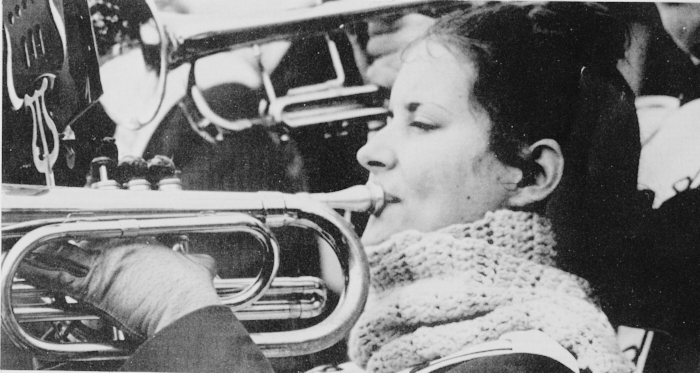 Elizabeth Shaw as a student performs with the Sound of Today Marching Band in 1977. Shaw bequeathed her collection of instruments and music to the University of Louisiana Monroe School of Visual and Performing Arts.
Chacahoula 1977
---
Elizabeth Shaw loved music, and she loved the University of Louisiana Monroe. 
Through her will, Shaw, who died in July 2021, bequeathed her instruments and musical items to the ULM School of Visual and Performing Arts in the College of Arts, Education, and Sciences.
Shaw earned a Bachelor of Music from ULM in 1979.
The Elizabeth Shaw Collection of 770 items valued at more than $78,700 includes seven musical instruments:
A Steinway baby grand piano

Gemeinhardt flute and piccolo

Haynes flute

Conn-Selmer alto saxophone

Alexander French horn

Wagner tuba
The collection also includes sheet music, vinyl and CDs, and musical accessories.
"The Steinway Company is one of the most renowned makers of fine pianos," said Derle Long, Ph.D., VAPA Director. "We think the one donated by Elizabeth Shaw is around 100 years old. It is a 6-foot model and is placed in Bon Aire, the president's home."
The Steinway is valued at $45,000. Sergei Rachmaninoff's signature is inscribed in the piano as records state he played it during his Oct. 20, 1939, recital in Syracuse, N.Y.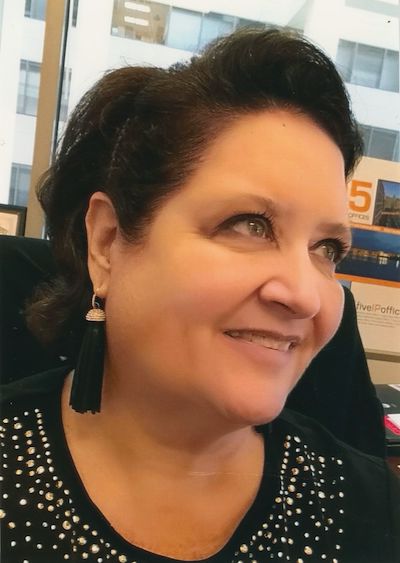 Long said the brass instruments are from top manufacturers, particularly the Conn-Selmer alto saxophone with a silver finish. There were some surprises in the collection, too. 
"Included in the recordings are around 155 vinyl LPs. When the boxes arrived, we had a student worker serendipitously reach in and grab a record. The first LP the student pulled out was an original Beatles 'Abbey Road,' which is a popular collector's item," said Long.
This semester, students used the brass instruments, and the alto sax will debut in the fall with The Sound of Today Marching Band.
"Elizabeth Shaw's love for music and ULM lives on each time a note is heard, or a piece of sheet music is played from her remarkable, generous donation," said Susan Chappell, Executive Director of ULM Advancement, Foundation and Alumni Relations.
About Elizabeth Shaw's musical life
A special time in Shaw's musical life was from 1975-79. At ULM, then-NLU, she studied music, marched in The Sound of Today, performed in the university orchestra, and was first horn in the wind ensemble. Her instructors and mentors were the late Jerry Vance and the late Director of Bands Emeritus Jack White.
As a student, Shaw shared her remarkable talent for playing almost anything brass with the Monroe Symphony Orchestra (first assistant horn) and performed with the South Arkansas Symphony.
With her ULM diploma in hand and French horn and grandfather's alto saxophone in tow, Shaw traveled north to the University of Akron, Ohio, to earn her Master of Music.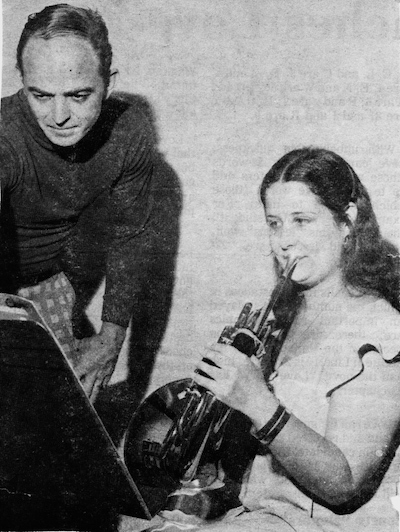 Shaw returned to Shreveport and studied to become a paralegal. Music remained her passion, performing with Red River Brass, Shreveport Symphony, Lake Charles Symphony, and Rapides Symphony.
She would go on to a successful 30-year career with the federal government in the Washington, D.C. area, most of it with the U.S. Patent and Trademark Office. Shaw performed with the Frederick Symphony Orchestra and the Washington Metropolitan Philharmonic (formerly the Mt. Vernon Orchestra).