Published May 24, 2022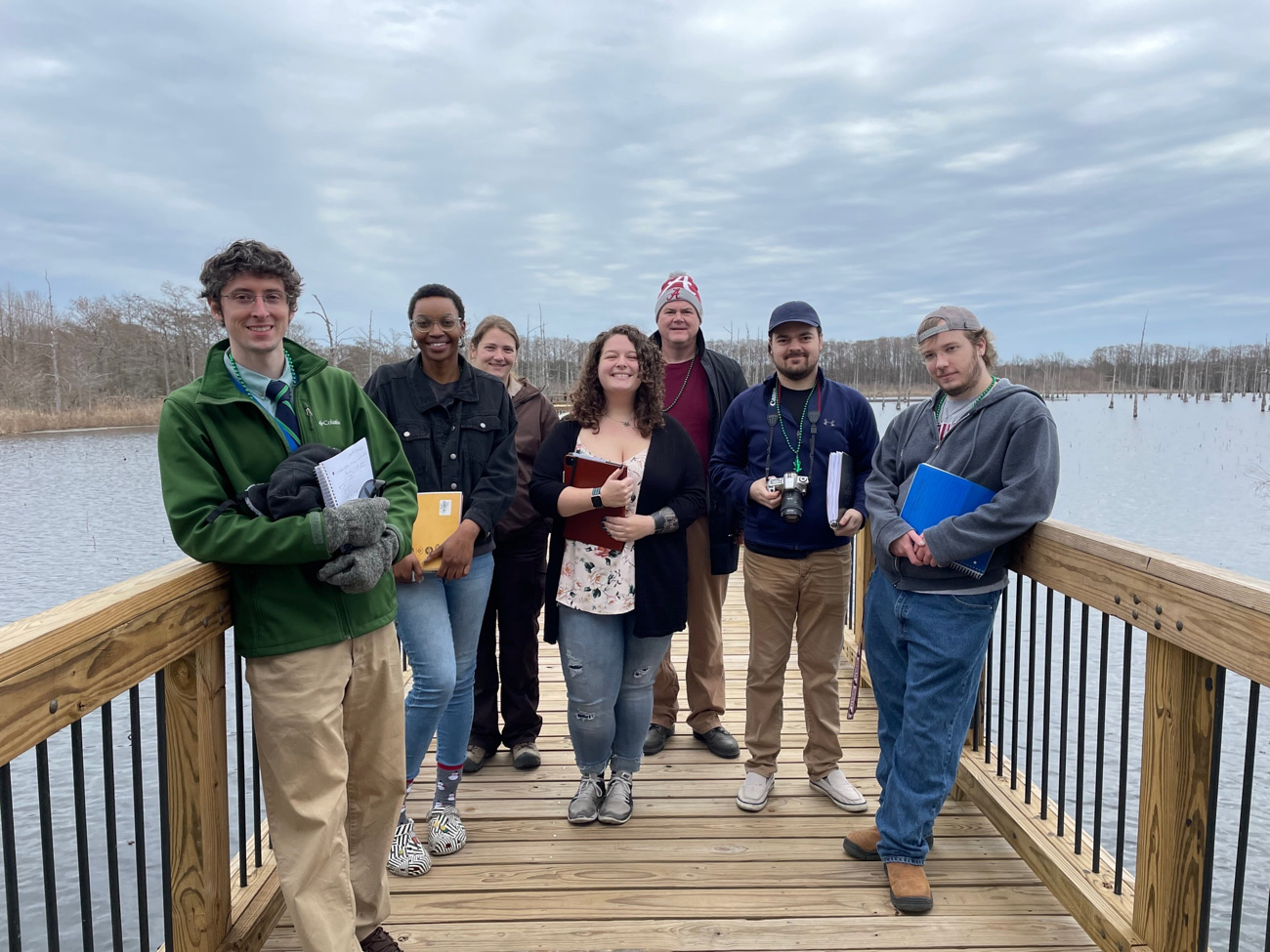 English students at the University of Louisiana Monroe collaboratively wrote a grant proposal for the Friends of Black Bayou Lake National Wildlife Refuge.
The students were in the spring 2022 Grant Writing course taught by Patrick Morgan, Ph.D., Assistant Professor of English in the College of Arts, Education, and Sciences.  Participating students included Melissa Jackson, Jacob Lewis, Cade Robinson, Gregg Sandahl, Reagan Smith, and Adarian Turner.
"These writing students should be commended for their creativity in using their words to help the community," said Morgan.
The students started by carefully listening to the needs of the Refuge.  The Friends of Black Bayou wants to build a pier add-on that connects to the current pier.  This add-on would allow large groups, especially local classes of children, to have an area to gather during field trips.  
The current pier is primarily a walkway and does not have a platform to accommodate classes of children without impeding the flow of traffic, including the over 130,000 people who visit the Refuge each year.
"ULM's Dr. Patrick Morgan and his students were appreciative of my favorite place, Black Bayou Lake National Wildlife Refuge, and showed their appreciation by their dedication to learning about its history, its conservation and educational mission, and its hopes for future accomplishments," said Ann Bloxom Smith, past President of Friends of Black Bayou and current Nature Shop Director.  "The students were remarkably diligent in their research and writing.  Their grant proposals will serve Friends of Black Bayou well."
Students learned how to write compelling narratives connecting the needs of a grant seeker with the values of a grantmaker.  
"This was really good practice writing in a more professional tone," said Robinson.  "I've learned how to write persuasively for grant money."
"My favorite part of this project was how the students used the writing skills they were building to connect with their community," said Morgan.  "This was highly collaborative, as they helped each other improve as writers, interacted with the Friends of Black Bayou, and sought advice from experts, from ULM's School of Construction Management to local architecture firms.  Grant writing is about problem-solving, and now these students can take the skills they've honed to continue helping our community."
For further information, please contact Patrick Morgan at pmorgan@ulm.edu.