Published May 12, 2022
The University of Louisiana Monroe recognized donors and life-time benefactors at the annual Evening of Thanks event on Thursday, May 5 at the 7th floor of the ULM Library where the Kitty DeGree Bell Tower Society is displayed.
John Jones, president of the ULM Foundation Board of Trustees, welcomed attendees and introduced award winners.
"Tonight we honor all special alumni and friends who have generously invested in this University not only this past year, but for over numerous decades with gifts totaling millions of dollars," he said.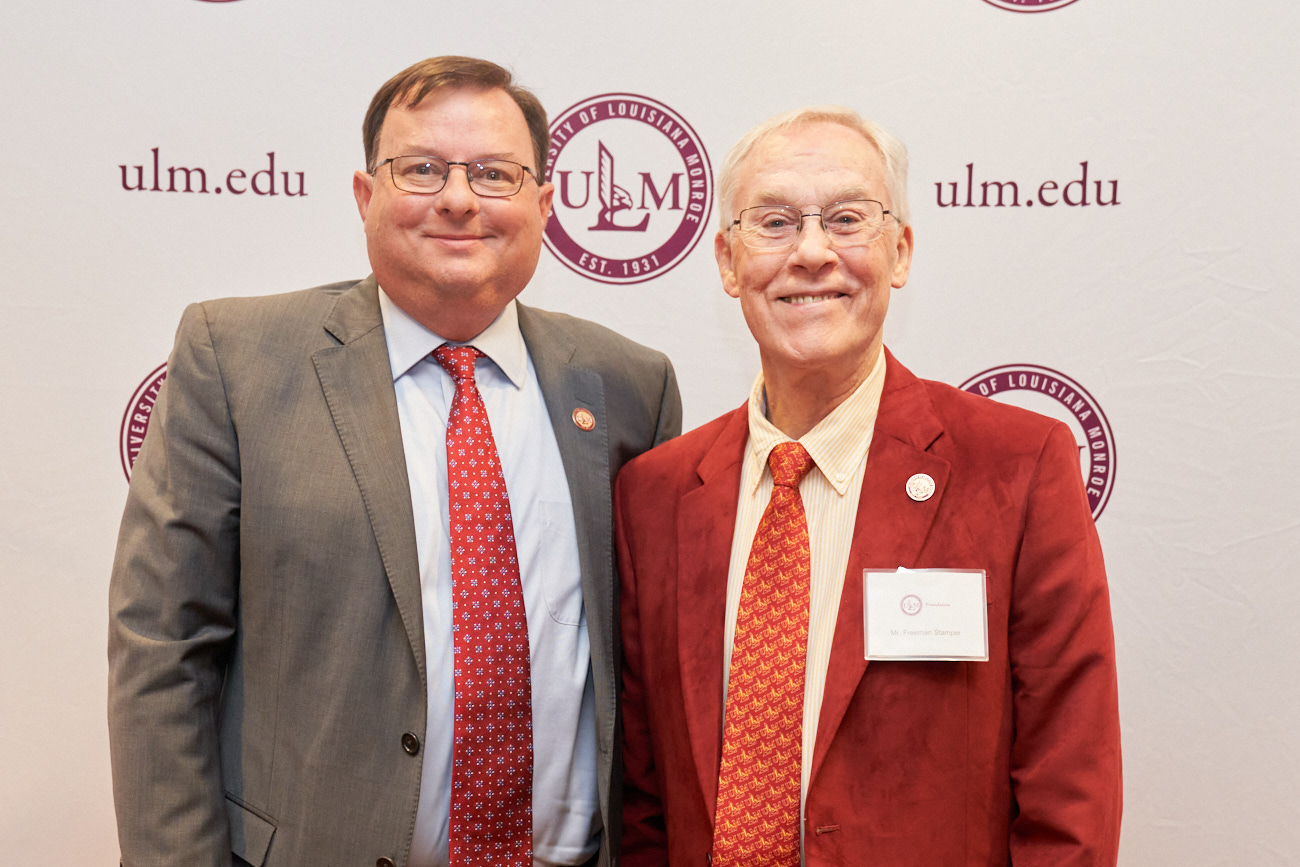 Jones announced Elizabeth Shaw as a new member of the George T. Walker Society, a group of donors who included the University as a beneficiary in their wills. Through her will, Shaw, who died in July 2021, bequeathed seven instruments and over 770 music-related items to the ULM School of Visual and Performing Arts in the College of Arts, Education, and Sciences.
ULM Foundation Executive Director Susan Chappell announced that more than $18 million has been raised toward the SOAR Campaign. Established in July 2019 with the goal of raising $100 million by the University's 100th anniversary in 2031, the SOAR Campaign will fund scholarships, opportunities for faculty, athletics, and renovations.
"Each contributor who made this outstanding achievement possible may relish the rewarding feeling knowing they made a positive impact that will live on," she said.
Jones then recognized Guy and Loura Barr, Freeman Stamper and Lou St. Amant as the 2022 Warhawk Ambassador Award recipients. The Foundation commissioned local craftsman Bill Carroll to create handmade wooden Warhawk awards for each of the recipients.
Both graduates of Delta State University in Cleveland, Mississippi, Guy and Loura Barr moved to Monroe in 1977 when Guy was named agency director in State Farm's Mid-South office. A longtime supporter of the ULM Warhawks, Guy served as president of the ULM Athletic Scholarship Foundation and as a member of the ULM Foundation Board of Directors.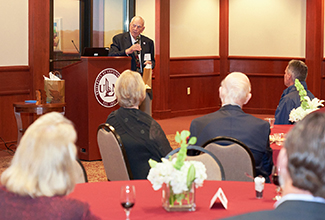 "Together in marriage for 58 years, these two have never stopped living the creed of service to others," Jones said. "They are frequently seen at ULM events on campus, advocating continuously for the University and making a difference in our community."
Freeman Stamper received his Bachelor of Science in Secretarial Science/Office Administration during the spring 1968 commencement exercises, during which he was also the top honor graduate in the School of Business. That same year, he joined the US Army where he obtained the rank of E5 Specialist and was awarded the Joint Service Commendation Medal. A lifetime Alumni Association member, Stamper is recognized as one of the lead donors in the initial SOAR Capital Campaign.
"He believes that his purpose in life is to serve others, or lead from behind, as he so frequently states," said Jones.
Former ULM Baseball Coach Lou St. Amant also won the Warhawk Ambassador Award. He first worked for the
University in 1968 as a graduate assistant baseball coach. He later returned to ULM in 1976, where St. Amant coached the baseball team for another 18 years. He ended his baseball head coaching career with 414 wins, including a 1982 Trans America Athletic Conference West Division Championship and a 1983 Southland Conference Championship. His 1983 team was also the first baseball team from ULM to participate in the NCAA Regional Playoffs. For another 25 years, St. Amant served as the color analyst for ULM football.
"After more than 54 years of service to the University, he continues to attend and support ULM functions, provide wise counsel to staff members and serve as an ambassador to the community," Jones said.