Published December 5, 2022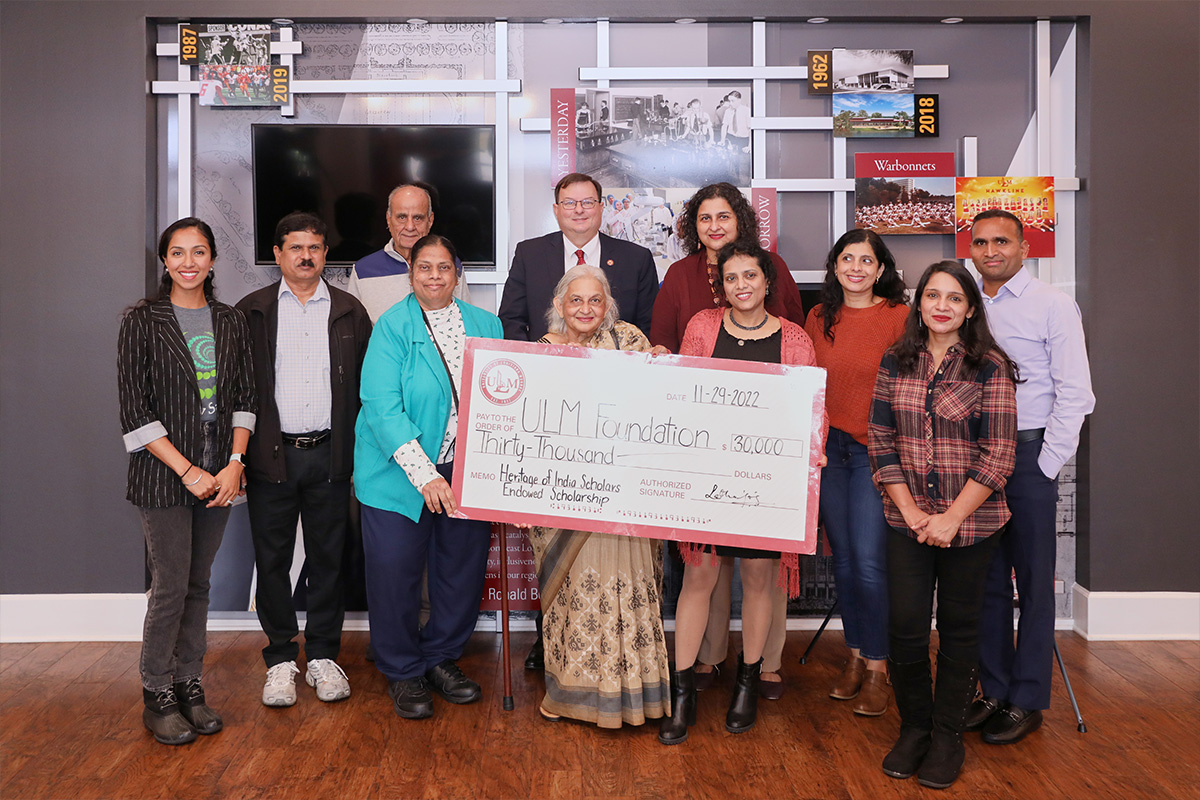 CAPTION: Members of the Heritage of India Society make a donation for the Heritage of India Scholars Scholarship. Pictured (Front row L-R)Simran Dhaliwal Eamus, Dr. Seetharama Jois, Dr. Mollie John, Malini Krishnamurthy, Latha Jois, Alpa Patel, Suchi Rodda, Dr. Siva Murru (Back row L-R) Mr. Krishnamurthy, Dr. Ronald Berry, Dr. Sushma Krishnamurthy 
---
MONROE, LA – The Heritage of India Society, a local organization created to bring awareness to Indian culture, recently made a donation of $30,000 to the University of Louisiana Monroe Foundation to create the fully endowed Heritage of India Scholars Scholarship. The scholarship will support deserving undergraduate and graduate students of Indian heritage in their academic endeavors at ULM. 
Latha Jois, president of the Heritage of India Society, spoke at the check presentation. "We hope to support and inspire our new generation with the tools to carve their own path through education and motivate others in the community to do the same," she said. "By supporting younger generations, we can continue to build and sustain a prosperous community."  
The Heritage of India Society was founded in 1999 by a small group of people of Indian origin in the Monroe area. The purpose of the association was cultural, educational, and charitable in nature. Apart from promoting religious and cultural activities among the members of Indian origin, it was also intended to make the local public aware of Indian culture and contribute towards the charitable activities in the Monroe and West Monroe area communities. The organization also assists in educating and learning all who are interested in Indian culture. Currently, the organization has members from Monroe, West Monroe, Ruston, Sterlington, Shreveport, and the surrounding area.