Published March 7, 2022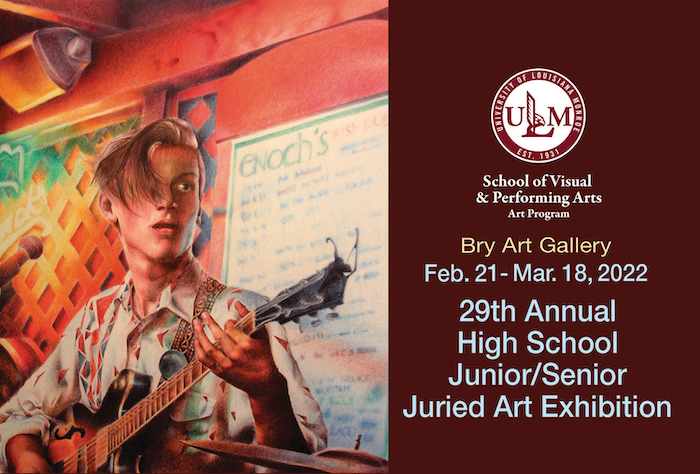 The University of Louisiana Monroe School of Visual and Performing Arts presents the 29th Annual High School Junior/Senior Juried Art Exhibition through March 18 at Bry Art Gallery. Gallery hours are Monday-Thursday 8 a.m.- 4:30 p.m., and Friday 8-11:30 a.m. Admission is free, and the public is welcome to view the exhibition. 
Northeast Louisiana high school art students submitted artworks from their studio endeavors to the competition. High schools represented include Neville, Ouachita Christian, Ouachita Parish, Richwood, Saline, Sterlington, West Monroe, Weston, West Ouachita, and Wossman. 
The exhibition received more than 140 works. A panel of ULM art faculty judged these entries based on creativity and mastery of the chosen medium. Fifty-six entries were selected and are on exhibit. 
Winners were announced on Feb. 24. Various cash awards, talent grants, and scholarships were given to deserving students.
Ella Mayfield ­– Gretchen Dean Best of Show for "Myself," watercolor and Prismacolor

Josiah Williams ­– Art Program Award for "Alaina," white pencil

Madison DiCarlo – Beverly Jean Marvin Award for "Sunlight," acrylic on canvas

Megan Calhoun – Beverly Jean Marvin Award for "Wondrous Fantasies," Prismacolor

Harlee Johnson – Beverly Jean Marvin Award for "A Pig's Feast," mixed media

Katelyn Wells – Noble Photography Award and Arts Council of Northeast Louisiana Award for Creativity for "Sunset Through Glass," digital photograph

Callan Thornton – ULM Foundation Award of Merit for "Fresher than Expected," soft pastel

Angel Williams – ULM Foundation Award of Merit for "Husky's Gaze," charcoal

Madison Irvin – ULM Foundation Award of Merit for "Irvin," Prismacolor

Madison DiCarlo – Talent Grant Award for "La Vie En Rose," acrylic (NFS)

Callan Thornton – Arts Council of Northeast Louisiana Award for Artistic Skill for "Tercia de Muerte," oil paint on wood

Tottainee Marshall – People's Choice Award for "The Picture," charcoal
Any questions about the exhibition can be sent to Joni Noble, Art Program Coordinator, at noble@ulm.edu