Published Month 10, 2022
The University of Louisiana Monroe Honors Program celebrated the successes of its students at the annual ULM Honors Program Spring Banquet on Wednesday, May 4 at Bayou Pointe Event Center.
Of the students, 16 will graduate with College Honors, meaning they took 16 Honors core classes, two Honors seminars and five Honors contracts with a minimum 3.4 GPA. Seven additional students will graduate with University Honors, meaning they took all the classes above with the addition of a thesis and a 3.5 GPA.
Dr. Joshua Stockley, director of the Honors Program, recognized all graduating Honors seniors as well as student award winners.
Ariana Yelverton, a biology student from Archibald, won the Student of the Year award. Yelverton served the Honors Council as its president. She plans to attend medical school.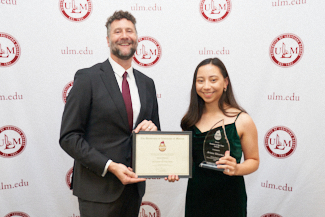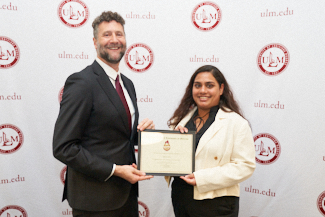 The Honors Program Senior of the Year was Aakriti Pant, a risk management and insurance student from Nepal, who will be pursuing an MBA from ULM in the fall. Junior of the Year went to Hattie Morgan, a management student from Owasso, Okla. She is graduating early and plans to attend law school. Caitlyn Cullen received the Sophomore of the Year award. She is a political science student from Vacherie.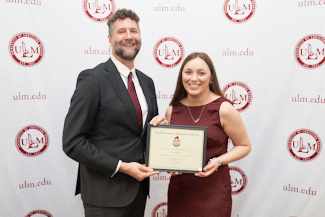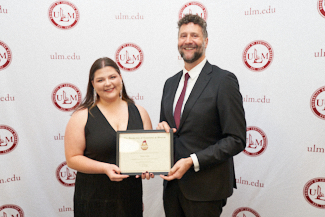 The Jordan Bass Freshman of the Year award went to toxicology student Beau Benoit of Benton. The award is named after the late ULM Honors student who would have graduated this spring. Bass studied secondary education and made an impression on her peers and professors during her semester on campus.
"This was an individual who overcame challenges, and in the brief time she was here, made a profound impact," Stockley said.
He presented Bass's family with an honorary degree and a framed cap, gown and Honors medal.
"Jordan encompassed kindness, thoughtfulness and acceptance. I ask that you carry that with you as you go on," said Fayline Bass, Jordan's mother.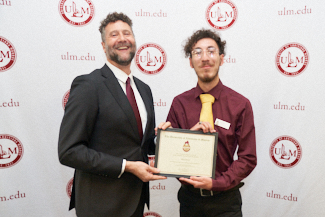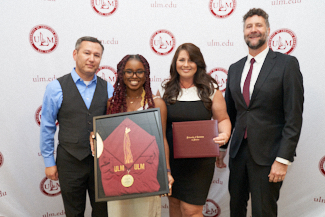 Stockley also recognized Ash Aulds as Alumni of the Year and Dr. Megan Broadway as Professor of the Year. Aulds serves as the president of the ULM Alumni Association Board of Directors and works as the senior manager of merchandise, marketing and maintenance at Murphy USA. Broadway is an assistant professor of psychology and guided three seniors through their thesis process.