Published November 9, 2022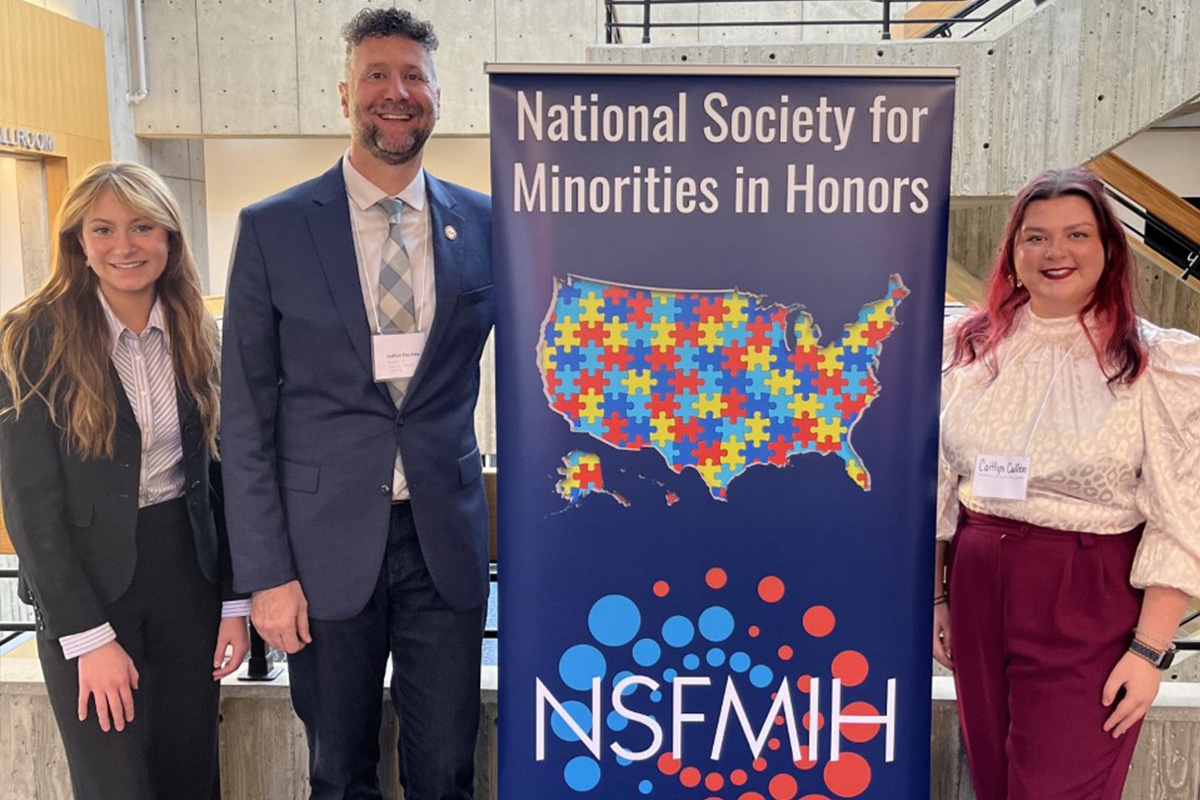 CAPTION:(L-R) Hannah Habisreitinger, Dr. Joshua Stockley, and Caitlyn Cullen 
---
MONROE, LA— The University of Louisiana Monroe Honors Program attended the annual meeting of the National Society for Minorities in Honors on October 13-15, in Wilder, KY. The theme of the conference was "Breaking Down Boundaries: Disrupting Honors and the Future of Honors Education." 
Dr. Joshua Stockley, Director of the ULM Honors Program, was accompanied by two students –Caitlyn Cullen, a junior political science major and president of the Honors Council, and Hannah Habisreitinger, a freshman biology major and freshman representative of the Honors Council. 
Dr. Stockley and Caitlyn Cullen co-presented, "Breaking International Boundaries in Honors Education." They shared with participants the steps taken by the ULM Honors Program to increase international student participation from 10% to 40% of the program. 
"The ULM Honors Program values the ability to include every student from every major, every organization, every place, and every walk of life because the program is dedicated to inclusion and enriched by an exposure to diversity," said Dr. Stockley. "We still have challenges. We still have boundaries to break, but participating in NSFMIH is an opportunity to see that our challenges are others' challenges and to learn how other honors programs are overcoming these challenges," he added.  
 "Attending NSFMIH was an eye-opening experience that allowed me to reflect on the ideas of diversity, equality, and inclusion. Hearing from presenters of diverse backgrounds on how to better represent diverse communities will help me to move forward in being a better leader, global citizen, and person," said Caitlyn Cullen. "I learned different avenues for more inclusive outreach efforts as well as ways to create safe spaces for underrepresented groups. Additionally, I was able to hear how other student leaders overcame diversity issues within their own programs, preparing me to foresee and prevent similar issues that may arise within our own." 
Hannah Habisreitinger said, "I am very grateful for the opportunity to attend the NSFMIH conference. This gave us the chance to hear firsthand experiences from people of different backgrounds, to receive input from other schools about how they overcame issues related to diversity and inclusion, and to brainstorm solutions. Overall, this was a great experience for me. Thanks to this conference, I feel prepared to implement the tactics to promote change and diversity within the ULM Honors Program and our campus as a whole."  
Attending the conference were honors students and administrators from colleges and universities across the United States. 
The National Society for Minorities in Honors (NSFMIH) was founded in 2015 to bring together and advance discussions and action in relation to diversity, equity and inclusion in honors education. The organization holds an annual conference, hosted by institutions around the USA, and promotes the wide dissemination of ideas and initiatives related to diversity, equity and inclusion in honors education - through its annual conference, through national and international seminars and electronic events, and through publications. 
About the ULM Honors Program 
The ULM Honors Program is a unique program within ULM that seeks intellectually curious students who desire to challenge themselves with new ideas and work with similarly motivated students. The program is open to all majors and works within all degree programs. Honors students are exposed to more in-depth topics and work closely with faculty in smaller courses. 
For more information about the Honors Program, contact Dr. Joshua Stockley at stockley@ulm.edu or 318-342-3216 or visit ulm.edu/honors.