Published March 30, 2022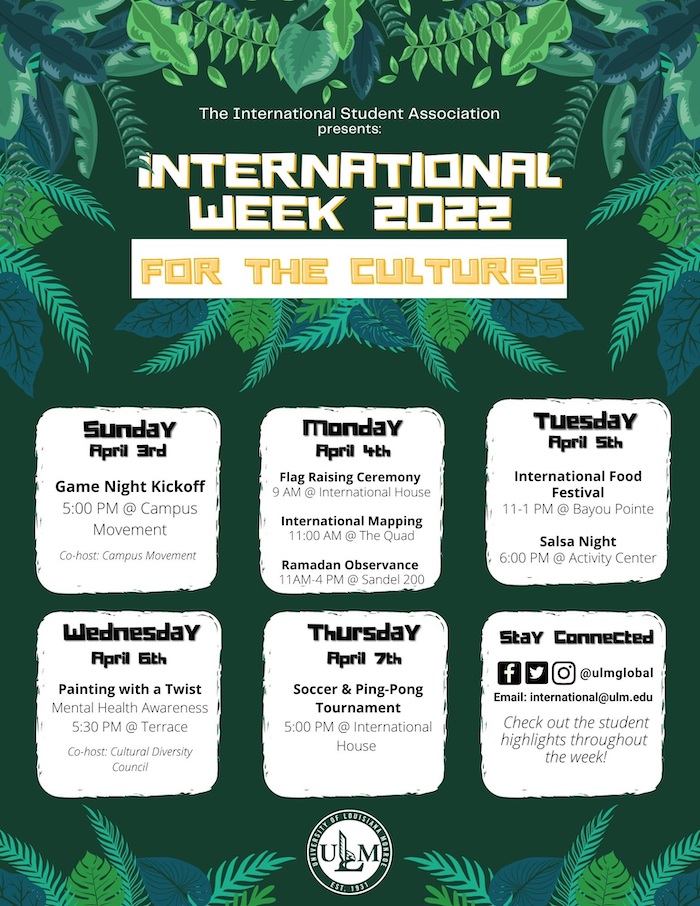 2022 International Week Schedule 
Sunday, April 3: 5 p.m. Game Night Kickoff hosted by Campus Movement

Monday, April 4: 9 a.m. Flag Raising Ceremony, Liew Family International Student Center; 11 a.m. International Mapping, The Quad; 11 a.m.-4 p.m. Ramadan Observance, Sandel Hall room 200.

Tuesday, April 5: 11 a.m.-1 p.m. International Food Festival, Bayou Pointe Event Center; 6 p.m. Salsa Night, Activity Center.

Wednesday, April 6: 5:30 p.m. Painting with a Twist. The Terrace, cohosted by Cultural Diversity Council. Please register at Wingspan.

Thursday, April 7: 5 p.m. soccer and ping pong tournament, Liew Family International Student Center
The University of Louisiana Monroe's International Student Association hosts the 2022 International Week, April 3-7, sponsored by the ULM Office of International and Multicultural Affairs. This year's theme is "For the Cultures."
A Flag Raising Ceremony will be at 9 a.m., Monday, April 4, at the Liew International Student Center.
Gina White, Director of International and Multicultural Affairs, invited the campus and community to attend this special event.
"Please join us as our students, faculty, staff, and community celebrate the diversity, culture, and educational asset of our global Warhawks," White said. "The raising of the flags will be highlighted by ULM Cheer, Sound of Today, and Ace the Warhawk."
Graduate student Davially Frans from Bonaire, an island in the Dutch Caribbean, said International Week celebrates the diversity at ULM.
"International Week is one of the most important weeks to the international community on campus. During this week, we celebrate our differences as well as our common interests. It unites and educates everyone involved by merging all cultures. As an international student, I look forward to sharing my own culture with the entire student body," Frans said.
Activities are open to ULM students, faculty, staff, and community members. Follow on Instagram – @ulmglobal, Twitter @ulmglobal, and Facebook/ulmISA, #Forthecultures.