Published September 29, 2022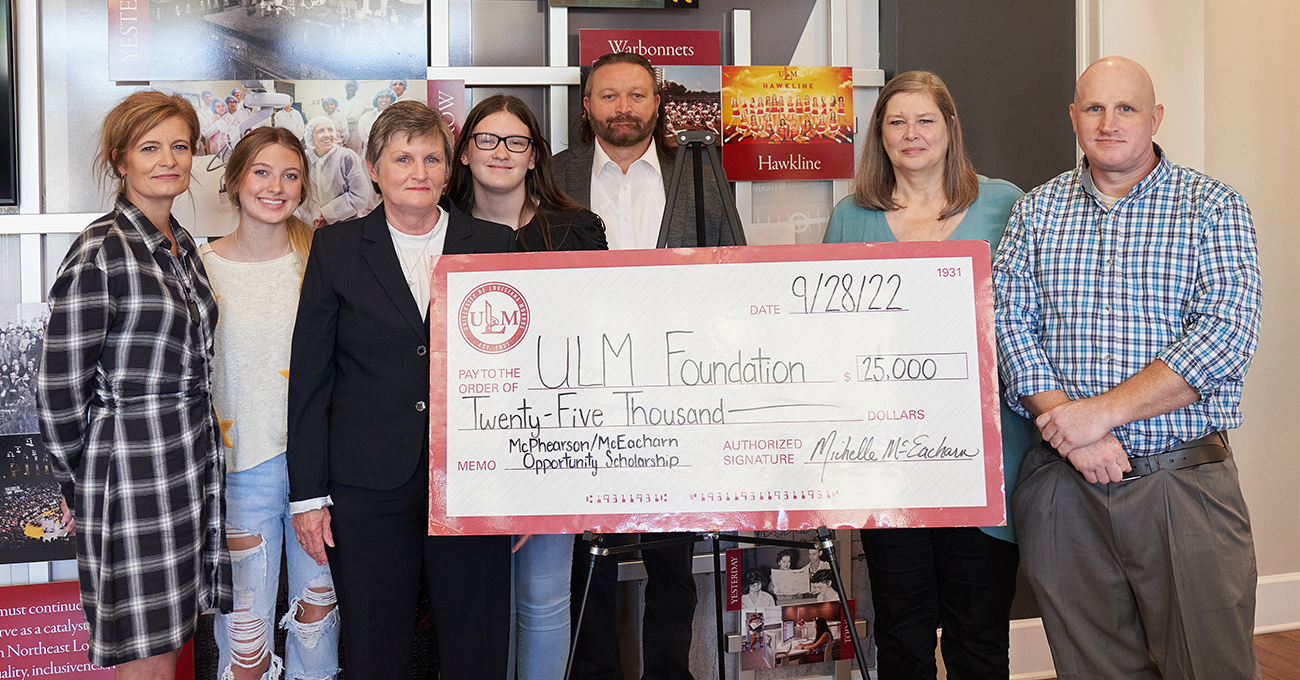 MONROE, La. – Dr. Michelle McEacharn, University of Louisiana Monroe's Dean of the College of Business and Social Sciences, along with her family, donated $25,000 to establish the McPhearson/McEacharn Opportunity Scholarship at a press conference Wednesday, September 28 at the Laird Weems Center.
 
The McPhearson/McEacharn Opportunity Scholarship was made in honor of McEacharn's mother, Flora "Snookie" McPhearson, and late husband, Roger "Bucky" McEacharn. The scholarship will be awarded each year to a non-traditional ULM student (aged 28 years and older) majoring in accounting or pursuing the post-baccalaureate certificate in accounting.
 
"Years ago, when I was a non-traditional student struggling to manage school and a family with little to no resources, I received a $200 scholarship from someone who had been generous and thoughtful enough to provide those resources," said McEacharn. "That $200 meant more than I can say to both me and my family. I have since been blessed with the opportunity to be in a position now where I can give back to help someone else. It's an honor for me and my family to be able to establish this endowed scholarship dedicated to other nontraditional accounting students in honor of our late mother who instilled a strength and dignity in us, and my late husband who believed in me so much that I began believing in myself." 
 
The first recipient of a $500 award, Tara Oliver, a current ULM student pursuing a bachelor's degree in accounting, spoke to how much this award means to her and her family.
 
"It is a privilege and an honor to be the first recipient of this scholarship. It's a blessing to me and my family because it recognizes the sacrifices that non-traditional students make in order to go back to school later in life in order to change their lives with education," said Oliver. 
 
The endowed status of the scholarship will live on in perpetuity to ensure financial support for generations of non-traditional students.
 
"Our hope is that these scholarship resources will also forever help change the lives of others who are struggling and give them opportunities beyond their imagination," said McEacharn.
If you have any questions about this or any other scholarship offered at ULM, please email scholarships@ulm.edu or call 318-342-5321.