Published Jan. 12, 2022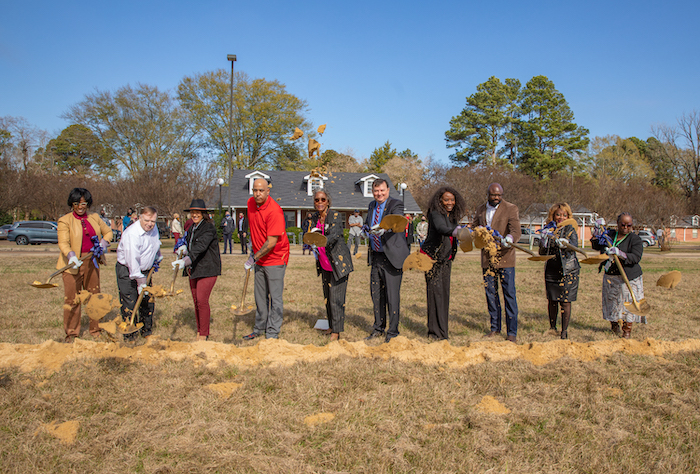 Breaking ground at the site of the Esther Gallow Community Garden on Jan. 5 are, from left, ULM Vice President for Student Affairs Dr. Valerie Fields, ULM School of Construction Management Director Dr. Ed Brayton, ULM SGA President Lauren Fee, Christopher Davis, ULM Executive Director of the Office of Diversity, Equity, and Inclusion Dr. Pamela Higgins Saulsberry, ULM President Ron Berry, Monroe City Councilwoman Juanita Woods, Roy N. Shelling Elementary School Principal Kendrick January, LDCC Dean of Student Affairs Alvina Thomas, and Ochsner LSU Monroe Director of Economic Development, Community Development and Pastoral Care Beverly Lewis.                              Jeanette Robinson/ULM Photo Services
---
WHAT: ULM/LDCC MLK Day of Service 
WHEN: Monday, Jan. 17 – 9-9:30 a.m. volunteers meet at Warhawk Circle at ULM, 10 a.m. meet at Esther Gallow Community Garden, 1401 Sherrouse St.
WHERE: Field across from Booker T. Washington Senior Village Apartments
---
For more than a decade, volunteers from the University of Louisiana Monroe and Louisiana Delta Community College have partnered on Martin Luther King Jr. Day of Service to address a specific need in Northeast Louisiana. 
This year's creation of the Esther Gallow Community Garden expands one day of volunteerism to an ongoing effort by a coalition of public and private organizations.
MLK Day of Service, Monday, Jan. 17, will be a day of final preparation of the garden for planting in the coming weeks. The garden is located across from Booker T. Washington Senior Village Apartments (1401 Sherrouse St.).
Sponsors include the city of Monroe, Ochsner LSU Health Monroe, Russell-Moore Lumber, Sonny Panzico's Garden Mart, Roy N. Shelling Sr. Elementary School, and ULM School of Construction Management.
MLK Day of Service organizer Dr. Pamela Higgins Saulsberry, ULM Director of the Office of Diversity, Equity, and Inclusion, developed the idea for a community garden and quickly found the support needed to create and sustain it.
A groundbreaking ceremony was held at the site on Jan. 5. Space for the garden was donated by Christopher Davis, son of the late Esther Gallow. Gallow was CEO of Booker T. Washington Community Outreach, Inc., an organization she founded in 1996 to improve life for the "Booker T." neighborhood. 
Saulsberry envisions apartment residents tending the garden and school children learning about gardening from their elders. Produce will be distributed to those in need.
Under the supervision of Director Dr. Ed Brayton, construction management students built and installed 30 wooden planter boxes for the garden. Construction management faculty member Larry Favalora is tilling the garden. Russell-Moore Lumber donated the lumber, and Mark Lindstrom of Sonny Panzico's contributed the soil. Shelling Elementary Principal Kendrick January is providing vegetable signs made by students.
Anyone wishing to donate plants, seeds or adopt-a-box, may contact Saulsberry at saulsberry@ulm.edu, LDCC Dean of Student Affairs Alvina Thomas at LDCC, athomas@ladelta.edu, or Monroe City Councilwoman Juanita G. Woods at juanita.woods@ci.monroe.la.us.